FALCON AND THE WINTER SOLDIER rumor: is [redacted] playing [redacted]?
While WandaVision still has three more episodes to air, more rumors are beginning to emerge about The Falcon and the Winter Solider, the upcoming Marvel Cinematic Universe series on Disney+.
While the information in this article is only rumors and speculation at this point, those who wish to remain entirety spoiler-free about the upcoming show should leave this page now! But if you wish to know more, then keep scrolling past this cute picture of the leading heroes' bromance.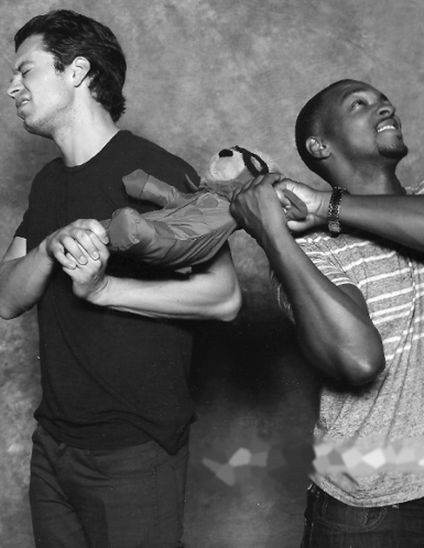 The Falcon and the Winter Soldier – POSSIBLE SPOILERS BELOW
The Falcon and the Winter Soldier follows Anthony Mackie's Sam Wilson (A.K.A. Falcon) and Sebastian Stan's Bucky Barnes (A.K.A. The Winter Solider) in the wake of 2019's Avengers: Endgame, which saw their mutual friend Steve Rogers (Chris Evans) retire from the role of Captain America.
While we did see Rogers give the shield to Wilson in Endgame, the question of who will be the next Captain America may prove more complicated.
However, the newest rumors about The Falcon and the Winter Solider aren't about the heroes, they're about the villains! Some merchandise posted online may have given away the identity of one of the antagonists for the series.
While we already knew that Erin Kellyman, who previously played the role of Enfrys Nest in 2018's Solo: A Star Wars Story, is playing an antagonist in the upcoming Disney+ MCU series, but a piece of apparently accidentally uploaded merchandise on Zazzle.com may have revealed which mighty Marvel monster she may be playing: Flag-Smasher! (Check out the breaking news from Joseph Aberl at Murphy's Multiverse; however, MarvelBlog also saw the merch before it was taken down for good.)
Who Is Flag-Smasher?
In the Marvel Comics universe, Flag-Smasher is a supervillain who opposes all governments – so naturally, he is a natural antagonist for United States defender Captain America!
If the rumors are accurate, it seems that Flag-Smasher will be a different gender in the MCU than in Marvel Comics, but we'll have to see whether or not this has any effect on the antagonist's philosophy (here at Marvel Blog, we don't think that's very likely).
Which antagonists do you hope to see in future Disney+ shows? Let us know in the comment section!
Thanks for visiting MarvelBlog.com! Want to go to Disney? For a FREE quote on your next Disney vacation, please fill out the form below and one of the agents from MickeyTravels, a Platinum level Authorized Disney Vacation Planner, will be in touch soon!