WandaVision Speculation: Gimmie that Grimoire!
Avengers speculators, assemble! It's the weekend after another new episode of WandaVision was released for streaming on Disney+, which means only one thing: we have nothing but that grimoire on our mind!
Don't know what we're talking about? Well then, perhaps, you haven't had a chance to watch the newest episode of WandaVision, which is aptly titled "Breaking the Fourth Wall." It was released for streaming on Disney+ on Friday, February 19th, 2021.
If you haven't watched the new WandaVision episode yet and want to remain spoiler-free, then adjust your computational services screen and leave this page now. And hey, maybe go read about the fact that Jessica Jones might be reappearing in the Marvel Cinematic Universe!
Bet You Didn't Even Notice
In the final moments of "Breaking the Fourth Wall," Wanda Maximoff (Elizabeth Olsen) finally ventures inside the home of Agnes the Next-Door Neighbor – who is actually Agatha Harkness, played by Kathryn Hahn, having the time of her – and our – life.
Just before Agatha reveals herself to Wanda, Wanda wanders into a basement filled with potions and sees a mysterious grimoire, which is positively radiating mystical energy…or is it mystical? It's hard to tell with the mysterious, marvelous books of the MCU, but more to on that below…
Grimoires – or textbooks of magic – are frequently an asset to magic users in the world of Marvel Comics, and Wanda is no exception. One example takes place in the 1994 Scarlet Witch miniseries, in which Wanda and Agatha go to a spooky abandoned town called UNITY in order to seek the knowledge contained within several grimoires.
And there are several other magical books that play into Wanda's larger comic book narrative (including the infamous nacronomicon – yup, serious, but more on that later this week, so stay tuned).
The Scarlet's Witch's Tomes
In 1982's Vision and the Scarlet Witch #1 by Bill Mantlo, Rick Leonardi, Ian Akin, Brian Garvey, Joe Rosen, and Bob Sharen, a story set on Halloween evening, Vision and Wanda are settling into their new home in a suburb of New Jersey (stop me if you've heard this one before)…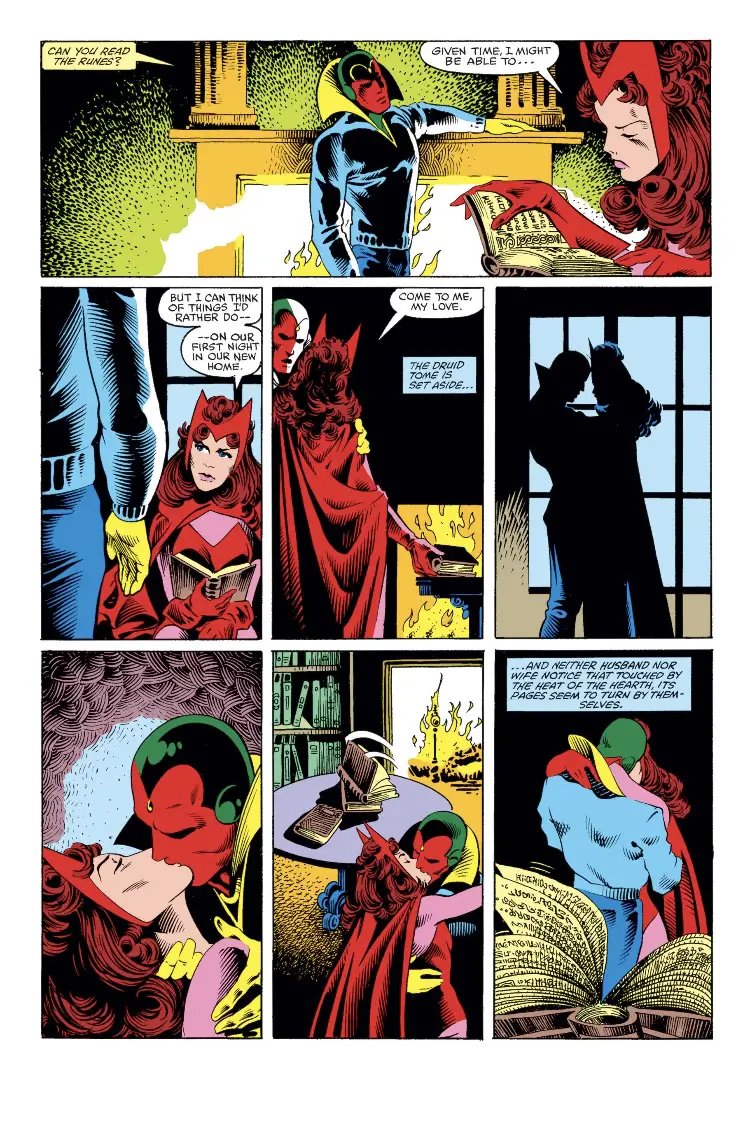 But then the story diverges, that's when Jarvis – who is a human butler rather than an AI in the comics – arrives with a book written in druidic runes.
While Wanda believes that she can translate the Druidic Tome, before she gets a chance, the magic contained in the grimoire affects three children who the couple saw trick or treating earlier, transforming them from innocent teenagers into spooky monsters! Ultimately, the grimoire ends up summoning Samhain, the embodiment of All Hallow's Eve – who Wanda is able to immediately identify, thanks to the tutelage of Agatha Harkness herself!
But these aren't the only grimoires to be found in the Marvel universe – and one of the most notorious magical tomes of the 616 has already been seen on screen in the MCU!
Tales of the Darkhold
While it isn't clear which grimoire Wanda has stumbled upon in the basement of Agatha's house, it does call to mind another Marvel grimoire: the Darkhold. The Darkhold was first introduced in 1972 in Marvel Spotlight #4 by Gerry Conway, Mike Ploog, and Sam Rosen in a story featuring Jack Russell, A.K.A. Werewolf-by-Night.
In fact, the Darkhold plays a major role in the first Werewolf-by-Night solo story, turning Jack Russell intro the lycanthrope for the first time.
In addition to appearing in many Marvel Comics stories over the years, and even headlining its own standalone comic title, the Darkhold continues to be relevant to the realm of the 616 today.
On March 3rd, 2021, Darkhold #1 by Steve Orlando, Cian Tormey, and with primary cover art by Greg Smallwood will be released (according to Midtown Comics there will be several variant covers, as well). While the universe of Marvel Comics is distinct from the narrative of the MCU, Darkhold #1's story does feature the Scarlet Witch, which seems suspect, especially with the Marvel Multiverse getting progressively more multi-textual.
Fahrenheit 451 with Ghost Rider
And for those who've been closely watching the MCU all along, then you will likely recognize the Darkhold from its several on-screen appearances.
First, the grimoire played a significant, recurring role in the Ghost Rider subplot of the fourth season of Marvel's Agents of S.H.I.E.L.D. on ABC, where it made its first appearance that season's fourth episode, "Let Me Stand Next to Your Fire."
Then in the sixth episode of Agents of S.H.I.E.L.D.'s Season 4, "The Good Samaritan," it's revealed that in the 1940s, a company called Isodyne Energy had been experimenting with the Darkforce, a form of energy from another dimension.
We learn in Agents of S.H.I.E.L.D. that Isodyne was subsequently acquired by the Roxxon Corporation, and then in "The Good Samaritan," we further learn that some sinister scientists conduct an experiment involving Darkforce energy and the Darkhold.
This creates a connection with Agent Carter, which featured Isodyne as an adversary in its second season.
However, that isn't the end of the Darkhold in Agents of S.H.I.E.L.D., and the evil tome reappears again in the back half of season four in the AIDA story arc. In these episodes, the arcane knowledge within the Darkhold is used to create a virtual world inside the Framework where Hydra reigns supreme!
We get to see this world firsthand in the season four Agents of S.H.I.E.L.D. episode "What If…", in which Simmons (Elizabeth Henstridge) enters the Framework and discovers her fellow S.H.I.E.L.D. Agents have been "rewritten" into citizens of Hydra…for example, Director Coulson (Clark Gregg) becomes a high school history teacher with no memory of his former life!
Hmm, super heroic individuals "rewritten" into suburban citizens… where have we heard of that happening before?
The Witches of West End Get the Darkhold
The last time we saw the Darkhold on Agents of S.H.I.E.L.D., in the season four finale, "World's End," the magical tome is taken through an inter-dimensional portal by Ghost Rider.
But the Darkhold subsequently resurfaced on Hulu's Runaways in the third season, which saw a team of teenage Super Heroes visiting the Dark Dimension and encountering Morgan le Fay (Elizabeth Hurley).
In Runaways, the Darkhold is at the center of an unknown ceremony that will supposedly open up a portal between dimensions. Once again, the brief glimpse at the Darkhold's spells in action offer another glimpse at how it can change the laws of reality.
Or maybe it was just another awesome reminder of the character's origins…
It's Too Late To Fix ANY-THING
Just where did Agatha get that mysterious book on WandaVision? What dimension? And what exactly is she using it for? Will it have implications for the upcoming movie Dr. Strange in the Multiverse of Madness, which is meant to directly connect to the series? We wonder…
Thanks for visiting MarvelBlog.com! Want to go to Disney? For a FREE quote on your next Disney vacation, please fill out the form below and one of the agents from MickeyTravels, a Platinum level Authorized Disney Vacation Planner, will be in touch soon!