Tom Holland Surprised Fans at Disneyland
Tom Holland surprised fans at Disneyland this week and some other cast from the most recent Spider-Man trilogy made a special appearance at Disneyland and guests were there to catch it and post on TikTok.
In the video below, you'll start out seeing a couple posing with the friendly neighborhood Spider-Man and having fun getting into throwing webs for the cameras.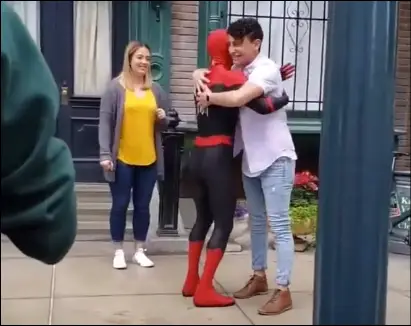 It's a real sign that we're coming out of the Covid-19 pandemic that we're seeing fans not just posing with guests, but also hugging them!
As the couple exits without a Tom Holland reveal, all we could think was that they don't know what they were missing.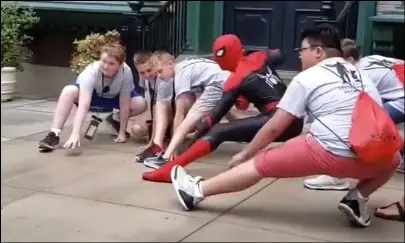 Next, a group of teen boys, maybe 13-15ish and two adults come up and start shaking Spidey's hand and then he encourages them to get into prime webslinging position.
The kids might not be as flexible as Spider-Man, but they look to be having tons of fun with this pose.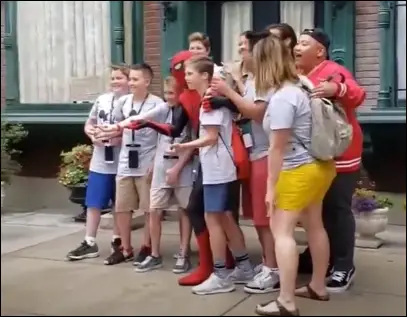 Next, some of the supporting cast from Spider-Man: Homecoming and Spider-Man: Far from Home run in to photobomb the group.
We caught glimpses of Jake Gyllenhaal, Zendaya, and Jacob Batalon joining in on the fun. The kids were stoked, but the guests behind the camera were losing their minds.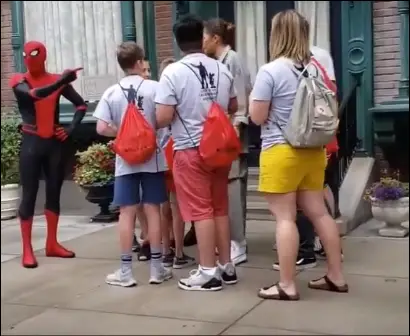 THEN (this cracks me up), Spider-Man steps back and is acting like it's a big deal that Jake, Zendaya, and Jacob totally stole his show. He's pointing at them like "woah, this is cool!"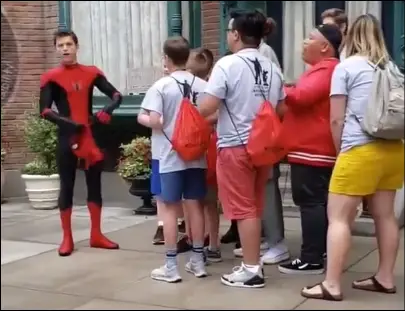 And finally, Tom reveals that he's in fact the man behind the mask. The kids and adults clap, but the folks behind the camera are going nuts. Jacob really gets everyone going by "fan-girling" and waving to cool off.
It was so fun to join in Tom Holland surprising fans at Disneyland. Check out the full video below.
Are you ready to meet Spider-Man? It might not be Tom Holland when you get there, but you can get the full Spidey experience at the new Avengers Campus at Disney's California Adventure.
Let's start planning you next Disney getaway and join the Avengers to fight evil in Anaheim.
As a Platinum Disney Vacation Planner, my goal is to help you plan the Magic your way. I create customized itineraries, monitor for discounts for your vacation, you don't pay a dime extra for using my services! 
Feel free to reach out at 336.345.9889 or tori@mickeytravels.com or join me on Facebook!