Post Credit WandaVision Scene Quietly Changed
The post credit WandaVision scene was quietly changed this month, and Marvel didn't tell anyone about it.
Even though new episodes of WandaVision wrapped in March of 2021, fans are still in love with this show and going back to watch it again and again.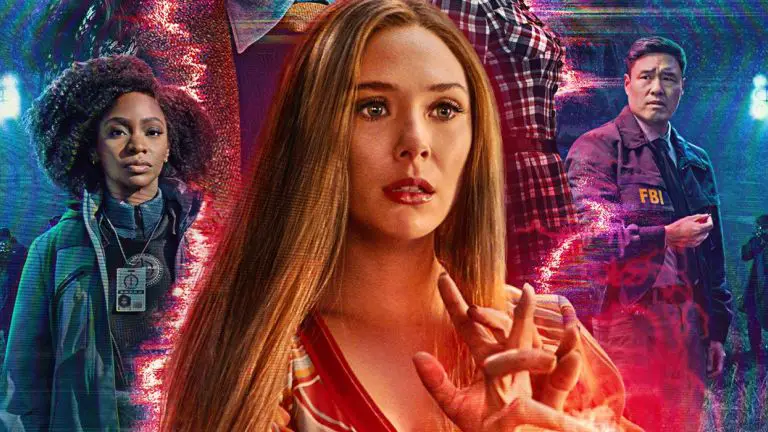 The series set up Wanda as the true Scarlet Witch and paved the way for her to be a big player in Doctor Strange in the Multiverse of Madness.
In the post credit scene below, we see Wanda Maximoff relaxing in a remote cabin AND studying the Darkhold book via an astral projection.
Scarlet Witch took the book from Agatha Harkness at the end of the series before imprisoning her as a nosey neighbor in a prison similar to the one Wanda was trapped in during the series.
However, fans have noticed the post credit scene has been subtly and quietly updated by Marvel for some unknown reason.
In the video below, a duck goes missing in the lake at about 22 seconds. But the trees surrounding the cabin also look to be slightly different. Specifically, fans are theorizing that a character has appeared in the scene where there was none before!
Two theories have emerged: an astral projection of Doctor Strange, or possibly White Vision.
Could the good Doctor be coming to recruit Scarlet Witch to help repair the multiverse? Or maybe White vision finally feels like real Vision (because of the whole philosophical debate he and Red Vision had) and is coming to sweep Wanda off her feet and restore her broken heart to whole.
It's surprising that anyone noticed these changes, but we're glad for the new theories associated with Wanda. She's such an intriguing character that's probably as multidimensional and mysterious as the multiverse.
Buuuut… now that we know Marvel could possibly do this to other post credit scenes in the future, we'll have to be on the lookout for possible scene changes after a show has been released!
Who or what do you think has been added to this post credit WandaVision scene? Or do you think this is a wild fan conspiracy theory? Let us know in the comments below!
Let's start planning your next Disney vacation! 
As a Platinum Disney Vacation Planner, my goal is to help you plan the Magic your way. I create customized itineraries, monitor for discounts for your vacation, you don't pay a dime extra for using my services! 
Feel free to reach out at 336.345.9889 or tori@mickeytravels.com or join me on Facebook!
---