Counter Culture Filmmaker Robert Downey Sr. Dies
The filmmaker and actor Robert Downey Sr., who is known for his work on classic counterculture films like Putney Swope and Greaser's Palace, has passed away at the age of 85 after a long battle with Parkinson's Disease. The late actor is also the father of Robert Downey Jr., who played Iron Man in the Marvel Cinematic Universe for a decade.
Robert Downey Sr.
Downey Jr. confirmed news of his father's death in an Instagram post on Wednesday, July 7th, 2021, which was accompanied by a black and white photograph of his father.
"RIP Bob D. Sr. 1936-2021," the actor wrote in the caption for the post. "Last night, dad passed peacefully in his sleep after years of enduring the ravages of Parkinson's ..he was a true maverick filmmaker, and remained remarkably optimistic throughout."
"He was a true maverick filmmaker, and remained remarkably optimistic throughout," added the notoriously lighthearted Downey before making a joke about his stepmother. "According to my stepmoms calculations, they were happily married for just over 2000 years," he said. "Rosemary Rogers-Downey, you are a saint, and our thoughts and prayers are with you."
Rogers-Downey also confirmed the news of her husband's death in the NY Daily News.
The Legacy RD Sr.
Downey Sr. was born in New York City to Jewish parents. His father was of Lithuanian Jewish descent, while his mother was of half Irish and half Hungarian Jewish ancestry.
By the time he started making movies, the director "had already been a Golden Gloves boxer, a semipro baseball player, a frequently court-martialed soldier, an actor, and a way off-Broadway playwright," according to Andrew Hultkrans.
He started his film career working on basement-budgeted, absurdist films that gained an underground following, such as: Balls Bluff, Babo 73, Chafed Elbows, and No More Excuses. However, it was his satirical look at the advertising industry in 1969's Putney Swope that really launched his career as a director.
In addition to making films, Downey Sr. was also an actor (a bad one according to the late actor himself). He appeared in films such as Boogie Nights, Magnolia, and To Live and Die in LA.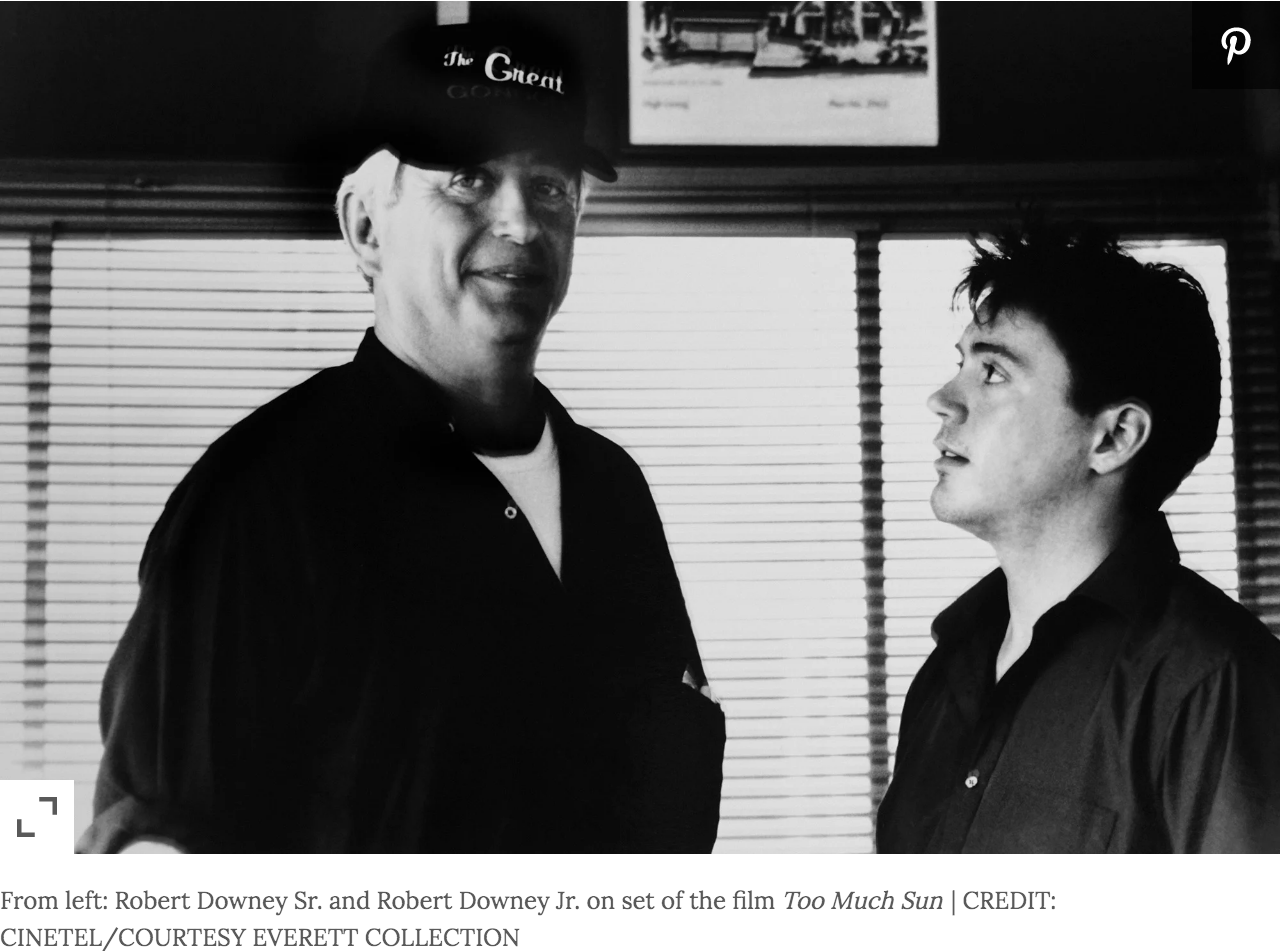 His last onscreen role was in 2011's Tower Heist, which also starred Eddie Murphy, Casey Affleck, Ben Stiller, Matthew Broderick, and many more. Meanwhile, his final film working behind the camera is 2005's Rittenhouse Square, a slice of life movie about spending a day in the park in Philadelphia.
Downey & His Son
Downey Sr. often included his family members in his films, according to People. The late director included his first wife, Elsie, in four of his movies, as well as his two children. In fact, Downey Jr. made his film debut in his father's 1970 film Pound when he was 5.
In a 2016 interview on The Off Camera Show, Downey Jr. said he remembered his father being treated with reverence for his film making. "Particularly around the time Putney Swope came out, it really was kind of a mind-blowing satire of advertising, power, corruption," he recalled. "That's what I heard a lot, that my dad was brilliant."
He added that not only was his dad brilliant, he was a great dad. Downey Jr. said,"I remember an incredibly kind of thoughtful, considerate, affectionate and attentive dad."
Marvel Blog sends its condolences to those closest to Robert Downey Sr.
Thanks for visiting MarvelBlog.com! Want to go to Disney? For a FREE quote on your next Disney vacation, please fill out the form below and one of the agents from MickeyTravels, a Platinum level Authorized Disney Vacation Planner, will be in touch soon!