REVEALED: Alligator Loki ROCK 'EM SOCKS
Devoted Marvel Blog Untrue Believers are already aware of the incredible sartorial selections available from Rock 'Em Socks! With incredible designs based on WandaVision (especially a pair that features our hero Agatha Harkness in all her witch-y finery), Rock 'Em Socks has proven that they can deliver a pair of socks that will have everyone talking. But now, they've entered a brave new world: the Void, ultimate destination for pruned Variants, including the one and only Alligator Loki!
Three Incredible Pairs
Rock 'Em Socks has unveiled three pairs of socks featuring the pruned Loki Variants we met in the penultimate episode of Loki, "Journey Into Mystery." In that episode, Analyst Loki (Tom Hiddleston) is pruned by Judge Renslayer (Gugu Mbatha-Raw); however, it doesn't disintegrate him, it teleports him to the Void at the end of time.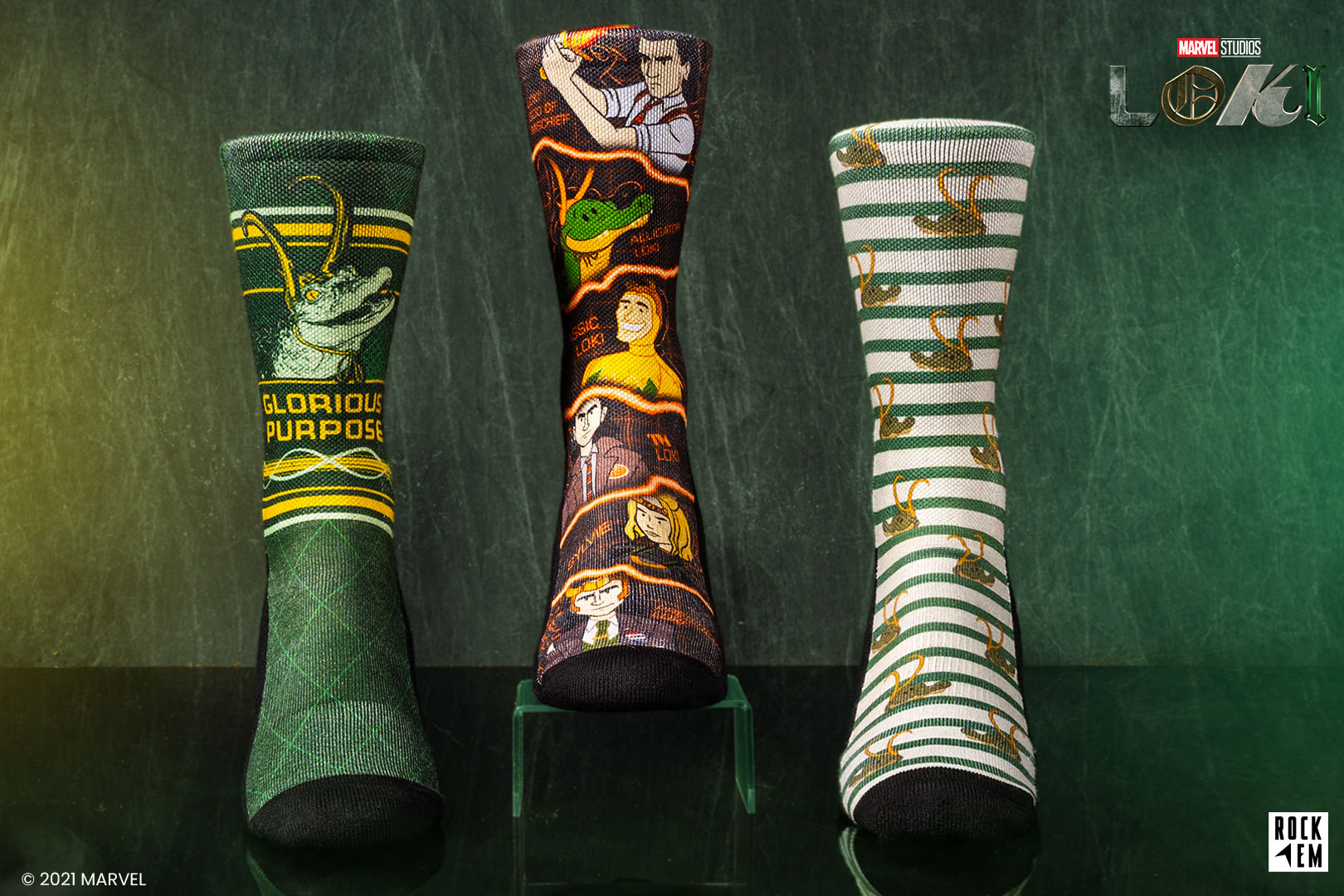 Once in the Void, Analyst Loki meets Classic Loki (Robert E. Grant), Kid Loki (Jack Veal), Boastful Loki (Deobia Oparei), President Loki (also Hiddleston), and (your savior has arrived) Alligator Loki. Later, Analyst Loki reunites with Sylvie (Sophia Di Martino). Why mention all of these variants? Because every single one of them appears on the "Pruned Variants" socks!
Yes, that's right Marvel Blog Untrue Believers: all those Lokis are on a single pair of socks! Incredible! All of these pruned Variants appear on a pair of socks that has a background which evokes the orange-and-brown screen aesthetic of the TVA (hint: these would match the TVA Variant jacket really well).
In addition to these "group socks," there are two pairs of socks that spotlight Alligator Loki specifically. One features a green-striped pattern with plenty of images of Alligator Loki's adorable face and helm.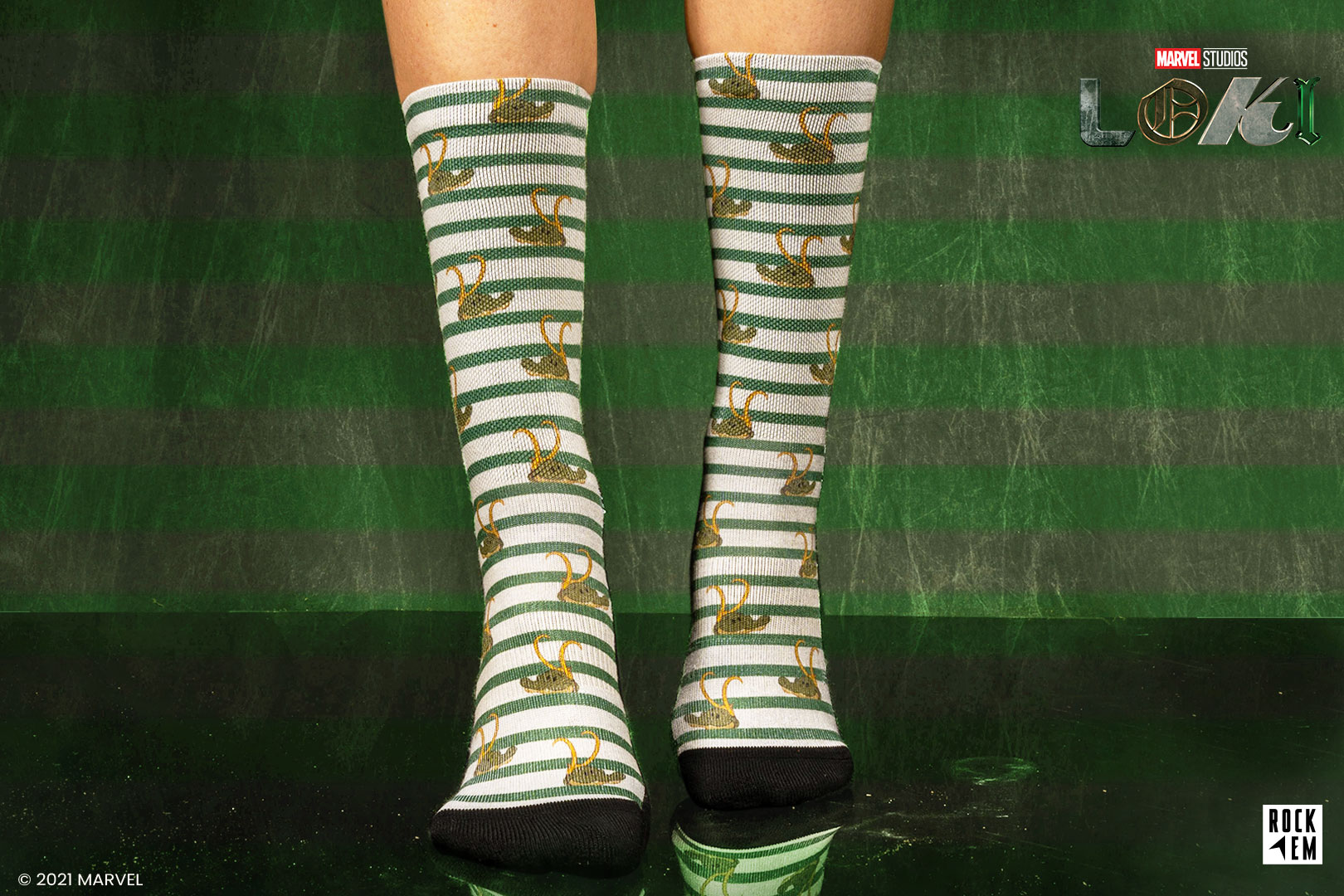 And the other pair features a full-body image of Alligator Loki, along with the legend, "Glorious Purpose." Glorious Purpose, indeed (watch your right hand, President Loki)!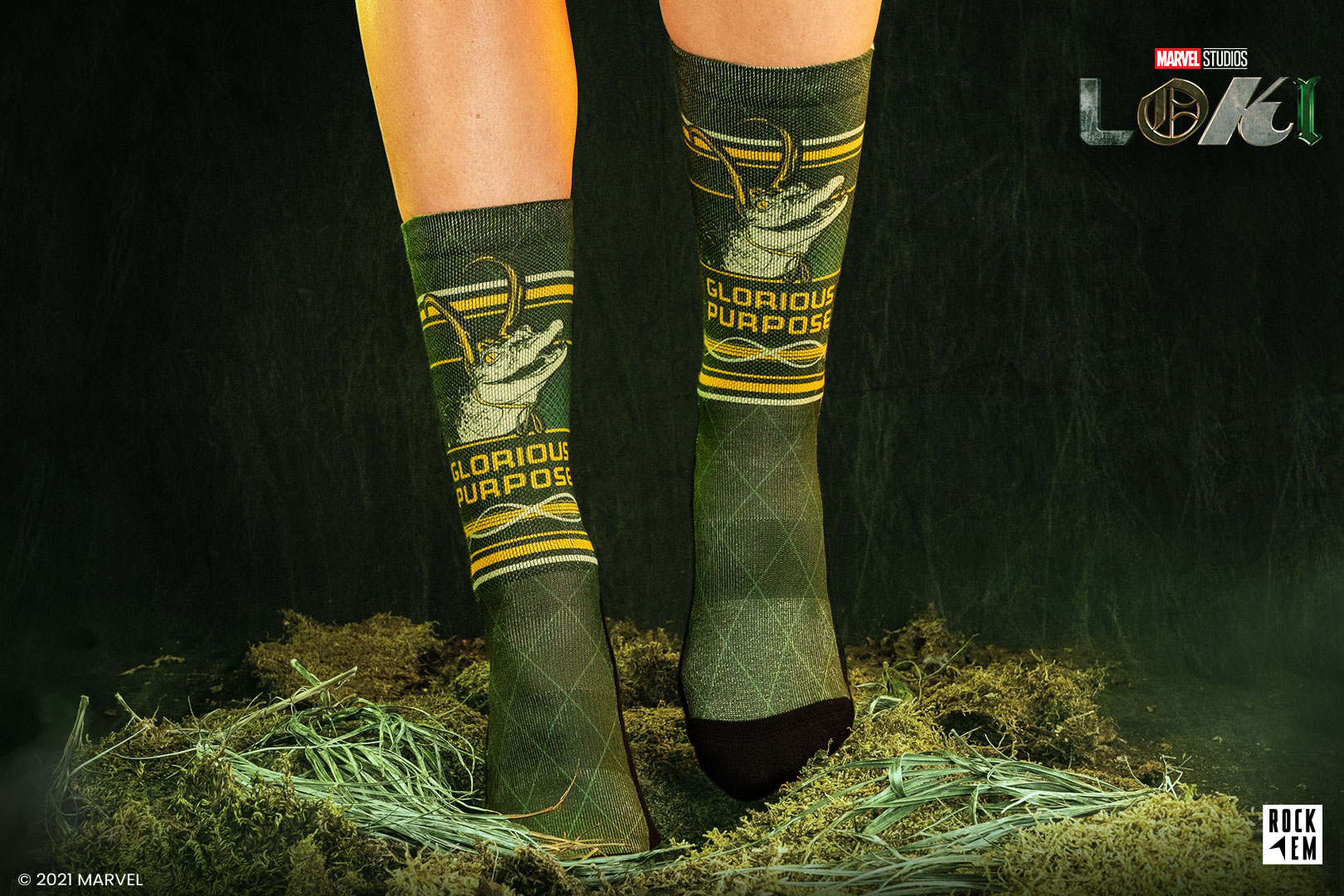 He's Green, Isn't He?
You can order all three of these Loki sock designs – plus other designs featuring characters from Loki, like a pair featuring Miss Minutes, and ones featuring individual themes for Analyst Loki, Mobius, Sylvie, and President Loki – through the Rock 'Em Socks Loki webstore.
And if you are wondering if there are other Marvel designs available, the answer is: yes! Over 100! Find your favorite character today (they even have a pair featuring Dancing Daddy Zemo)!
All of these socks are $18 a pair, and they have an incredible mix of styles and aesthetics, so get ready for some seriously hard decisions! But keep an eye out for sale prices on multi-packs for the best deal.
Which one of these irresistible pairs of socks are at the top of your wish list, Marvel Blog Untrue Believers (we won't judge you if you can't pick just one)? Let us know what you're thinking in the comment section!
Featured Image: Rock 'Em Socks
Thanks for visiting MarvelBlog.com! Want to go to Disney? For a FREE quote on your next Disney vacation, please fill out the form below and one of the agents from MickeyTravels, a Platinum level Authorized Disney Vacation Planner, will be in touch soon!