NEW Marvel Studios LEGO Minifigures!
LEGO has unveiled a brand new series of collectible minifigures and they are EPIC!
Marvel Studios Minifigures
The Marvel Studios Series of Collectible Minifigures appeared online today. The collection of 12 minifigures spans all four Disney+ Marvel Studios television series. It will be available for sale this Fall.
From WandaVision, there is Scarlet Witch, Vision and Monica Rambeau.
From The Falcon and the Winter Soldier, fans may collect Winter Soldier and Sam Wilson (the new Captain America).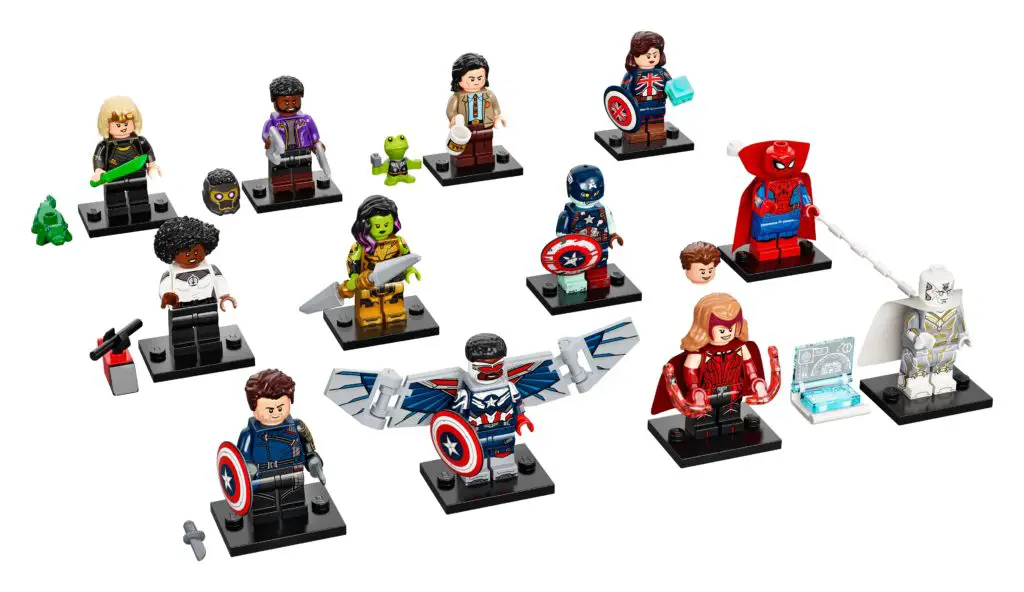 Loki and Sylvie from Loki will also be available.
What If…? has the largest presence of the collection. Minifigures will include Star-Lord, T'Challa (Black Panther), Captain Carter, Gamora, Zombie Hunter Spidey and Zombie Captain America.
Each of the new LEGO minifigures will be sold with accessories, such as Captain America's shield and a TVA mug with Loki.
When Will the New Minifigures Be Available?
The new Marvel Studios LEGO minifigures will be released on September 1st. Each "blind bag" will be sold for $4.99.
Every individual bag will contain 1 of 12 unique, buildable minifigures, along with at least 1 accessory. The LEGOs have been designed for builders ages 5 and older. These limited-edition minifigures will appeal to super hero fans and lovers of action.
Although they are not yet available for purchase online, you can find them here: https://www.lego.com/en-us/product/lego-minifigures-marvel-studios-71031
I don't know about you, but I'm marking my calendar for this special release!
With reduced crowds, now is the time to visit Disney! As an Authorized Disney Vacation Planner, my goal is to help you plan the Magic your way. I create customized itineraries, monitor for discounts, and much more… all for FREE! Please feel free to reach out at (646) 645-6175, bedwards@mickeytravels.com or join me on Facebook!