LEGO Captain Marvel & Nick Fury: Fighting Covid-19 One Brick At A Time
The kids are already getting stir crazy. So, what is a dad to do? Well, this guy — alongside Captain Marvel — is fighting boredom one brick at a time.
I make a habit of grabbing the best of the clearance aisle and checkout line "can't leave without me" rack.
So, we decided to make a stop motion of putting together our Captain Marvel and Nick Fury LEGO Marvel polybag set (30453). Price? $4.99 (plus tax).
LEGO Marvel Set 30453
So, let's be honest. This wasn't the hardest build. Only 32 pieces; but hey, it's Nick Fury – with hair! And Captain Marvel — a.k.a. Vers — in Kree gear! I loved the movie and I love this little set.
I couldn't resist picking this one up and tonight seemed to be the best time to put it together.
Stop-motion Animation
Bear with me. This was my first attempt at stop-motion animation.
Again, this is a nice, quick project (as I find my kids don't yet have the patience to keep focus for too much more than this at the moment).
But it was a fun segue to a re-watch of the movie – Captain Marvel.
"Higher. Further. Faster!" Indeed.
Might as well add, "Smaller. Squarer. Cuter!"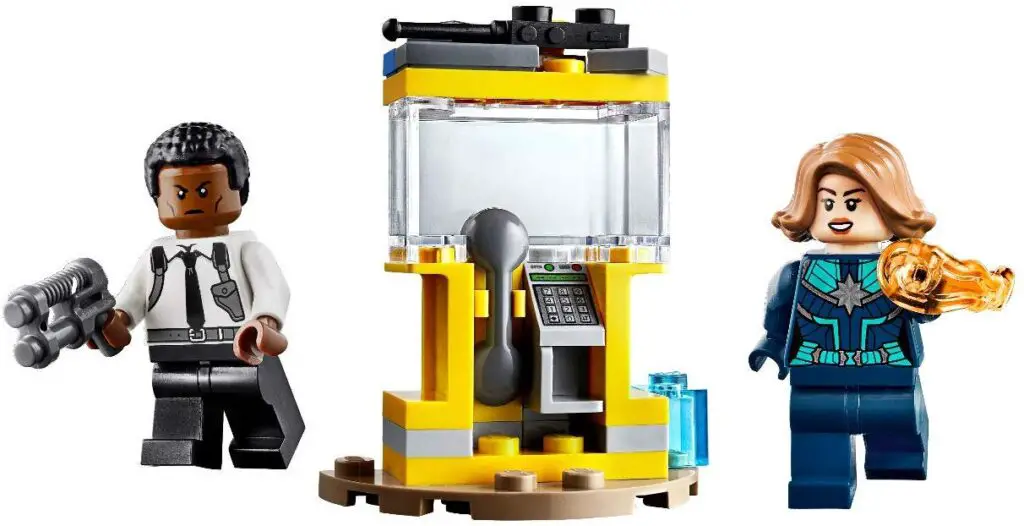 Thanks for visiting MarvelBlog.com! Want to go to Disney? For a FREE quote on your next Disney vacation, please fill out the form below and one of the agents from MickeyTravels, a Platinum level Authorized Disney Vacation Planner, will be in touch soon!