In LIGHTYEAR, STEVE ROGERS Goes to SPACE
In the trailer for the upcoming Disney/Pixar movie Lightyear — which will feature none other than Steve Rogers himself, Chris Evans, in the eponymous role — we got our first glimpse of the origin story of legitimate space hero Buzz Lightyear!
Move Over, Cosmic Marvel
The movie Lightyear will feature a character who is somewhat – but not exactly – familiar to you, Marvel Blog True Believers!
Everyone knows the toy version of Buzz Lightyear. He first appeared in 1995's Toy Story, the first feature movie from Pixar Studios and the first full-length feature to be fully computer animated! In that series, the diminutive toy version of Buzz is played by Tim Allen (when he's speaking English) and by Javier Fernández-Peña.
Animated movie were an enormous part of my childhood. They were my escape. My adventures. My dreams.

They were my first window into the magic of storytelling and performing.

To @pixar and @AngusMacLane:

'Thank you' doesn't even come close❤️#Lightyear pic.twitter.com/DD1N7aYhKT

— Chris Evans (@ChrisEvans) October 27, 2021
In addition to the trailer, a poster for the movie was unveiled, featuring Lightyear's distinctive green armor. 
Prepare for ignition. 👨‍🚀💫 Check out the new poster for #Lightyear pic.twitter.com/Q7LGxE85T0

— Disney (@Disney) October 27, 2021
Judging by the glimpses of the movie we see in this trailer, it looks as though part of the story will involve Buzz's journey to get his suit, thereby achieving the apotheosis of Lightyear… sort of the way the All-New, All-Different Captain America (Anthony Mackie) got to premiere his new suit at the climax of Captain America and the Winter Soldier!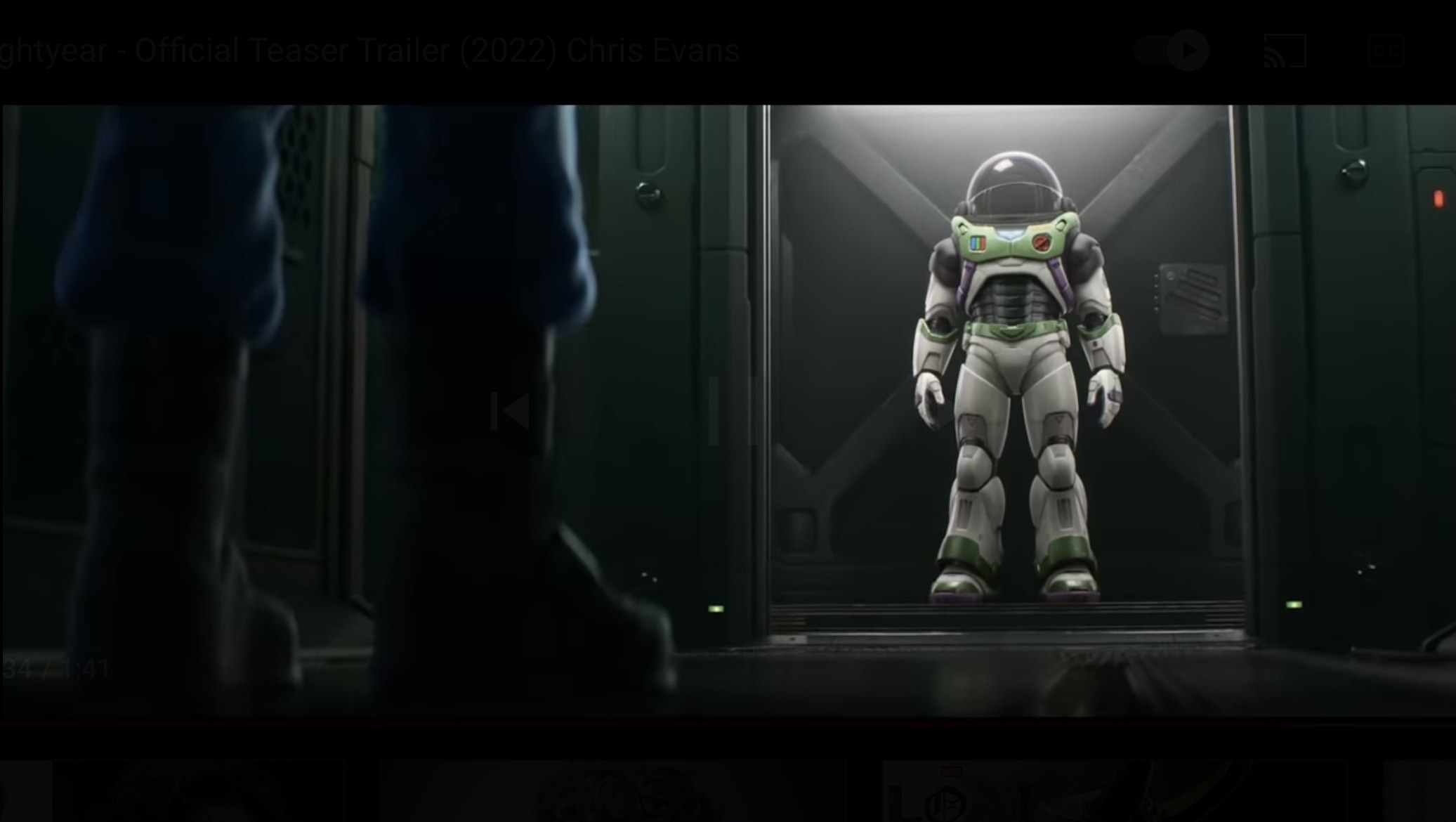 Lightyear Goes To Infinity and Beyond (in 2022)!
What do you think of this exciting new trailer, Marvel Blog True Believers? Do you think there will be any reference to Cosmic Marvel in the movie? How long will we have to wait until we get an update to Buzz Lightyear's Space Ranger Spin at Disneyland and Magic Kingdom in Walt Disney World that includes the incredible voice acting talent of Evans? Will Colin Hanks end up filling in for his dad when we get the gritty Woody origin story from Pixar in a few years?
We want to hear from you, Marvel Blog True Believers! Let us know what you're thinking in the comment section.