'Spider-Man: No Way Home' Review: Everything You Could've Hoped For…And Then Some
One of the best examples of how immensely great Marvel can be at the peak of its powers is the carefully crafted love story between the greatest creation in comic book history, Peter Parker/Spider-Man, and those of us who have spent our entire lives by his side. With that being said, this is our Spider-Man: No Way Home review.
Spider-Man fans, this movie is for you…
Spider-Man: No Way Home is a thrill ride quite unlike anything Marvel fans have experienced before, taking the Marvel Cinematic Universe in a unique direction and reconstructing the Peter Parker that we have known for the past six years.
A film people have been theorizing on for nearly a year, Spider-Man: No Way Home is perhaps the first cinematic experience that allowed every attendee in the theater to be correct about at least one theory they brought with them, and it still did not alter the effectiveness of those moments.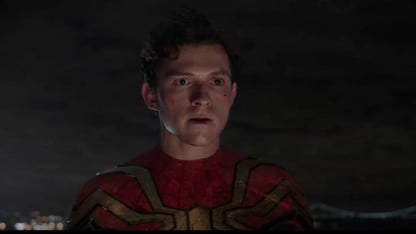 There is a lot that happens in this film – a lot – and yet it still feels as though you are inherently a part of this adventure and have a place amidst the story… And that's because Marvel made this movie for you, the Spider-Man fan.
There will be those who point to the "fan service" of the film, but that term doesn't seem appropriate to define just what took place on the screen during this Peter Parker adventure.
There were moments that were devised for the fans. However, it wasn't to service the fans. Instead, it was to celebrate the unequivocal connection between all of us and Peter Parker.
These moments didn't lessen the narrative. Instead, they helped to make the film a study on just what Spider-Man means to all of us, demonstrating what makes his character so relatable and iconic, as well as the image of heroism that every single person strives to become.
The film wasn't perfect, there were moments that happened simply because the plot needed them too, and there were some inconsistencies in pacing towards the middle, but there still isn't a better cinematic interpretation of Peter Parker than this one.
The movie will truly break your heart, and it will reinforce your love for the character of Spider-Man because the film unabashedly displays just what it means to choose to be the hero.
Peter Parker experiences trials in Spider-Man: No Way Home that is of such a brutal nature you cannot help but be crushed by what the story puts this young hero through.
Yet, these hardships continue to provide evidence that this iteration of Peter Parker is so much more than we have known before.
This Peter Parke won't back down, this Peter Parker will always do the right thing.
And this third film of the character's MCU saga is our chance to gather our theories and thoughts, and enter into an experience that celebrates our overwhelming adoration for the comic book industry's greatest creation.
That was our Spider-Man: No Way Home review! What do you think? Are you going to see the film on opening night? let us know beloved!
Feature Image Source: Marvel Studios
Thanks for visiting MarvelBlog.com! Want to go to Disney? For a FREE quote on your next Disney vacation, please fill out the form below and one of the agents from MickeyTravels, a Platinum level Authorized Disney Vacation Planner, will be in touch soon!