Spider-Man Comic Page Sells For Over $3 Million
One of the most iconic characters in the history of the medium showed why he is so adored once again, as a Spider-Man comic page sells for over $3 million!
With Spider-Man: No Way Home rejuvenating the adoration for one of the greatest comic book characters in history, Marvel has orchestrated one of the greatest Peter Parker stories of all time.
With Peter Parker and Spider-Man undoubtedly occupying his own space in the contemporary cultural zeitgeist, his mythos grows greater with every passing day, and the lengths of his appeal are shown to increase with every passing year.
It appears to have reached a fever pitch currently, however, as news has surfaced that a Spider-Man comic page has sold for over $3 million dollars in an astounding sale that took place at an auction on Thursday.
The page in question is from a 1984 Spider-Man issue that featured the debut of his iconic black suit.
Drawn by Mike Zeck, the image is pulled straight from page 25 of the eighth issue of Marvel's beloved Secret Wars run of the 1980s, with the now memorable black suit being the precursor to the character's incredible Alien Costume Saga.
Heritage credited the page as by Zeck "and others," who are comics legends John Beatty, Jack Abel, Mike Esposito, and Jim Shooter.
The bidding took place during the first day of the Heritage Auction Four-Day comic event in Dallas Texas, with bidding for the iconic Marvel Comic moment starting at $330,000, before finally settling at $3.36 million.
In comparison to how other comic books faired, the Heritage Auctions event also had for sale one of the rarest comic books ever produced, Superman's debut in Action Comics #1, a comic that sold $3.18 million.
The gap between the price of the iconic Spider-Man page, and the entire first issue of the iconic Superman story, should put into perspective the rarity of this incredible character and the long-standing legacy of adoration we have with Stan Lee's greatest creation.
And who we can confidently refer to as the greatest creation in the history of the industry.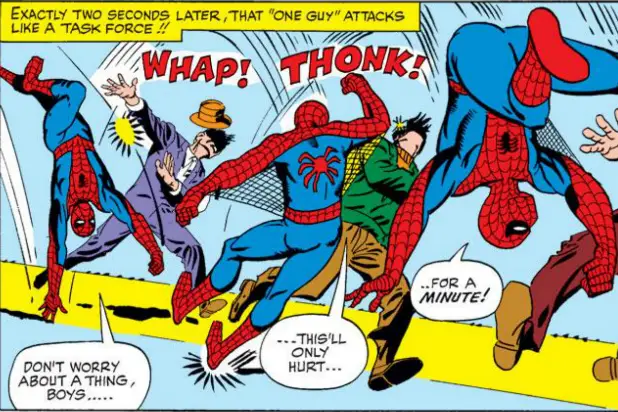 Feature Image Source: Marvel
Thanks for visiting MarvelBlog.com! Want to go to Disney? For a FREE quote on your next Disney vacation, please fill out the form below and one of the agents from MickeyTravels, a Platinum level Authorized Disney Vacation Planner, will be in touch soon!