Let's Talk about She-Hulk Episode 1-8
We have reached the final two episodes of She-Hulk, and we still don't really know who the Big Bad is.
For that matter, we still haven't seen Daredevil yet, which is bizarre since he was all over the early marketing.
I could use more Mallory Book, too. Hmm, I'm coming across as pessimistic about the show. Instead, I'm thrilled with She-Hulk and wish we were getting more of it.
Alas, we're coming to the end of the road. So, let's savor what we have by talking about She-Hulk episode 1-8, the one where the classic She-Hulk outfit finally appears.
Who Is the Guard Frog?
"The hell is a Guard Frog?"
"I think it's his name."
I'm quoting dialogue from the random thieves trying to steal a 65" television who encounter not Guard Frog but Leap Frog, a would-be superhero.
Well, Leap Frog would be a superhero in a much different MCU where competence isn't a prerequisite. Leap Frog is a laughingstock.
As proof, we watch as two thugs easily whoop his tail and leave him to run fly away.
During his epic departure from the local electronics store, Leap Frog gleefully shouts his trademark catchphrase, "Time to ribbit and rip it!"
Seconds later, Leap Frog plummets to the ground due to a super-suit malfunction. Then, his legs catch fire, which can happen when you misuse rocket fuel.
Leap Frog wants to sue the manufacturer of his super-suit, who happens to be – you guessed it! – the Drip Broker, Luke Jacobson.
I have questions here, as we previously learned that the Drip Broker held the title of tailor to the MCU. Meanwhile, Leap Frog seems like an idiot.
In fact, I wonder how Leap Frog even got the Drip Broker to make him a suit. Remember all the hoops Team She-Hulk had to jump through to get hers?
I needn't wait long for an explanation, though. Jennifer Walter's boss at GLK&H informs her that Leap Frog's dad, Mr. Patilio, "is one of our biggest clients."
Interview with the Drip Broker
Jen has no choice but to confer with the Drip Broker about the malfunctioning suit. Suffice to say that he feels attacked.
Mr. Jacobson takes pride in his craft and knows that he has never made a flawed suit, which is also his reputation.
The Drip Broker refuses to speak further on the matter and kicks Jennifer out of his office. Also, he will no longer accept her as a client, which is a problem.
The Female Lawyer of the Year event is coming on Friday, and she needs a She-Hulk-sized dress!
Maybe they can still be friends after their court case? Nah. But also yes.
Jennifer and Leap Frog have sued, and the superheroine attorney believes her client has a good case.
Her expectations collapse once Luke's attorney arrives in court. He's a blind man with a quick wit and an easy smile.
Ladies and gentlemen, Matt Murdock has arrived on the Disney side of the Marvel Cinematic Universe.
We should have a Daredevil sighting within the next 20 minutes!
First, Murdock kicks Jennifer's tail in court. She's completely blindsided by Matt and has inexplicably also not interrogated her own client.
Leap Frog had ignored the manufacturer's warning about his suit. It expressly stated not to use jet fuel. So yes, the case gets thrown out of court.
Meanwhile, Leap Frog is out a suit, while Jennifer has lost a friend AND a tailor. Okay, Luke's more of a work acquaintance but still. They aren't on speaking terms now.
Jenn goes to the bar to drown her sorrows, wherein she meets Matt Murdock again. The two share a drink and a vibe. Each one gets a text, though.
Stuff like this explains why superheroes have such a tough time hooking up.
The Fight and the Even Bigger Fight
This week's episode achieves the perfect tone, as it's sometimes serious but often silly. Leap Frog is a hilariously entitled brat.
Angry and without a suit, the younger Patilio kidnaps the Drip Broker and forces him to work on something even, I dunno, froggier?
Jennifer won't learn this for a bit, though. All she knows is that her client calls her and says he's being attacked. Who is the assailant? Daredevil.
Daredevil knows about the kidnapping. Fan service trumps communication, though. It'd be more fun if She-Hulk and Daredevil fought, right?
Murdock has Walters at a disadvantage because he knows she is. Even after she thumps him pretty good and he unmasks, she still doesn't know him.
Hell's Kitchen needs a better marketing team.
Anyway, just like in every comic book story ever, the battlin' superheroes join forces and head to this – I cannot type this with a straight face – Lily Pad.
Oh, and I should probably mention that Jenn wanted to impress Daredevil. So, she broke out the outfit that the Drip Broker made for her.
Folks, we have the classic She-Hulk outfit! Repeating, we have the classic She-Hulk outfit!
The Leap Pad and a Ridiculous Villain
By the way, the writers and producers have a ton of fun with the Leap Pad. And they love this buffoon character, Leap Frog, too.
He wants a new and improved suit with "fancy AI with a British voice that talks to you."
Also, Leap Frog calls his goons the Leap Squad but also Tadpoles. They hate it and apparently spend their shifts complaining about the boss.
What should make them upset is the boss has ticked off She-Hulk and Daredevil, who wipe out "25 goons" in a matter of minutes.
Finally, the Lily Pad includes an arcade version of Frogger plus a larger arcade game called Leapfrogger. Sure, why not?
I love that Leap Frog is so insecure that he had to have a game especially built for him, and it had to be bigger than the exponentially more famous Frogger.
Of course, She-Hulk and Daredevil have little problem beating Leap Frog and his goon squad.
In fact, the most intriguing part of the conversation involves the two attorneys debating the best strategy for keeping him out of jail.
Meanwhile, She-Hulk rescues Luke Jacobson and earns herself another dress from the Drip Broker. But, of course, that should have happened anyway. She had pre-paid for it!
The hilarious running joke in She-Hulk centers on how little respect Jacobson has for Walters combined with how desperately she needs him.
The Sex and the Awards
This episode doubles as a romantic comedy where girl meets boy, loses to boy in court, slaps boy around, learns boy's secret identity, and then has sex with boy.
The chemistry between Tatiana Maslany and Charlie Cox is real, instantaneous, and hopefully not just a one-off in this episode.
However, the best moment occurs when Daredevil does the walk of shame the following morning.
Soon afterward, a strange scene occurs wherein Walters breaks the fourth wall to ask a vital question.
"Is it the kind of twist that's like, 'there's another Hulk, but this one's red,' or, like, 'I'm getting fridged?'"
I love the writers forever for referencing fridging, which I've discussed for at least three Disney+ Marvel series thus far. These are my people.
As fate would have it, the twist is that the big gala is Friday, and She-Hulk wins Female Lawyer of the Year! But, of course, so do several other lawyers, including Mallory Book.
Apparently, all the nominees are also the winners. However, only She-Hulk suffers the consequences of the toxic male website, Intelligencia.
The "wall" behind the presentation stage proves to be a digital display that the Intelligencia hacks to play…She-Hulk's sex tape with Josh?
Honestly, the whole hack feels a bit anticlimactic and ineffective. However, Jennifer's parents are in the crowd. That pirated sex tape sets her off.
She-Hulk smashes the monitor, setting off an alarm that actually makes her look like the Red Hulk for a moment.
As she goes outside to chase members of the Intelligencia, members of what I presume are Damage Control confront Jenn, who is pretty scary now.
She-Hulk looks to the camera in the final shot, although she may be staring at someone unexpected. It's impossible to know yet.
Final Thoughts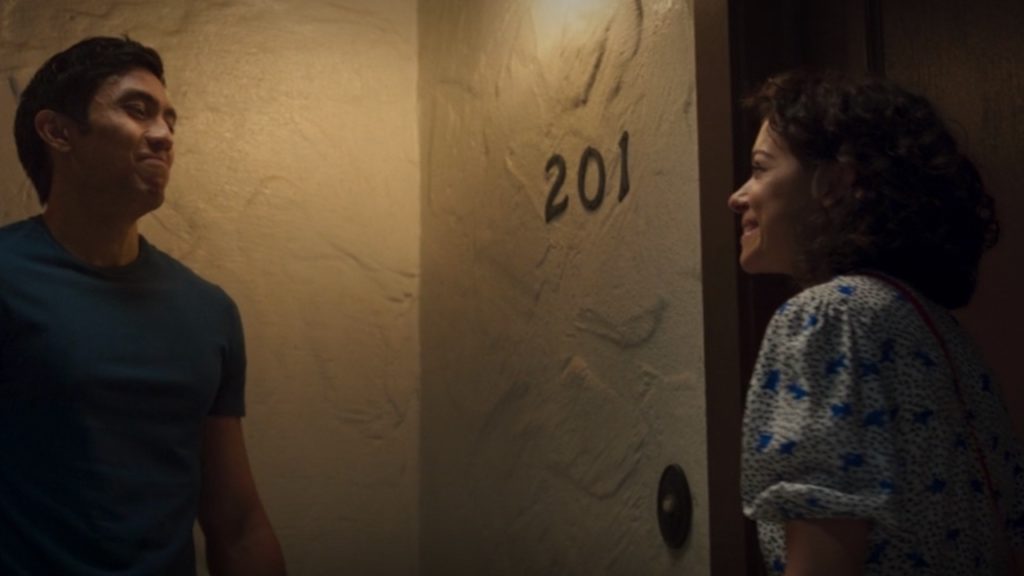 This episode effectively tied together some of the challenges women face in society. First, Jenn meets a guy and has a fling.
Then, a disgruntled ex exposes their dirty laundry for the world to see.
Somehow, she is subjected to intense scrutiny even though the ex's actions are heinous and indefensible.
On the downside, we've reached the final episode, and we still know virtually nothing about the season's apparent big bad, the Intelligencia.
That's a minor quibble, though. This story has been so entertaining and cleverly written. I'm a big fan of She-Hulk and am grateful for another A+ episode.
Poor Leap Frog.
Thanks for visiting MarvelBlog.com! Want to go to Disney? For a FREE quote on your next Disney vacation, please fill out the form below, and one of the agents from MickeyTravels, a Diamond-Level Authorized Disney Vacation Planner, will be in touch soon!