Baby Yoda in the Marvel Universe!
Did you know Baby Yoda now has a place in the Marvel Universe?
Baby Yoda has taken the world by storm since its first appearance in The Mandalorian last Fall, quickly becoming one of the most beloved creatures in the vast Star Wars Universe. In fact, the 50-year-old force sensitive creature is Disney's best kept secret! Neither Disney, creator John Favreau nor director/writer Dave Filoni uttered a word about "The Child" before the show aired on Disney+.
Disney & Marvel
Now that Disney and Marvel have partnered, comic fans are finding a variety of Disney references peppered throughout the books. In this week's Empire #0: Fantastic Four, fans will be excited to find that Baby Yoda is mentioned.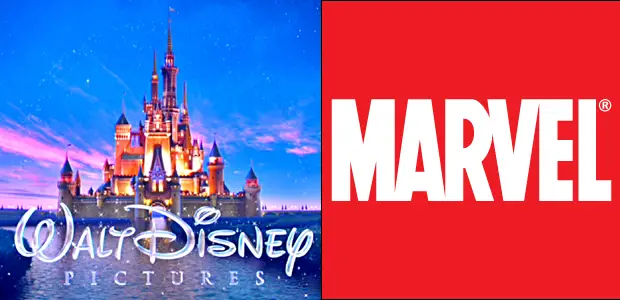 Fantastic Four's Empire #0
The brand new comic features the Fantastic Four family stuck on an unknown planet after their ship runs out of gas. The family separates when the adults go deal with their mission while their kids, Franklin and Valeria Richards, go see the casino. While there, the kids use their powers to take Casino Cosmico's resources.
The kids are caught and imprisoned in a gladiator arena where the Kree and Skrull fight. The Richards make a deal to return the stolen money in exchange for Franklin and Valeria's freedom, as well as gas for their ship.
But how are the kids allowed to gamble in the first place?
Baby Yoda Appears
The Richardson children call upon Baby Yoda as their excuse to gamble! Initially, the kids are stopped at the door to the casino because they appear to be too young to enter.
Quick-witted and intelligent, Franklin replies that they are members of an alien race called the Valerians and, like Baby Yoda, are much older than they appear. In the comic, he states:
"No, we're Valerians, an ancient race that ages very slowly. We're hundreds of years old."
Somehow, the man standing at the door believes him. As they enter, Valeria asks how his deception worked and Franklin responds:
"Baby Yoda. If he can be fifty…"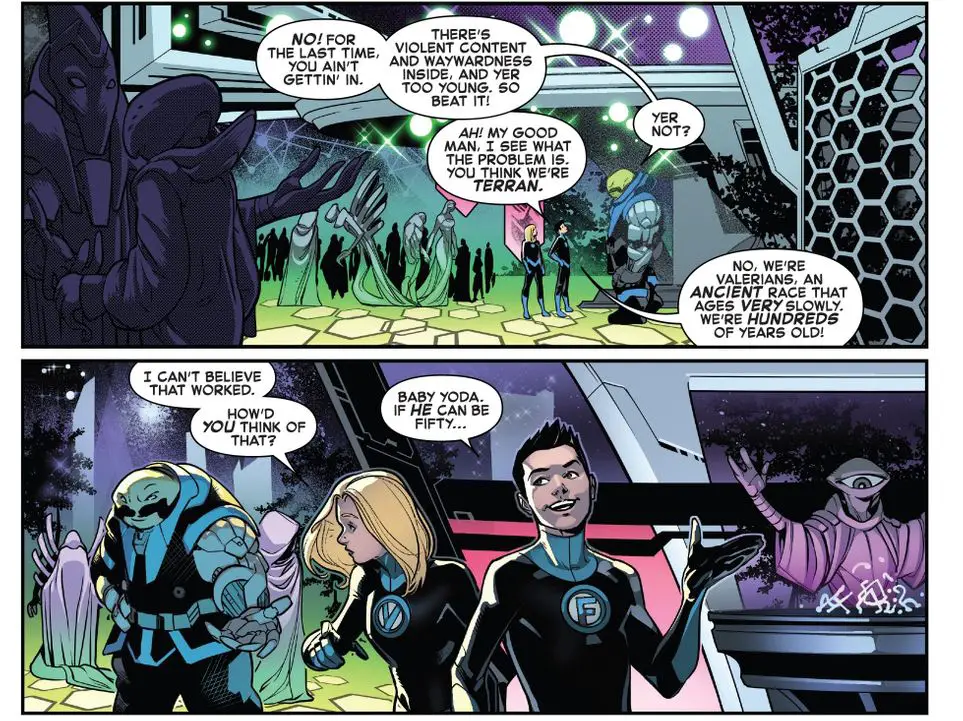 What Does This Easter Egg Mean?
This reference makes clear that Baby Yoda exists in the Marvel Comics Universe. Fans have speculated that this brief crossover may indicate that the Fantastic Four could potentially cross paths with the Star Wars Universe more fully at some point in the future. We'll just have to wait and see!
Have you found any interesting Easter Eggs in Marvel comics lately? We'd love to hear about them!
Would you like help planning your next Disney vacation? As an Authorized Disney Vacation Planner, my goal is to help you plan the Magic your way. I create customized itineraries, monitor for discounts for your vacation, and much more… all for FREE! Please feel free to reach out at (646) 645-6175, bedwards@mickeytravels.com or follow me on Facebook!