Let's Talk about WandaVision Episode 1-1
For 18 months now, fans have anxiously anticipated the next chapter in the Marvel Cinematic Universe.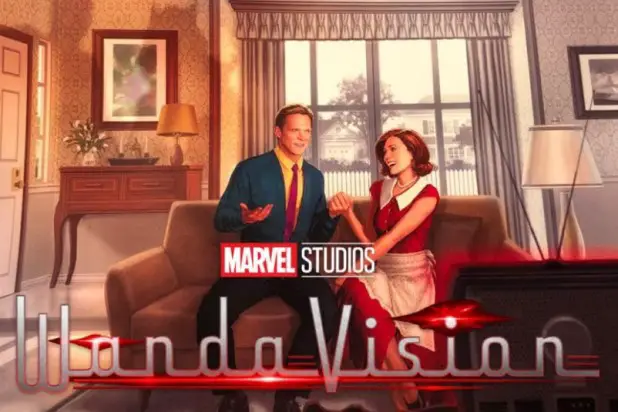 Now that this moment has finally arrived, a lot of people have confused looks, as the first MCU series on Disney+ isn't what anyone could have expected.
Today, we will discuss the series premiere of WandaVision, a show that raises many more questions than it answers.
What's WandaVision?
Having watched two episodes so far, I'm not entirely prepared to answer that question. I'll tell you what I know. However, I must be transparent that I'm just as confused as you probably are.
WandaVision occurs at some point in the aftermath of Avengers: Endgame. You may recall the end of that movie when the Scarlet Witch eviscerated Thanos.
She famously appeared out of nowhere and told the supervillain that he'd taken everything from her. His bemused and accurate answer was that he had no idea who she was.
From Thanos' perspective, none of the events transpired, as he had jumped in from an earlier timeline.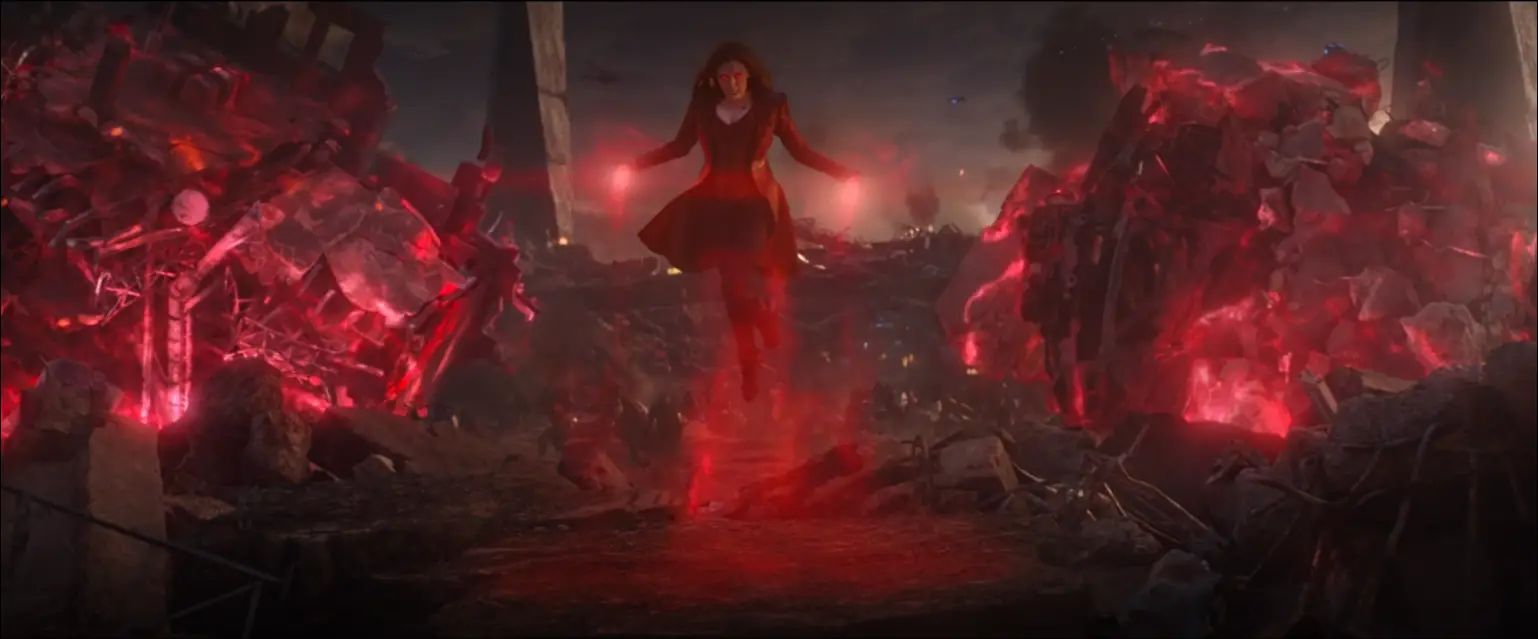 From Wanda's perspective, Thanos had crushed her lover's forehead to acquire the Mind Stone. At that moment, Thanos killed Wanda and Vision's relationship.
Only, he didn't?
WandaVision starts with the happy Avengers couple of Wanda and Vision driving toward a new community named Westview.
Apparently, they're such a newlywed couple that the car still features wedding decorations. I guess they left the chapel and headed straight for their new home?
No, wait. That cannot be right since Vision is super-mega-dead.
Thus, WandaVision leads with a mystery.
How is Vision alive? More importantly, what's going on?
I ask this because the show's formatting proves integral to the plot.
WandaVision plays out as a sitcom, the kind that you'd find on WTBS back in the 1980s.
The show lampoons and pays homage to the mannerisms of this kind of programming.
So, I would most accurately describe the first episode of WandaVision as a tribute to Bewitched.
Why Bewitched?
I suspect my description is a bit too on-the-nose, as Scarlet Witch is, you know, being a witch in The Avengers movies.
She's a magical being of some sort, although her powers aren't well-defined yet.
WandaVision leans into these incongruities, as our protagonist can somehow turn back time to transform uncooked chicken into a batch of eggs.
For whatever reason, she cannot magically wish dinner into being out of thin air, though.
The show makes no attempt to explain why. In fact, that seems like part of the point.
Wanda Maximoff acts like Samantha from Bewitched in that she behaves like she's nearly omnipotent right until her husband, Darrin Vision, needs something.
At that point, the Scarlet Witch becomes a sometimes helpless damsel, the kind that starred in virtually all popular black and white sitcoms.
Of course, that statement only tells half the story, though. WandaVision also mimics two other, more modern television programs.
This MCU series builds mysteries akin to Lost and X-Files. During the first episode, it unapologetically makes no attempt to answer them, either.
We start with two Avengers, one of whom is broken-hearted, while the other is missing his forehead. However, they appear just fine and…somehow married?
Vision even maintains his robotic look for a while, although his witchy wife sometimes ensorcells him to display a more human appearance.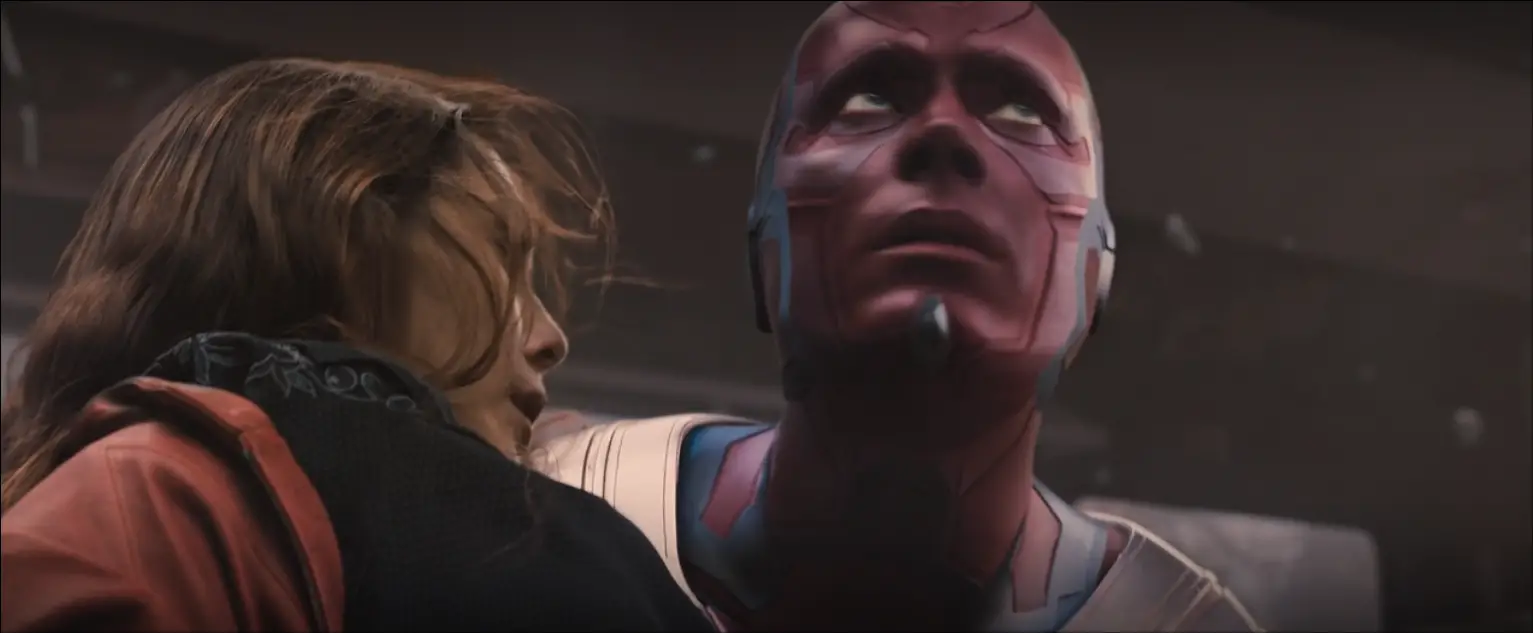 The series starts as if nothing ever happened…save for the fact that Vision and Wanda are somehow living happily ever after.
They even have a theme song!
A True Sitcom
The advertising and early reports regarding WandaVision had indicated the series would pay homage to several generations of sitcoms.
Nobody could have anticipated the lengths that the show would go, though. Even Dick van Dyke and Mary Tyler Moore would think it's a bit much.
The first episode of WandaVision IS a sitcom!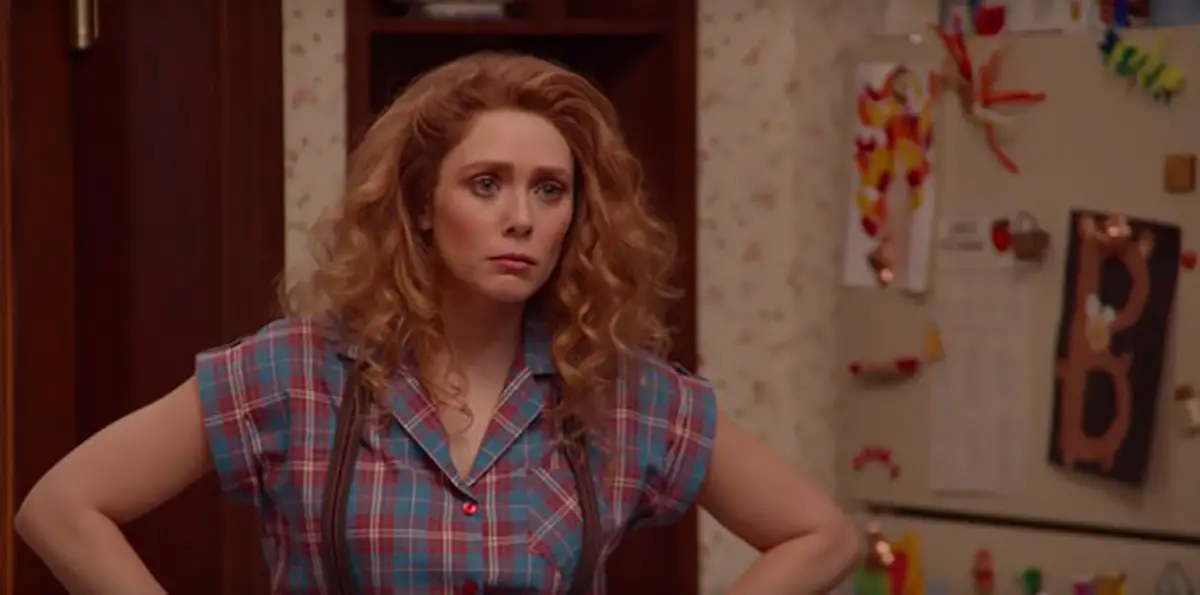 After 30 seconds of the usual Marvel introductory spiel, the dazzling UHD picture switches to black and white. For the next 21 minutes, a standard sitcom story unfolds.
Wanda and Vision notice a day marked with a heart on their calendar. They cannot recall why (in many ways) and debate the intent.
At work, Vision realizes that his boss and his wife will come to Westview to have dinner with the newlyweds.
Right on cue, we learn that the last employee who screwed up the last boss's dinner is now fired.
So, it's crucial that everything at Vision and Wanda's dinner goes right.
Since WandaVision is a sitcom, you know it won't. In fact, Wanda confuses the dinner with a romantic anniversary meal of some sort. Shenanigans ensue.
Elizabeth Olsen has the time of her life playing a zany 1950s/1960s housewife. The show certainly never reveals a date, but 1961 seems most likely from the wall calendar information.
You may recall that, in real life, Olsen has a pair of older sisters who are twins.
Those two got their start as sitcom actresses back when they were babies and are now worth hundreds of millions of dollars.
From a young age, Olsen watched her twin sisters act in Full House. WandaVision allows her to utilize a lifetime of unintentional training, and she loves every minute of it.
In watching this show, you would totally believe that Elizabeth Olsen missed her calling as the modern Lucille Ball.
She's a revelation here, leaning into every wildly misogynistic joke, as those were a sitcom standard at the time.
The Straight Man
Meanwhile, Paul Bettany, a BAFTA Award-winning actor, seems right at home as The Computer Who Wore Business Shoes. He relishes this rare opportunity to work in comedy.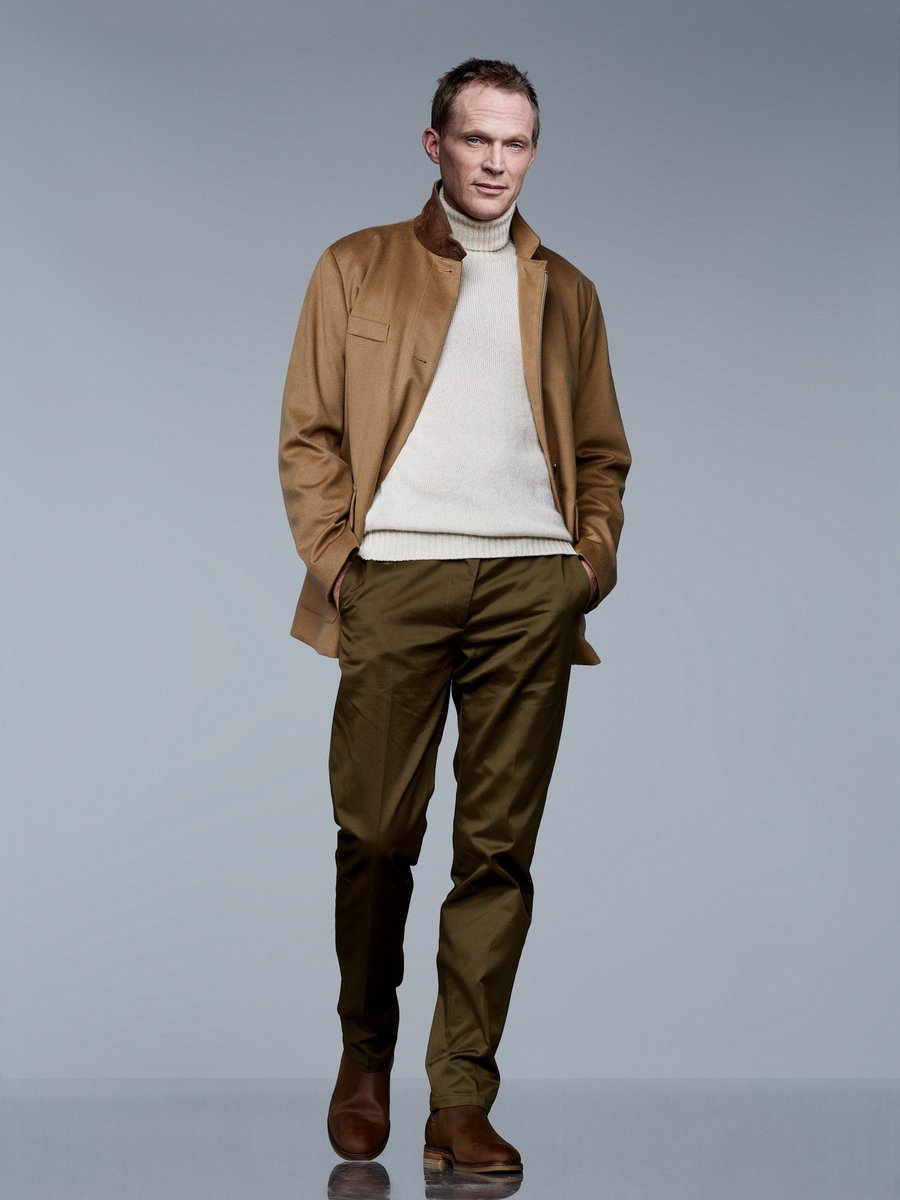 You may recall that his American career started in a 2001 adventure comedy, A Knight's Tale. I'm not sure he's told a joke on camera since then save for maybe Wimbledon.
So, this episode works as an outlet for 20 years of hiding his funny bone.
The unexpected part is that WandaVision mines Vision's robotic nature for laughs.
He apparently works at some early computer company, one whose purpose he cannot understand.
Also, his Avengers powers are intact, allowing him to pass through solid objects.
Without spoiling anything, the show plays both characters straight right up until the boss faces a dinner crisis. At that moment, Vision acts like an Avenger.
The event feels shocking because they haven't behaved like superheroes, just honeymooners up until then.
However, that's not the shocking twist that anchors the series premiere.
(Spoilers follow in the next section. Skip it if you want to remain unspoiled)
The Big Twist
After 21 minutes of nonsense, WandaVision gets to the fireworks factory right as the credits roll.
Well, I should say the first set of credits.
WandaVision the sitcom features fake end credits using imaginary names including Wanda Maximoff and Vision and producer Babs Digby (a funny Easter egg once you piece it together).
However, this entire experience proves something of a misdirect.
Someone is watching an old black and white television, one situated beside state-of-the-art technologies from the 2020s or beyond.
The digital display indicates it's a S.W.O.R.D. employee who somehow possesses the ability to watch Wanda Maximoff (and Vision?) inside this world where she/they reside(s).
Until this point, WandaVision never breaks the illusion that the sitcom is fake. Then, the show absolutely shatters that perception, undoing everything that has happened.
I won't speculate as to why just yet, but it's a mesmerizing trick. In ten seconds, the season premiere's final moment negates all previous storytelling.

We don't know how or why, but Wanda Maximoff appears trapped in some alternate reality. Maybe she lives out a fantasy rather than accept the truth about Vision?
More importantly, some unknown government official is aware of this fiction and appears likely to intercede.
Final Thoughts
Like most of you, I watched the first two episodes of WandaVision consecutively. However, I think it's important to view the series premiere in isolation.
This episode does the impossible, maintaining an odd illusion that an Avenger lives in a sitcom, possibly by choice.
Olsen and Bettany relish this unprecedented opportunity to roll back the clock and party like it's ~1959. They look and feel right.
Just as importantly, the snappy dialogue sells the premise HARD. Writer Jac Schaeffer deconstructed the classic sitcom and distilled the essence.
This episode flies by because it's so freakin' charming.
Viewing it is an unreal experience the first time, as your head cannot reconcile the disconnect between what you expect and what you see.
I had expected WandaVision to satirize the Donna Reed Show era sitcom. While that happens some, the show lovingly pays tribute to this lost kind of storytelling.
The WandaVision pilot is comfortable, fuzzy, and funny, even as your brain itches at the thought of uncovering the underlying mystery.
I unabashedly adore this episode and grade it a solid A. I cannot wait to see what happens next.
Thanks for visiting MarvelBlog.com! Want to go to Disney? For a FREE quote on your next Disney vacation, please fill out the form below and one of the agents from MickeyTravels, a Platinum level Authorized Disney Vacation Planner, will be in touch soon!