Six Seasons and a MCU Movie: the Community Connection
With WandaVision on Disney+ capturing everyone's imagination, the connection between the Marvel Cinematic Universe and sitcoms is more evident than ever. But there is one sitcom in particular that has already had a fairly significant influence on the MCU: Community!
The series, which was created by Dan Harmon, began in 2009 and follows the misadventures of a study group at Greendale Community College in Colorado.
Community ran for six* seasons, and for the first three, it was produced by Russo Brothers Films – not to mention the fact that Anthony Russo and Joe Russo were executive producers on the series for several seasons and directed multiple episodes.
The Russo Brothers Directed Movies
The movies directed by the Russo brothers have featured a plethora of cameos by actors from Community, beginning with Captain America 2: The Winter Solider (2014) which featured Danny Pudi (who played the meta-fiction-obsessed Abed Nadir in Community) in a cameo as a Technician of S.H.I.E.L.D. during the movie's third act.
In 2016's Captain America 3: Civil War, another Community alum made an appearance, with Jim Rash (who played Dean Pelton) as a M.I.T. liaison who schmoozes with Tony Stark.
As a bonus, non-Community sitcom connection, this movie also features a cameo from the Arrested Development stair car during the climactic airport battle, a series on which the Russos also directed episodes.
And in 2019's Avengers: Endgame, we got two cameos from Community alums. In a non-speaking role, Ken Jeong (who played Señor Chang) appears as a security guard outside the facility where Scott Lang's van has been impounded.
And later on in Endgame, we get to see Yvette Nicole Brown (who played Shirley) as an Agent of S.H.I.E.L.D. in the 1970s. And this is a great story – because, apparently, the actress didn't know she was in the movie until she saw it in theaters.
The Additional MCU and Community Connections
But that's not the end of the Community/Marvel connections. The first season of Marvel's 616, the documentary series on Disney+, featured an episode directed by Gillian Jacobs (who played Britta) and an episode directed by Allison Brie (who played Annie).
And it isn't just Russo-directed movies with Community cameos.
Donald Glover (Troy) appeared in 2017's Spider-Man: Homecoming as Aaron Davis (the uncle of Miles Morales, who becomes the supervillain Prowler). And funnily, in Spider-Man: Into the Spider-Verse, Glover's fictional character from Community makes a cameo, and you can see a scene of Troy on the TV screen in Prowler's apartment.
And before she was Carol Danvers, Brie Larson appeared as a guest star in several episodes of Community as Rachel, a student of Greendale who fell for Abed (and was later subjected to an "interactive" VHS game).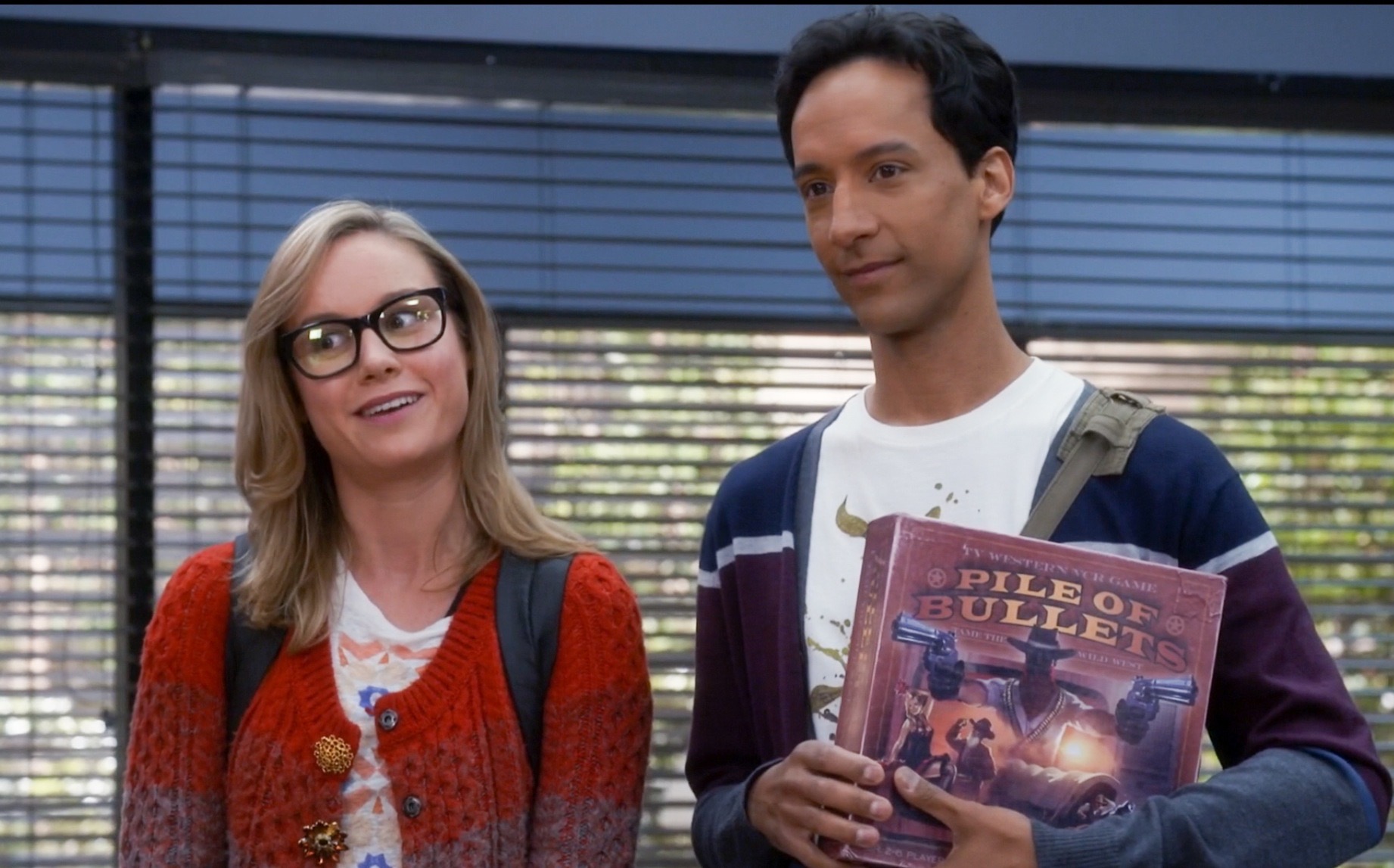 You've already heard the work of Community's composer, Ludwig Göransson, on the Disney+ series The Mandalorian, and you'll soon be hearing his work in the MCU as well, as he will be working with Ryan Coogler on the forthcoming Disney+ Wakanda series.
Plus, after working on Community, Harmon went on to create Rick and Morty, which began airing in 2013 and is currently through its fourth season. In the episode "One Crew Over the Crewcoo's Morty," Rick instructs his jacket to act like Dr. Strange's cape, a possible allusion to the fact that Harmon served as an un-credited consultant on 2016's Doctor Strange.
The Rick and Morty episode "The Vat of Acid Episode" won an Emmy for Outstanding Animated Program, and was written by Jeff Loveness, who will be writing the upcoming Ant-Man and the Wasp 3: Quantumania.
Will There Be More Community Cameos?
Is it possible that more Community cameos (or returning characters) are just around the corner? WandaVision has gone out of its way to include cameos by actors with previous work in sitcoms, so maybe an appearance by Joel McHale, Paget Brewster, or Kieth David is in the offering over the course of the next four episodes.
I certainly hope to see my person favorite, Paget Brewster. Who do you hope makes an appearance?
Thanks for visiting MarvelBlog.com! Want to go to Disney? For a FREE quote on your next Disney vacation, please fill out the form below and one of the agents from our sponsor MickeyTravels, a Platinum level Authorized Disney Vacation Planner, will be in touch soon!