Let's Talk about WandaVision Episode 1-7
"We're in the endgame now."
Yes, we've reached episode seven of a nine-episode season. As such, we've entered the third act of this play, and it hints at ending in tears.
Let's talk about WandaVision episode 1-7, Breaking the Fourth Wall, which destroys many preconceived notions.
WARNING: There are HUUUUGE spoilers ahead. Please don't read until you've watched the show.
What Time Is It?
I love a videogame called Bioshock Infinite. One of its core conceits is that the nature of time remains subjective.
A person lived, lives, or will live. The moment in time determines which statement applies.
This episode plays on that notion, as Wanda's recent actions have cost her control of Westview. She no longer knows the appropriate time.
Thus far, we've traveled through the decades thanks to sitcom conventions of each era.
That aspect still applies, as we've entered the age of The Office and Modern Family.
In fact, the WandaVision theme song this week pays tribute to The Office. However, most of the episode follows the trajectory of Modern Family.
You may recall that the ABC show tracked the lives of the Dunphys, who had allowed cameras into their homes for some reason.
Yes, the title of Breaking the Fourth Wall acknowledges that Wanda now talks directly to the viewer. And she begins with a terrifying comment.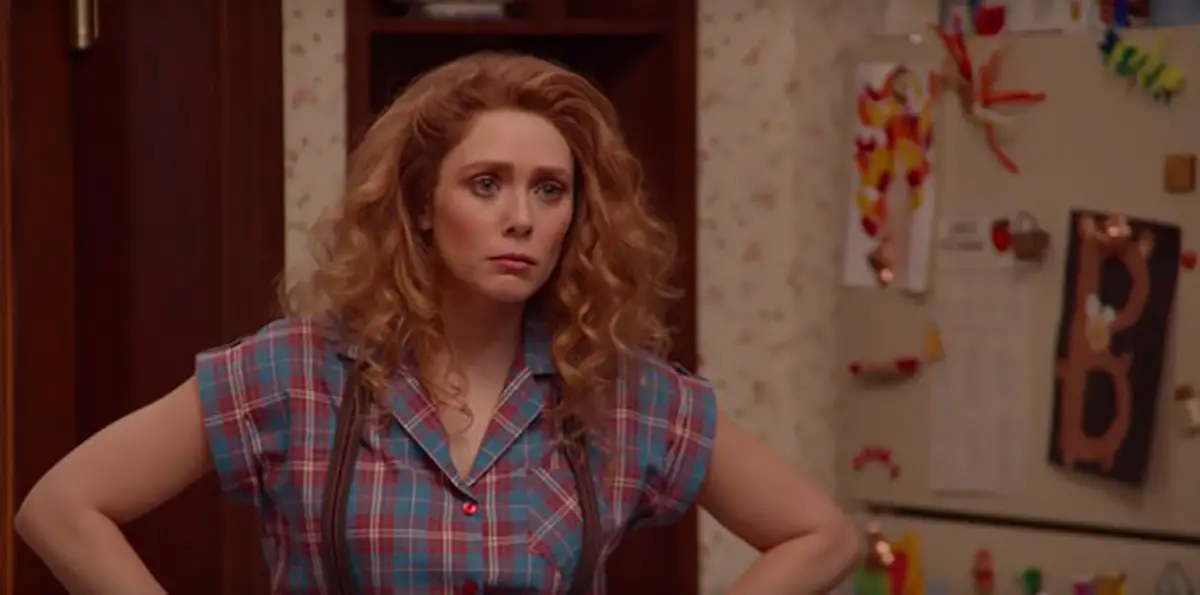 Wanda confesses that she's guilty of "Intentionally expanding the borders of the false world we created."
The camera then cuts to hysterical footage of S.W.O.R.D. employees fleeing for their lives. Fans of The Good Place know this bit well.
So, 30 seconds into the episode, we have a homage within a homage. WandaVision gets braver each week.
After the last episode's climactic events, Wanda has decided to take "a quarantine-style staycation."
I guess we know which WandaVision reshoots happened after the pandemic.
Of course, Wanda's morning gets disrupted when the twins face off against the arc of time.
Their game controllers reverse-age from modern to Nintendo GameCube-era to Atari joysticks to…Uno cards. Yes, that's unsettling.
Wanda's almond milk similarly regresses until it's milkman-era appropriate. She does need a vacation.
Vision Quest
As Wanda and the twins struggle with chronologies, the theme song emphasizes how alone she is without her husband.
The Office sendup literally shows the word Wanda over and over again using Zodiac Killer-style lettering.
Unless you freeze-frame at the right moment, you'll miss it, but one message states, "I know what u are doing Wanda." That can't be good.
Wanda passes off the babysitting duties to Agnes, which proves…regrettable. But I'm getting ahead of myself.
We must talk about Vision first. The clown show that is S.W.O.R.D. has taken on a more literal meaning now that they're part of Westview.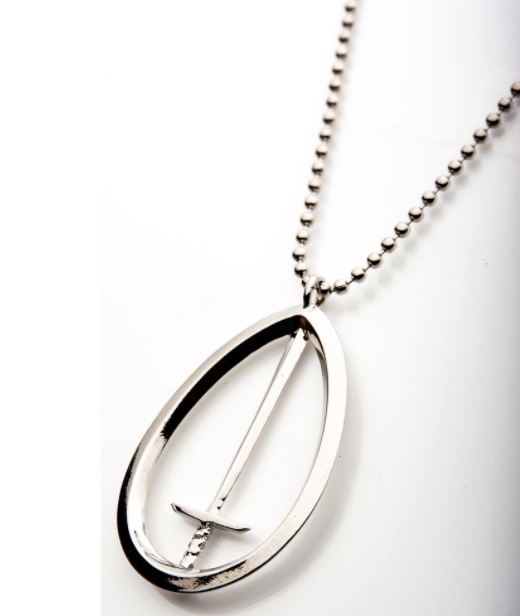 Vision has (unwillingly) joined the circus at the edge of town. A former power player at S.W.O.R.D. is now top circus person and knows the schedule.
Apparently, Doctor Darcy Lewis is up next. She's the escape artist, a creative play on the fact that she'd been tied up in handcuffs last week.
Vision recognizes Lewis from outside Westview, even though he was mid-disintegration at the time. The two flee (in a food truck!) and bond on the road.
The exposition here reveals a lot about the outside world's perception of Vision. He's unaware of his history, forcing Darcy to tell him about his death.
Along the way, we also realize that since his "birth" in the MCU, Vision has lacked agency.
The Avenger had no control over his inception, his death, or anything in-between. It's heartbreaking.
At least Darcy confirms that he and Wanda seem like a perfect couple who are happy together.
Still, Vision spends most of the episode facing hilarious, obvious impediments preventing him from returning to Wanda.
Hi, I'm Photon
WandaVision hasn't been subtle about the foreshadowing with Monica Rambeau.
In the extended flashback scenes after The Snap, Monica walked past a wall at S.W.O.R.D. Headquarters. It showed her mother, Maria, with her call tag.
Maria was Photon the same way that Tom Cruise was Maverick in Top Gun. Comic book fans caught the joke immediately.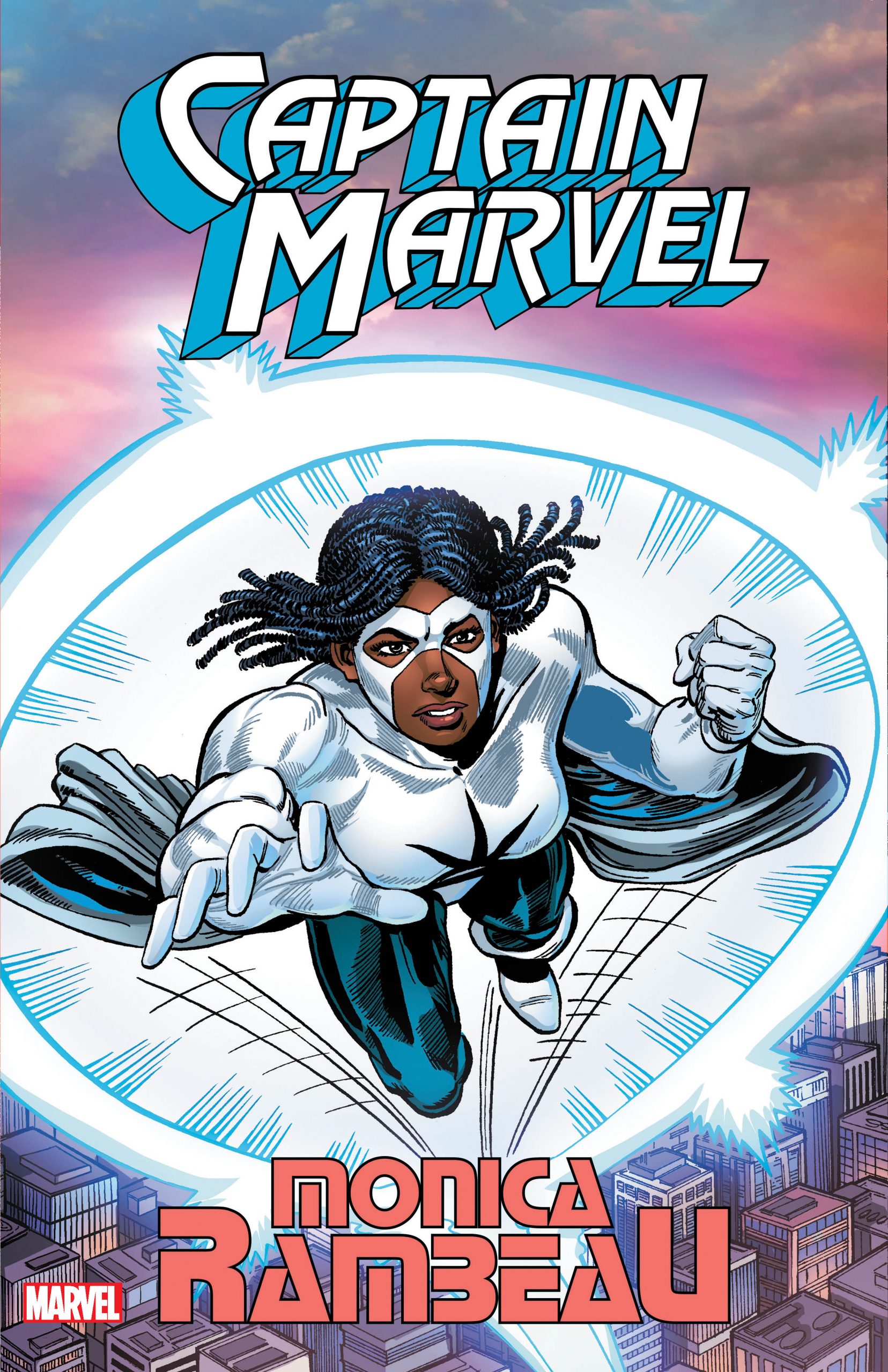 Monica Rambeau's superhero name is Photon (among others) in Marvel Comics.
In this episode, Rambeau develops her powers, the ones hinted at in previous episodes.
During encounters with Wanda, the Scarlet Witch rewrote Rambeau's genetic code.
I presume that she now possesses extreme superpowers since they come from an Infinity Stone, albeit secondhand.
This episode establishes that she's overpowered by demonstrating her newfound skills.
S.W.O.R.D. has brought in a next-generation outer space RV, a heavy-duty one that Monica's friend is confident will pass through the barrier.
You can guess how that goes. The barrier matches the energy level of the vehicle, preventing it from passing.
Immediately afterward, the undeterred Monica decides to walk through the red barrier on her own.
At this point, she temporarily splits into several parts of her own timeline. Just when she looks like she will fall apart, Photon kicks in.
The superhero's comic book powers allow Monica to recognize and control all forms of radio transmissions, even cosmic rays.
When Photon passes through the barrier, she sees Westview in an entirely new, extremely CGI light.
Just as importantly, when Wanda attacks Photon (again), Monica holds her own, something even Thanos couldn't do.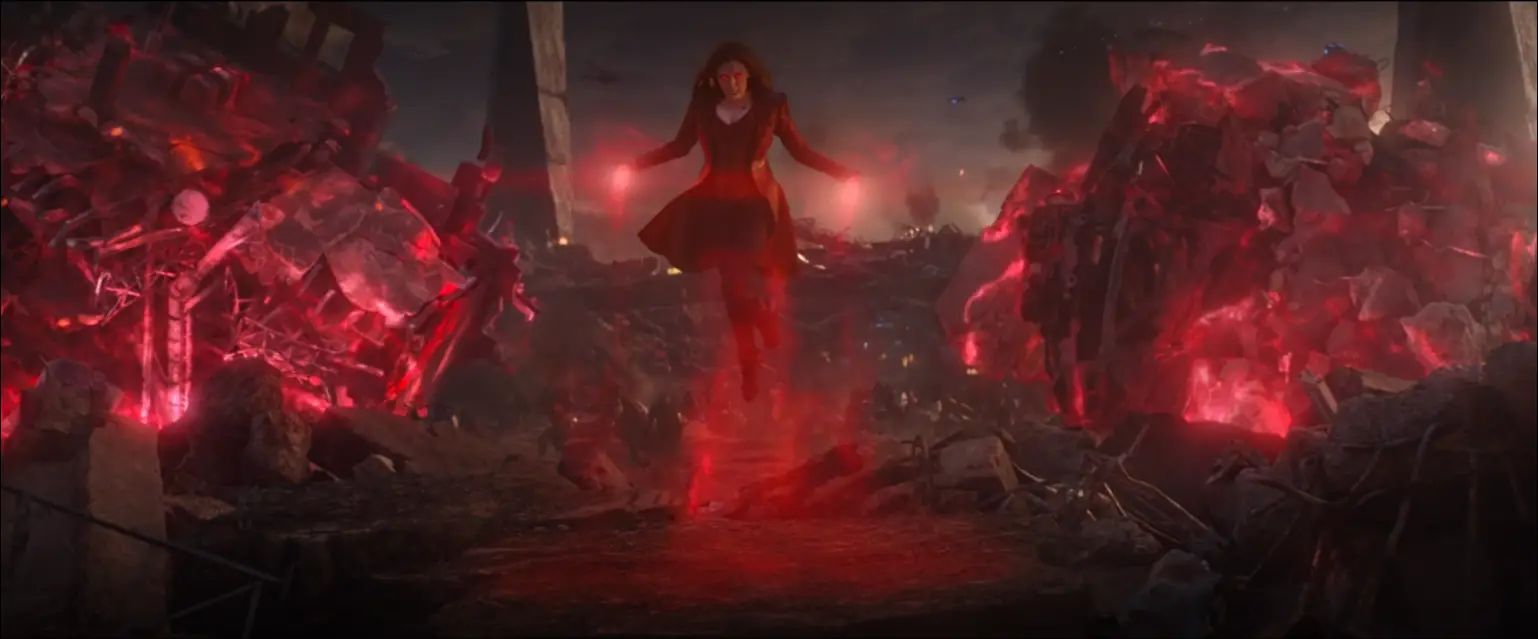 Of course, Wanda and Photon are both heroes. So, they settle their problems, at least temporarily, by talking rather than fighting.
Then, one of the neighbors interrupts…
Agatha All Along
After a time, a decidedly frustrated Vision gives up on the food truck and flies home. It's the final time we see him in the episode.
That's important because Wanda really needs some help. For that matter, so does Photon.
Yes, after nearly seven episodes of mystery, the Westview crisis comes into focus, at least a bit.
Wanda enters her friend's home, only to notice that the twins haven't finished their sandwiches.
When the mother asks where her children are, Agnes comments that "they're probably just playing in the basement."
You know how I keep telling you that WandaVision is a horror show, not a sitcom? What's the first rule of horror movies?
DON'T GO DOWN TO THE BASEMENT!!!
Wanda learns this the hard way, as she discovers a darkened lair and plenty of suspicious religious iconography.
At this point, the worst-kept secret about the show turns into the funniest joke on WandaVision thus far. It's theme song time again!
Yes, "Agnes" is actually Agatha Harkness, something the show hadn't bothered to hide.
The character has worn the Salem Witch broach from the comics in every episode. Of course, Wanda doesn't know this, requiring an introduction.
Here's the sublime dialogue that occurs after Wanda notices the evil spellbook functioning as the room's centerpiece.
"Wanda. Wanda. You didn't think you were the only magical girl in town, did you?
The name's Agatha Harkness. Lovely to finally meet you, dear!"
Given that Agatha brags about killing a dog, the show definitely wants us to believe that she's the villain.
Of course, last week, Agatha seemed like the helpless victim. So, I'm not rushing to any conclusions.
The Nexus Reference and the Mid-Credits Scene
Agatha's theme song lyrics hint that Wanda is screwed. "The pity is that it's too late to fix anything."
Somehow, the situation digresses after Agatha confesses to Sparky's murder, though.
For the first time on WandaVision, we receive a staple of the MCU, the mid-credits scene.
Monica remains outside the house and is doing some investigating of her own. Just as she notices some ominous doors, Pietro arrives.
Well, maybe he's not Pietro. He looks like Pietro and claims that he is, but then he sneaks up on Monica and states, "Snoopers gonna snoop."
Is Pietro working with Agatha? Controlling Agatha? Is the whole thing a misdirect? We must wait an agonizing week to find out!
In the interim, we should talk about the Nexus commercial during the episode.
Fittingly, the 2010s homage includes a drug ad. It's for Nexus, which makes Marvel fans' skin tingle.
In the comics, Wanda Maximoff registers as a Nexus Being, someone who exists as only one being across the multiverse.
In fact, Nexus Beings anchor the multiverse, which seems rather crucial as WandaVision segues to Dr. Strange in the Multiverse of Madness.
Meanwhile, others may use the Nexus to traverse the multiverse, making it a gateway across time and space.
Well, I've got some bad news here. The only way to disrupt the balance of the entire multiverse is via a Nexus Being.
Uh-oh.
We're heading toward a finish, folks, and it's probably not going to end with celebratory hugs.
This week's episode is an A+. I mean, I'd give it that grade for Agatha's theme song alone!
Thanks for visiting MarvelBlog.com! Want to go to Disney? For a FREE quote on your next Disney vacation, please fill out the form below and one of the agents from our sponsor MickeyTravels, a Platinum level Authorized Disney Vacation Planner, will be in touch soon!