Disney's Avengers Campus is More than Just a New Land in California Adventure
Disney's Avengers Campus is more than just another new land devoted to the characters within the Marvel Cinematic Universe. With the recent opening of the first dedicated space to the MCU in the US, we're seeing a deeper dive into the  artistry, performance, and blurring the lines between our real world and this beloved world of fantasy.
In a New York Times piece from pre-opening, Todd Martens singles out one moment we here at MarvelBlog.com are so proud to see…. During a pop up performance by the mighty women of the Dora Mulaje, Okoye (head of the elite warriors) calls the audience to have a moment of silence "for all the kings and the queens who have left us and joined the ancestral space." (you can pause here for a tissue)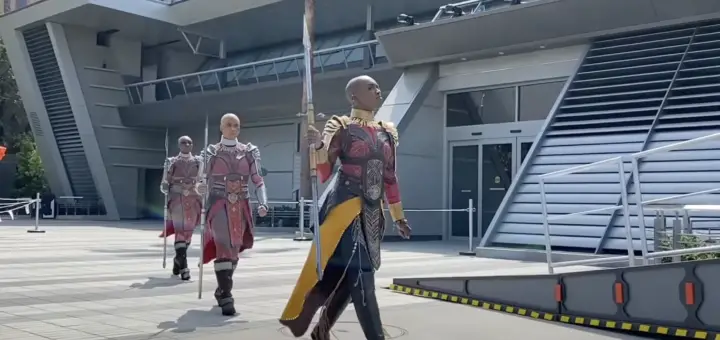 Okoye concludes the solemn, but stately moment with "Peace be to the ancestors." This moment is clearly one meant to honor not just the fictional characters of the Black Panther narrative, but also the late Chadwick Boseman, who passed away from colon cancer in 2020 after a 4 year battle with the disease.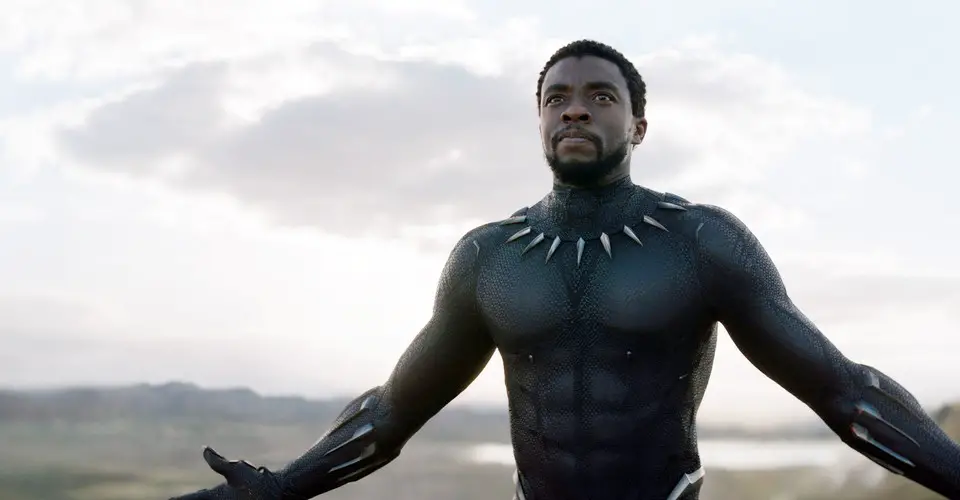 In the remainder of the performance by the Dora Mulaje, there's a sense of optimism that fills the hearts and minds of spectators. The audience was encouraged to find confidence within themselves and maybe even show off a few dance moves.
The thematic and immersive story telling that Disney approaches each new project with really ups the ante every time they venture to build a new land in one of their parks. As you can see, Disney's Avengers Campus is more than a cool walk through, there's a silent call to be inspired to believe you're part of the Avengers, to really be in this world outside the world, to believe in yourself, and to make memories that will last a lifetime with a community of fellow Avengers.
When you visit the Avengers Campus, you can expect to be thrilled and delighted by three shows. The Dora Mulaje Training mentioned above, Doctor Strange makes an appearance with some old school illusions, and an acrobatic performance by our friendly neighborhood Spider-Man.
Another show still to come will feature Black Widow and the Taskmaster. There's no opening date yet, but we'll be on the lookout here at MarvelBlog.com, so stay tuned.
Despite promises for a Wakanda themed attraction, Imagineers have gone silent about a potential launch date for that… or even it it will come to fruition. If you're looking for attractions at the Avengers Campus, look no further than Guardians of the Galaxy – Mission: Breakout! and Web Slingers: A Spider-Man Adventure.
Web Slingers may remind you a bit of Toy Story Midway Mania!, but it's also made some leaps and bounds since that attraction was new more than 10 years ago. In this new interactive game of a ride, you'll be waving your arms and flicking your wrists to shoot web at robots running amuck on the Avengers Campus. Ride-goers are even encouraged to work together, lighten up, and be silly.
In this attraction experience, and others, you'll also see references to our world, the real world. In Web Slingers, you're actually in Disneyland defending it from evil and Spider-Man calls out the IncrediCoaster. In Smugglers Run, you're leaving from Anaheim because you're at the edge of the galaxy.
Then, in Guardians, Rocket calls out Disneyland. So overall the Avengers Campus is really working to bring us all in to life as a present-day real-life Avenger, not transport us to a place of fantasy.
The architecture of the land wouldn't be out of place in the LA skyline, the characters acknowledge other things in the parks. with these familiar settings and allusions to real life we're bringing superheroes, aliens, and even a little Dr. Strange magic  into our world rather than being transported to a place only alive in our imaginations.
As you can see, Disney's Avengers Campus is more than just another land, it's sure to impress anyone who ventures to it's action-packed doorstep. As you enter the campus, you're not just being transported to an augmented reality only possible in your imagination, the campus is adding to your experience in the real world and making you feel like you're really learning to be superheroes.
Let's start planning your next Disney vacation! Bookings are now open through June 2022!
As a Platinum Disney Vacation Planner, my goal is to help you plan the Magic your way. I create customized itineraries, monitor for discounts for your vacation, you don't pay a dime extra for using my services! 
Feel free to reach out at 336.345.9889 or tori@mickeytravels.com or join me on Facebook!