Baby Avenger on the Way! Scarlett Johansson & Collin Jost Expecting
A baby Avenger is on the way for Back Widow star Scarlett Johansson and husband Collin Jost.
The MCU star, 36, is pregnant! After skipping a few Black Widow promo events, some suspected something was up.
The new movie is the first full length Marvel/Disney project to hit theaters since the start of "that-thing-no-one-wants-to-talk-about-anymore."
Instead, Johansson has appeared virtually only for some promos, like The Tonight Show with Jimmy Fallon in June via zoom. Now we suspect it wasn't just scheduling or covid-fears that kept her home, but a convenient way to hide a cute bump!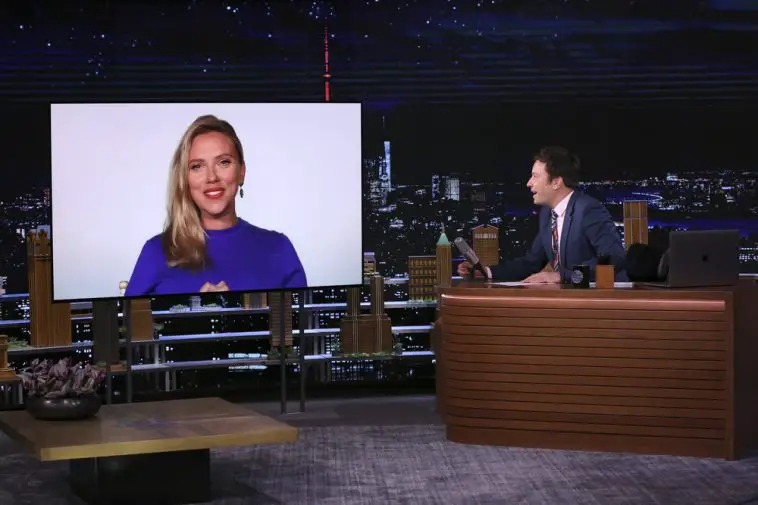 Johansson and Jost also missed a screening in the Hamptons, which was pretty suspicions since they are frequently at their Montauk home not far away. She's oft seen walking her dogs along the beach and out and about in town, but she's been keeping a low profile this summer.
The big budget star was also absent from the big launch events in New York, LA, and London. Black Widow is among several summer blockbusters that the movie industry is hoping will bring the cinema back from the grave post-covid.
Scarlett Johansson plays Natasha Romanoff, aka Black Widow, who was a Russian-born spy, but later in life turned into a bad ass Avenger. In this movie, we'll get to see a lot of her back story and we're being introduced to her sister Yelena. Florence Pugh plays Yelena and has been heavily promoting the movie in ScarJo's absence.
The new baby will be Scarlett's second and Collin's first after they quietly tied the knot in October of last year. Johansson has a 6 year old daughter, Rose, with ex-husband Romain Dauriac.
We here at MarvelBlog.com wish Scarlett, Collin, and big sister Rose all the best with the newest baby Avenger addition to their family!
Make sure to check out Black Widow, in theatres and available with Premier Access on Disney+ now.
Let's start planning your next Disney vacation! 
As a Platinum Disney Vacation Planner, my goal is to help you plan the Magic your way. I create customized itineraries, monitor for discounts for your vacation, you don't pay a dime extra for using my services! 
Feel free to reach out at 336.345.9889 or tori@mickeytravels.com or join me on Facebook!