Let's Talk about Moon Knight Episode 1-2
Let's talk about Moon Knight episode 1-2, the one where some but nowhere near all questions get answered.
Steven Grant suffered a terrible week. He angered a cult, discovered a split personality, and escaped some sort of not-mythical-enough mystical creature.
Today, the museum employee is ready to ask the hard question. Who is Moon Knight, and, for that matter, who is Marc Spector?
Are the inmates running the asylum? And are we sure that Spector isn't a Tyler Durden story?
You're Fired
The last time we saw Mr. Grant, he was escaping some sort of Egyptian jackal. But then, his inner Moon Knight came out and absolutely shredded that thing.
Now, Grant must answer for his actions. He starts the day with excitement, believing that the cameras might have caught images of that monster.
So, the museum employee returns to his job, where he asks the security guy to review the footage. Unfortunately, this request goes…poorly.
Marc Spector, presumably as Moon Knight, has wiped the footage, making Grant look like an absolute nutter, which he may very well be anyway.
Meanwhile, the security guard who didn't know Grant's name last week is now aware of some but not all of the museum mishaps.
Suffice to say that Mr. Grant no longer works at the gift shop…or the museum as a whole.
Grant takes this opportunity to commiserate with the living statue man, who almost breaks character for a second as he gazes in fear at Grant, an undeniable lunatic.
Meanwhile, Grant finds purpose. Earlier this morning, he'd tried to speak with Spector by looking in a mirror. But, unfortunately, his counterpart wasn't home then.
So, Grant gets the bright idea to check for security boxes around town.
At the fifth location, he strikes gold, as the security guard who assisted Spector recognizes him, even though he's currently Grant.
The First Showdown and the Romantic Entanglement
Here's where the show kicks into overdrive for the week. The former museum employee finds a gun among Spector's belongings, along with other passports.
Oh yes, Grant also discovers a scarab. Yes, that one. You may remember it as the thing that nearly got him killed last week.
Conveniently enough, the room consists of several glass panes that reflect shadows. At this point, Spector chooses to check in and speak with his "symbiote."
Spector informs his host that he cannot have Grant interfering in "what (he) has left to do."
The mercenary confirms that he serves Khonshu, the Egyptian god of the moon, as his avatar, making Grant his servant/avatar as well.
Throughout the early part of the episode, Spector recognizes the body so that he can finish his task. But, apparently, he cannot take it over unless Grant is either consenting or asleep.
Grant (understandably) flees with the scarab. At this point, he encounters Khonshu, who simply states, "Give it back, you fool."
Remarkably, that's not the weirdest part of these five minutes. Grant sprints outside and runs into…his wife, Layla.
Here's the part not enough people are obsessing on yet. Grant doesn't remember anything about her or their relationship.
For her part, Layla doesn't understand why Marc Spector is pretending not to know her…right up until Grant shows her his apartment.
Usually, when wives hear that their husbands have secret apartments, divorce lawyers make big money.
Instead, Layla somehow starts to believe him.
Into the Night
Somehow, Grant's week hasn't maxed out on strangeness yet. First, he learns that his new wife, Layla, holds in her possession divorce papers.
Apparently, the idea was Marc's. But, conversely, Grant and Layla seem to have plenty in common. His favorite poem is actually hers, and they both know hieroglyphics.
The nebbish man shows his wife the scarab. She reveals that the two of them fought together to retrieve it. Spector hid from her.
Moments after this revelation, the cops arrive. Well, they say they are the cops. In truth, they're working for Ammit/Harrow.
Layla temporarily escapes with the scarab, but we're just getting started.
Under the cloak of night, the cops take Steven Grant to Harrow, who treats him as a curiosity and something of an equal.
We've reached the moment in the story where the villain makes his case, hoping to convince Grant to join his side.
At this point, Khonshu arrives and starts demanding that Grant murder Harrow.
Here's the first big reveal of the episode. Harrow had previously worked as the Moon Knight before quitting or getting fired or whatever.
The second reveal is that Khonshu has threatened Marc with the prospect of Layla replacing him as the Moon Knight. He does NOT like that idea.
Throughout the episode, I've debated whether Layla even exists. Then, a moment occurs that verifies she's real and not a figment of Steven's imagination.
Layla arrives at Harrow's community and shows the scarab. The cult members notice her and perceive her as a threat.
Harrow starts doing some cane magic – seriously – and summons a demon as Layla and her timid husband attempt to escape.
Moon Knight II
The rest of the episode forcibly reminds me of moments from Jim Carrey's performance in The Mask.
I say this because Grant starts fighting said demon, an invisible one to others. He can see it, but Layla cannot.
So, the unlikely hero attempts to fight back. All the while, Spector appears in reflections and begs for Steven to "let me in."
For whatever reason, Grant refuses, but he honors Layla's attempt to "Summon the Suit," the episode's title.
Obviously, this scene turns slapstick in nature. So, this suit isn't quite right. Still, it develops the plot in a significant way.
There are TWO Moon Knights in this series. Spector's version is a fearsome warrior capable of instant slaughter.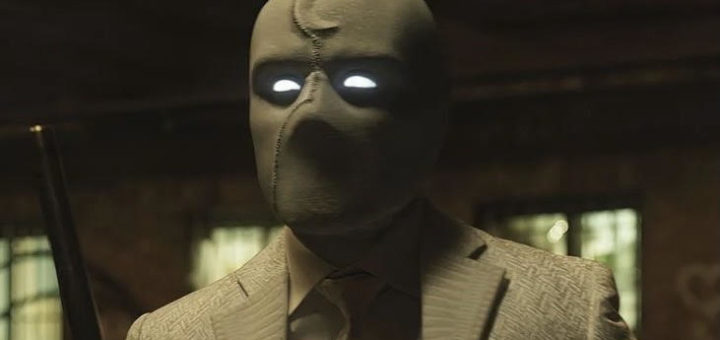 Grant's avatar possesses tremendous power, and he's undeniably good at improvisation.
Ultimately, Grant recognizes he's in over his head when the battle spills out into the streets of this English suburb. All they see is a man in a white suit fighting himself.
So, Grant acquiesces and allows Spector to "take control…for now."
The scary Moon Knight beats some ass, eventually impaling the demon on a statute. It's a hardcore way to go.
Afterward, Spector recognizes that Grant has dropped the scarab. Instead, a stranger discovers it, only for Harrow to kill the person and take it.
Layla watches this happen from a distance before Harrow notices her. At this point, she understands that discretion is the better part of valor and drives away.
Finally, Grant and Spector talk about the challenges of being Khonshu's avatar. Grant asks for his body back, only for Spector to refuse.
We end the episode with Spector driving the mind cart and Grant trapped in the mirror as they head to Egypt. It's a fascinating and unexpected development.
Final Thoughts
I actually dreaded writing this recap because it's such an experiential episode.
The discussions between Grant and Spector mirror James McAvoy's work in Split.
However, there's something else in play here. Ethan Hawke is relishing his opportunity to portray a morally ambiguous character.
I barely even acknowledged it earlier, but his character has – through admittedly questionable methods – turned a crime-ridden area into a utopia.
The best villains are always the ones who fervently believe they're on the side of virtue. That's definitely Hawke here.
Meanwhile, Oscar Isaac engages in heated conversations with…Oscar Isaac. He's portraying a schizophrenic while acting against himself. It's mesmerizing.
The acting in this series is definitely the best we've seen in the MCU since WandaVision. I cannot wait to see what happens next.
Also, I'm in love with the slapstick elements from episode 2. It gets an easy A.
Feature Image Source: Marvel Studios
Thanks for visiting MarvelBlog.com! Want to go to Disney? For a FREE quote on your next Disney vacation, please fill out the form below and one of the agents from MickeyTravels, a Platinum level Authorized Disney Vacation Planner, will be in touch soon!