MarvelBlog News for June 20th, 2022
Simon Williams has entered the conversation in the MCU. You may not know the name, but WandaVision fans should pay attention; We've got a massive story in the latest MarvelBlog News.
Shang-Chi and the Legend of Vision's Brainwaves
Destin Daniel Cretton's start with Marvel got off to a rough start. The director came down with COVID-related symptoms but never tested positive for COVID. Unfortunately, many of us know that frustration all too well.
During his downtime, the director plotted his career-making project, Shang-Chi and the Legend of the Ten Fists. However, Cretton also dreamt bigger, thinking about other Marvel projects he'd like to create.
When Shang-Chi became one of the pandemic's biggest blockbusters, Cretton gained more stroke with Kevin Feige. So, nobody was surprised when Cretton indicated he was working on a second Marvel project.
None of us would have expected the superhero Cretton wants to bring to life onscreen, though. Yes, folks, this edition of MarvelBlog News starts with WONDER MAN (!) possbily getting a Disney+ series. Now, we shouldn't get too far ahead of ourselves here.
The Hollywood Reporter indicated that the project could film in 2023. That's a polite way of saying that Wonder Man is in active development, but it's not far along. For this reason, we know no details about casting or even plot points at the moment. But we do know Marvel lore…
Who Is Simon Williams?
Have you ever played a Mortal Kombat game? Think of the character, Johnny Cage. Yes, I'm talking about the arrogant movie star and combat expert. Mortal Kombat basically stole *ahem* borrowed that idea from Simon Williams, the proverbial Wonder Man in Marvel Comics.
In fact, that character represents the old guard of Marvel's Avengers. The character first appeared in 1964. So, he could celebrate his 50th birthday by the time the series premieres. Obviously, we're talking about a character with a massive backstory, but let's focus on an essential part of his MCU debut.
When Ultron, the evil robot supervillain, created his "child," Vision, he needed to use someone's brainwaves. Ultron chose Simon Williams. Yes, Vision thinks the same way as Simon Williams. In the comics, this caused a unique love triangle.
Does Vision love Scarlet Witch because of his own thoughts, or is he mirroring those of Simon Williams? Conversely, does Wanda Maximoff love Vision for Vision, or has she fallen for Simon Williams by proxy?
That storyline has gone on for decades, and I'm not even joking here. Remember the ending of WandaVision and its creation of a new Vision? Wonder Man could play heavily into the White Vision's psyche if Marvel chooses to go that route.
On the other hand, Cretton may want to introduce the Marvel superhero to one of his frenemies, Kang the Conqueror. The villain who (kind of) debuted in Loki will have a significant presence during the next few years of the MCU.
In the comics, Kang once brought Simon Williams back to life and manipulated the hero to fight his friends, the Avengers.
Later, Williams participated in the events of the Kang Dynasty, a storyline wherein the Avengers eventually kicked the original Kang out of the entire timeline.
What Are Wonder Man's Powers?
We're learning with Ms. Marvel that Feige and co. aren't afraid to mess with the status quo when it comes to superhero powers. So, what I'm saying here applies only to Simon Williams in the comics. He could prove much different in the MCU.
However, Wonder Man as a comic book character is seriously OP. After an introduction as a normal but smart entrepreneur, Williams agrees to participate in a form of experimental testing. As usually happens with these things, he gains superpowers.
Williams turns into a being of pure ionic energy, which is sort of like what happened with Carol Danvers in the comics. By the way, they were a couple for a while. That may prove crucial in the MCU.
Anyway, Wonder Man's ionic abilities empower him with the most physical strength of anyone in Marvel Comics short of The Sentry. His powers make him super-fast, impervious to most physical damage, and able to leap tall buildings in a…yeah, you're getting the gist here.
Wonder Man is a Superman knockoff, albeit a very good one. When he enters the MCU, he could have connections to Captain Marvel, Kang, Vision, and Scarlet Witch. So, Marvel could take several approaches here. Also, Wonder Man has worked with the West Coast Avengers.
I mention this because there sure are a lot of them floating around the MCU these days… Finally, here's one other note about the Wonder Man series. The co-creator is Andrew Guest, who recently worked on Hawkeye.
Before that, Guest wrote one of the most famous episodes of Community, Advanced Dungeons & Dragons. He also befriended the Russo Brothers there.
Everything in the MCU is connected, folks!
Marvel Miscellany
Beyond the one massive announcement, we have a slow installment of MarvelBlog News. SambaTV did email me this note, though: "Ms. Marvel is by far the most popular Marvel show among more diverse audiences, over-indexing among Black, Hispanic, and Asian households, according to our data."
The show also resonated with a younger audience, as viewership over-indexed among Gen Z viewers aged 20-24. It is critical to appeal to these younger, more diverse audiences as Disney+ continues to find new growth opportunities and widen its subscriber base."
That's legitimately what Disney aspired to achieve with this project. So, it's a massive mission accomplished thus far. On a different note, tickets for Thor: Love & Thunder are on sale now!
I've got mine, and you should book yours, too! Otherwise, you might get shut out on opening weekend.
Finally, Nico Santos has joined the cast of Guardians of the Galaxy Vol. 3. That's terrific news for those of us who love Crazy Rich Asians! Santos stole all his scenes in that film and could do the same during encounters with Asgardians and Guardians.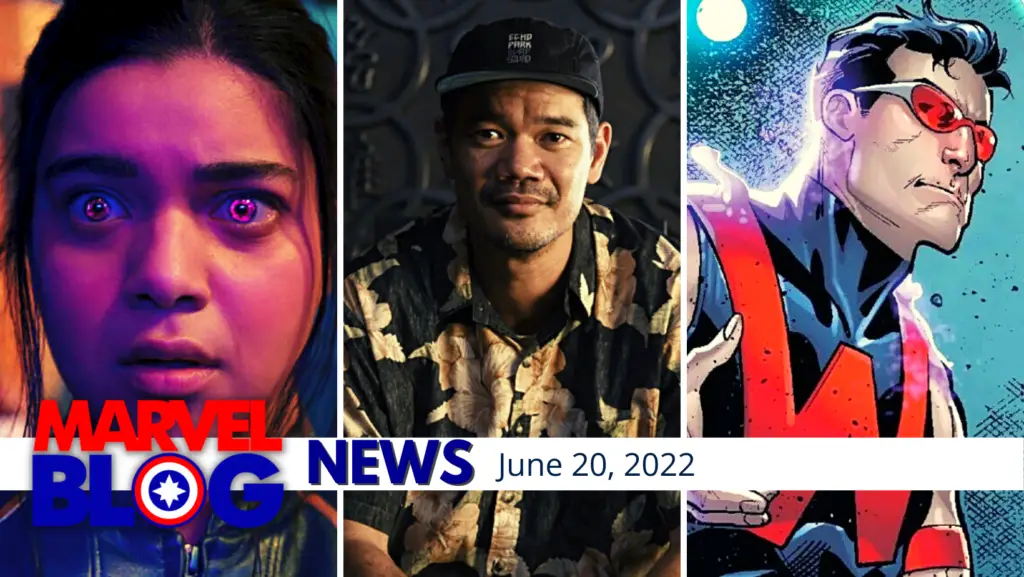 And that's it for this edition of MarvelBlog News; have an awesome week everyone!
Feature Image Source: Marvel/ Marvel Studios
Thanks for visiting MarvelBlog.com! Want to go to Disney? For a FREE quote on your next Disney vacation, please fill out the form below and one of the agents from MickeyTravels, a Platinum level Authorized Disney Vacation Planner, will be in touch soon!