Review: Ant-Man and the Wasp: Quantumania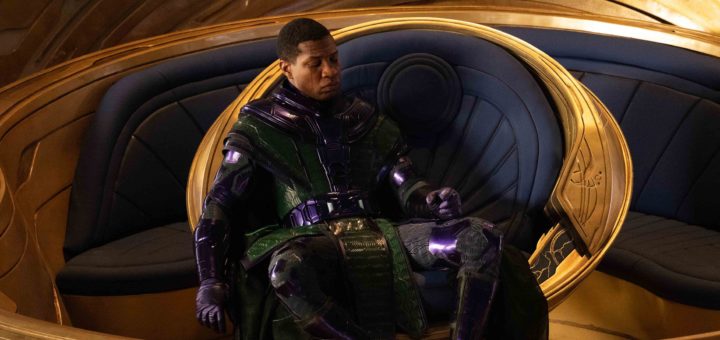 Many years ago, acerbic filmmaker Edgar Wright pitched the unlikeliest of superhero projects. He wanted to make an Ant-Man film.
Marvel readily accepted at the time, thrilled to work with a storyteller of Wright's stature. Then, something unexpected happened during pre-production.
The fledgling Marvel Cinematic Universe proved so shockingly popular that the idea of a joke character no longer made business sense.
Wright dropped out of the project, and Paul Rudd somehow proved charismatic enough that people overlooked the character's shortcomings.
Now, more than 15 years after Wright first agreed to the project, Ant-Man's story presumably culminates with a staggering increase in scale and stakes.
The goofiest Avenger faces the next overriding arc to the MCU. Here's a review of Ant-Man and the Wasp: Quantumania, a frustrating film with many undeniable strengths.
Family Reunion
The MCU has faced an overwhelming problem in the wake of Avengers: Endgame.
On the one hand, the story tied together several simultaneous character resolutions. On the other, it raised more questions than answers for some.
Take Scott Lang as an example. Yes, Ant-Man reunited with his daughter Cassie, who had believed him dead for five years.
We have no idea of what happened to Lang other than that. A scientific mishap stranded Lang in the Quantum Realm for five hours.
When the Avenger returned, his girlfriend and her parents had both turned to dust.
Source: Marvel Studios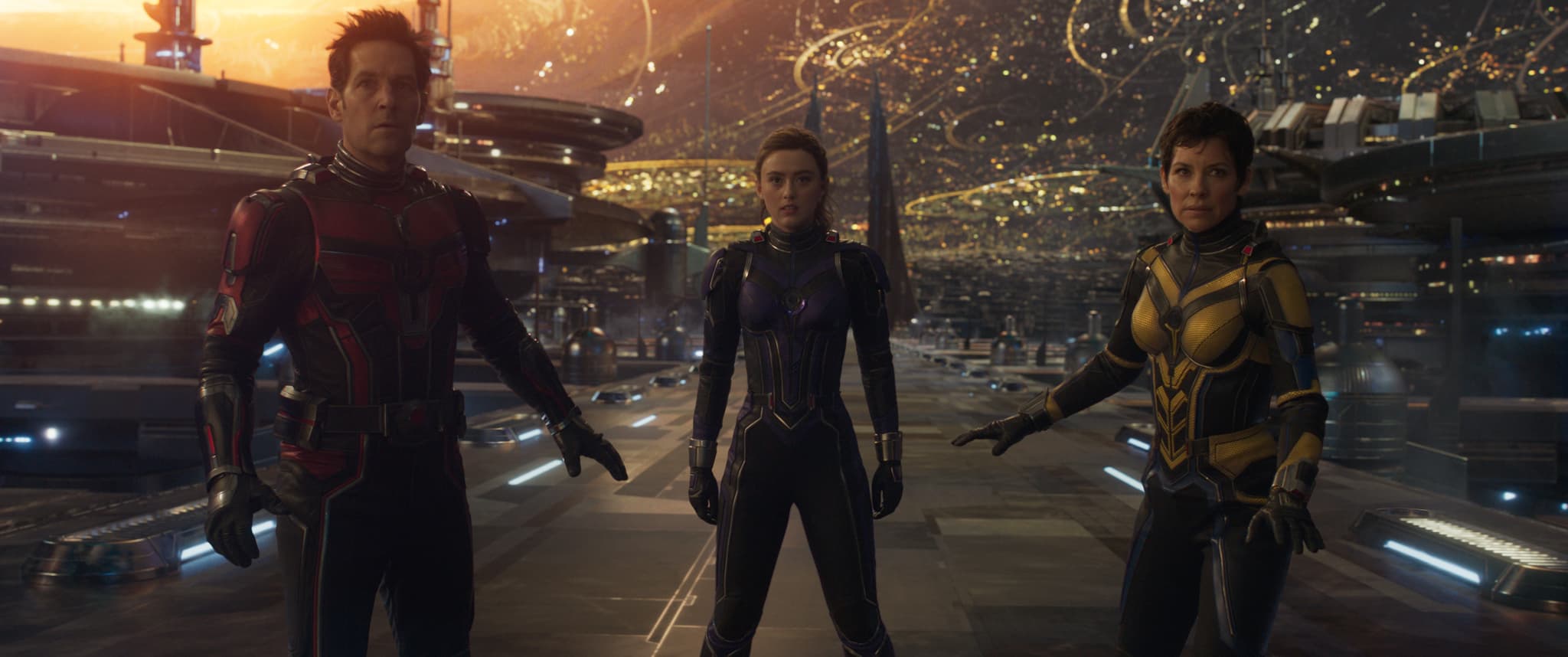 Source: Marvel Studios
Lang partially explained his unlikely stay in the Quantum Realm during a reunion with Natasha Romanoff and Steve Rogers. He left more unsaid, though.
The start of the third Ant-Man film attempts to fill in the blanks by showing the superhero as an unlikely celebrity. Everyone knows he helped defeat Thanos.
What we don't know is how his reunions with the actual members of his family went, save for Cassie.
More importantly, all we learn about the Quantum Realm is that five years feels like five hours.
In Endgame, the Avengers brought order to the chaos of time and quantum mechanics.
Now, Scott Lang's story should ostensibly fill in the blanks. Well, this film tries to do that but mostly collapses under the weight of that burden.
We catch up with the Ant family at some sort of awkward dinner. Nobody indicates how much time has passed.
Somehow, Lang has found the time to write a bestselling novel…but he apparently hasn't spoken much with his girlfriend or in-laws during this time.
The logic flaw here is maddening…and it's one of many during the first 50 minutes of the film.
Talent Cannot Overcome Everything
When you watch Quantumania, I'd suggest using something I'll call the Kang Countdown Clock.
When he shows up nearly halfway through the movie, everything changes. Until then, it's a messy slog.
Sure, several high points provide the kinetic energy we expect from a Marvel movie. Sadly, low points negate them.
Once mad science happens, the Ant family discovers itself trapped in the Quantum Realm.
At this point, Janet van Dyne suddenly decides that the time is right to mention the bloodthirsty conqueror she met during her previous time in the Quantum Realm.
Realistically, that's the best possible summary of the script/story as a whole. If you put too much thought into any of it, you may get angry.
Presuming that you're willing to go along with everything that happens, you'll still have a good time.
Part of that joy stems from the exceptional casting throughout Quantumania.
Michelle Pfeiffer and Michael Douglas are Hollywood legends, while Rudd is the modern Jimmy Stewart, as he's the most affable actor under 65 in the world.
Kathryn Newton, the star of two unheralded films I highly recommend (Freaky and The Map of Tiny Perfect Things), joins as an adult Cassie.
Plus, William Jackson Harper, Chidi from The Good Place, appears and has a bigger role than I'd expected.
Also, Bill Murray joins the MCU, although I know many people are mad at him right now.
On the minus side, one actress delivers one of the worst performances in MCU history, although she's weirdly excellent as a believable badass.
All these pieces fit together better than the sum of their parts, and Cassie's fandom for the aforementioned freedom fighter works well.
The problem is that the story is stubbornly weird and off-putting for an hour.
Did James Gunn Direct This?
The re-introduction to the Quantum Realm introduces a slew of alien characters, some of which feel like they were last-second rejects from Disney's box office bomb, Strange World.
Much of the Quantum Realm stuff actively alienated me because it felt forced. Imagine if James Gunn had directed the Star Wars cantina scene. It's a lot like that.
Director Peyton Reed is an old hat at superhero films by now, but Quantumania represents his boldest attempt yet. For half the movie, he fails.
I cared about exactly three characters from the Quantum Realm, and two of them barely spoke.
All the glossy set pieces and fight scenes felt like somebody at Marvel demanded them. They in no way tied into the story organically.
A Tale of Two Halves
That's the bad news. The good news is that the second half of Quantumania plays out much differently.
You can think of the movie in two segments: pre-Kang and post-Kang.
The instant Jonathan Majors appears for the first time, nothing else that happened before then matters.
Let me be blunt. Majors is a superstar. In a film with three screen legends and Paul Rudd, Majors carries every scene he's in.
The menace of the character Kang the Conqueror drives the action, making Majors' success imperative to not just this film but the next three years of the MCU.
Thankfully, the actor proves more than up to the task. He befriends an unlikely character before the two of them suffer a schism.
Later, he somehow hates yet clearly still admires this individual.
Also, the promised multiverse that Marvel has teased for three years now finally comes to fruition…at least in a way.
This Kang has said and done things that make Thanos seem like someone guilty of Jaywalking.
Kang's menace is real, his powers are ferocious, and his contempt for Ant-Man feels justifiable.
That's also the nagging problem with Quantumania.
Fifteen years ago, Edgar Wright plotted the character as a kind of joke…because what else could he do? The power of communicating with ants is ridiculous.
The third Ant-Man movie leans hard into that concept, but the choice of subject here causes problems.
How can Kang threaten the entire MCU and kill countless Avengers in his past…but struggle against someone with the pitiful power of ant manipulation?
Peyton Reed faces an impossible choice with the resolution here, and I honestly don't like his decision. It may grow on me over time, but that's my initial reaction.
Final Thoughts
For the past year, I've watched with bemusement as Marvel "fans" criticized Thor: Love & Thunder, Black Panther: Wakanda Forever, and Dr. Strange in the Multiverse of Madness.
All these films frustrated some percentage of the MCU because, well, they weren't Spider-Man: No Way Home, much less Avengers: Endgame.
Marvel is primarily competing with itself at this point…and Quantumania isn't up to the task. It's too messy, with an excessive number of story holes.
That doesn't make Quantumania bad, though. Instead, the instant Majors appears on screen, his presence creates an infinitely watchable movie.
At various times, I had to remind myself I was supposed to root against him.
Majors delivers an A+++ performance in a B- movie.
In short, this film will do little to silence Marvel's critics in the short term. However, the character of Kang easily surpasses all expectations.
So, the future of the MCU is in the best possible hands. But I'm not sure Marvel should have stuck Kang in an Ant-Man movie to start.
Thanks for visiting MarvelBlog.com! Want to go to Disney? For a FREE quote on your next Disney vacation, please fill out the form below, and one of the agents from MickeyTravels, a Diamond-Level Authorized Disney Vacation Planner, will be in touch soon!