Marvel Loses One of its Big Three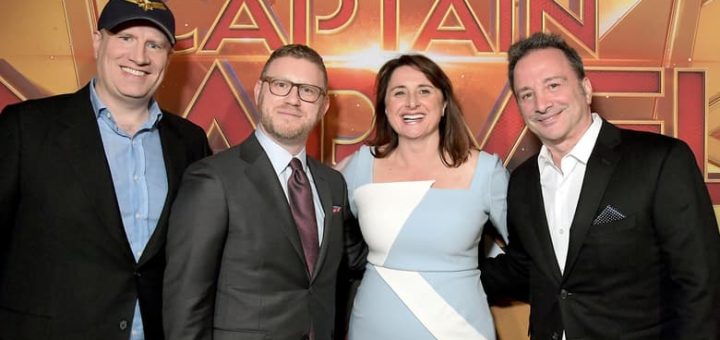 For fifteen years now, a trio nicknamed The Big Three has run Marvel Studios.
As of today, that's no longer the case as one of The Big Three just lost their job.
In a Hollywood surprise for the ages, Victoria Alonso has left Marvel.
Her odyssey to and from the company tells two different stories about Marvel's origins and recent struggles. Let's talk about what just happened.
Who Is Victoria Alonso?
In 1984, Argentinian native Victoria Alonso moved to the United States and embarked on a Hollywood film career.
The artist eventually succeeded beyond her wildest dreams. However, like many would-be studio bosses, Alonso started as a production assistant.
Over time, Alonso earned an opportunity to work in visual effects (VFX) and made a name for herself as a star in this field.
Alonso earned acclaim for her work with Ridley Scott in Kingdom of Heaven and Tim Burton with Big Fish.
When Paramount Pictures decided to make an Iron Man movie, Kevin Feige approached Alonso with an offer. He wanted her to become Executive Vice President of Visual Effects and Post-Production.
In short, every special effect that has ever wowed you in a Marvel movie has Alonso's fingerprints all over it.
Please remember that Iron Man came from Paramount Pictures, though. Alonso wouldn't officially join Disney until the company acquired Marvel in 2009.
By this point, Marvel had already finalized its leadership trio. Louis D'Esposito also served as executive producer on Iron Man.
For 15 years now, Alonso has joined Feige and D'Esposito as Marvel's Big Three.
Throughout that timeframe, all three have garnered acclaim for the unprecedented box office success of the Marvel Cinematic Universe.
For many years, James Bond, Star Wars, and Harry Potter fans bickered over which franchise proved most lucrative at the box office.
Nobody argues that now, as Alonso and her cohorts have earned roughly $29 billion from these superhero films.
Obviously, that sort of financial dominance leads to industry respect and power.
As one of the few Argentinian studio bosses, Alonso stands out in her field. Similarly, as a woman in tech, she's a rare breed in the industry.
Alonso is probably THE most accomplished female in the history of Hollywood special effects.
What Just Happened with Victoria Alonso?
Last August, MarvelBlog reported on a story that has had startling ramifications throughout Hollywood and even Silicon Valley as well.
In the August 8th edition of MarvelBlog News, I discussed a Vulture piece that aligned with rumors I'd heard about Marvel.
While Victoria Alonso possesses a rare level of reverence and likeability in the industry, she's also notoriously hard.
Alonso established her credentials at a time when many VFX houses were toxic, and steel sharpens steel. In a way, she became what she faced.
In other words, Alonso's allies will sing her praises until they run out of breath. Conversely, her enemies happily disparage her at every opportunity.
The Vulture article didn't lack for people willing to speak against Marvel's VFX business practices.
Also, something rare happened in this piece. Some of the VFX artists spoke on the record and revealed their names.
Why is that a big deal? Hollywood slam pieces are predicated on private name-calling and whisper campaigns.
When somebody says their name and vents, you know a situation has grown perilous.
Alonso and her team (correctly) perceived Marvel as the average VFX worker's dream job.
So, these executives believed they could dictate terms while expecting unhealthy workloads and espionage-level secrecy.
During the pandemic, the VFX industry changed as more professionals worked from their homes. Simultaneously, they opened stronger lines of communication.
An extensive bitch session ensued as many VFX pros complained about Marvel's growingly absurd work demands.
Once some went on the record with their complaints, the proverbial dam broke, with Marvel facing an onslaught of criticism, both external and internal.
Since then, the perception of Marvel VFX has fallen precipitously. As such, we shouldn't be surprised that Alonso, the person ostensibly in charge, lost her job.
Did Marvel Throw Victoria Alonso under the Bus?
Yes.
I'm not taking shots at Marvel or Disney when I say this, as it happens more often in the industry than you think.
For example, Black Adam debuted in theaters less than five months ago. Warner Bros. just threw The Rock under the bus in an article at The Wrap that you can read here.
No matter what you think of the practice, Marvel has definitely done this. As we discussed multiple times recently, the studio faced a pandemic-related crisis.
When workloads shifted, Marvel expanded into serial programming. The demand for VFX increased exponentially as the studio released TV series and films.
Eventually, the entire Hollywood VFX industry faced a shortfall in work hours available relative to Marvel's need.
Infamously, Marvel executives had to pick whether to prioritize Black Panther: Wakanda Forever or Ant-Man and the wasp: Quantumania.
As anyone would, Marvel chose the Black Panther movie over Ant-Man because…common sense.
Whether the issue ties back to the VFX shortage, Quantumania has faced tremendous criticism for its lackluster quality.
Meanwhile, Disney's returning CEO, Bob Iger, has wondered why Marvel has released so many products in such a short period.
Obviously, when you scale a large amount of content, you must scale your other departments in tandem. That didn't happen with VFX.
Hey, are special effects important in superhero movies? Asking for a friend.
Seriously, you get the point here. Marvel didn't balance its workload correctly.
On top of that, a new generation of programmers took issue with Alonso's old-school leadership style.
So, while Alonso remains revered in some circles, her reputation and job title work against her here.
Who else would Marvel blame for VFX struggles but the person mentioned by name in the Vulture article, the one who is President, Physical and Postproduction, VFX and Animation Production?
What Happens Next?
We've previously discussed the next step, and we're already watching it unfold.
Marvel must reconfigure its release strategy on the fly in a new era for storytelling and VFX.
The studio must determine how many films and TV series it can release annually without experiencing code crunch time.
That's a programming term for working excessively to meet a deadline. Many coders haaaaaaaate crunch time.
Marvel must keep these workers happy, as training new VFX programmers costs a lot and delays projects.
Disney is also in the middle of performing thousands of layoffs. Marvel will be lucky to keep the people it has in place in VFX.
In short, we're about to track a regression in the amount of work Marvel can perform in VFX. And that WILL impact the number of Marvel programs over the next two years.
Keep in mind that the impact of the 2022 crunch Vulture and MarvelBlog discussed wasn't felt until Quantumania came out in February 2023.
There's a staggered timeline on virtual effects. Marvel's new task requires the identification of a suitable replacement for Alonso, a living legend.
I'm not exaggerating when I say that this is THE most important VFX job in Hollywood today. Marvel must nail this hiring.
Then, the new worker in Alonso's old position must repair relationships and perception in the VFX community. It's a big ask and one that will determine Marvel's future successes.
For 15 years, Marvel fans have said, "In Victoria, we trust." Now, someone new must earn that trust as well.
Thanks for visiting MarvelBlog.com! Want to go to Disney? For a FREE quote on your next Disney vacation, please fill out the form below, and one of the agents from MickeyTravels, a Diamond-Level Authorized Disney Vacation Planner, will be in touch soon!
Featured image credit: Marvel