MarvelBlog News for May 28th, 2023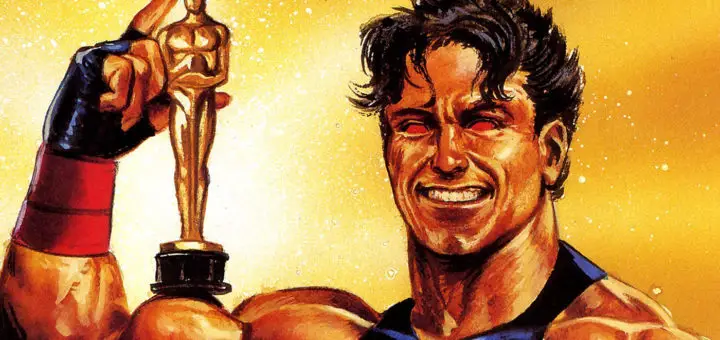 This week: Marvel shuts down another project, while a two-time comic book hero passes away suddenly.
We dedicate this edition of MarvelBlog News to the late, great Ray Stevenson.
RIP Punisher Volstagg
Before Max ran away from its heritage, HBO programming embodied the pinnacle of American television storytelling.
In 2005, HBO introduced a new series based on a historical setting.
Rome became one of HBO's oddest success stories in that most critics found the first few episodes too slow.
While the notion has changed in the wake of series like Breaking Bad, television once expected to hook audiences with the pilot. Otherwise, they'd never return.
Rome challenged that notion by waiting until its third episode to reveal its true identity. It was the Titus Pullo and Lucius Vorenus Road Show.
Actors Kevin McKidd and Ray Stevenson possessed a rare chemistry, and their relationship strongly influenced a later HBO show, Game of Thrones.
Every time you watched two random characters roam Westeros together, the series was paying tribute to Titus and Lucius.
Stevenson's work earned tremendous acclaim and a quick job with Marvel. In 2008, the actor replaced Thomas Jane as Frank Castle in Punisher: War Zone.
At a sturdy 6'3" with a strong Irish accent, Stevenson was born to play the heavy, as he naturally looked the part of an intimidator.
Those lucky enough to befriend the actor learned the truth, though. He was a kind, jovial man.
While Punisher: War Zone failed at the box office, the crew adored him.
Three years later, fellow Englishman Kenneth Branagh happily brought Stevenson onboard the Thor franchise.
Stevenson portrayed the jovial Volstagg of The Warriors Three. The actor's size and whipsmart comedic instincts differentiated him from his peers.
More about Ray Stevenson
Alas, Stevenson required hospitalization during a recent shoot in Italy.
Stevenson had recently reinvigorated his career with an exceptional performance as Governor Scott Buxton in the critically acclaimed blockbuster RRR.
While details remain shrouded in mystery, Stevenson died four days short of his 59th birthday. It's especially tragic since he was riding high professionally at the time.
The actor unquestionably went out on top, as RRR won an Academy Award and several other titles during awards season.
Stevenson couldn't have returned as Volstagg because of this unpleasantness:
Hela was such a jerk. Still, as much as Disney revered Stevenson, he likely could have returned as a different character in makeup.
Several of his cohorts paid tribute to him. Director James Gunn wrote the following: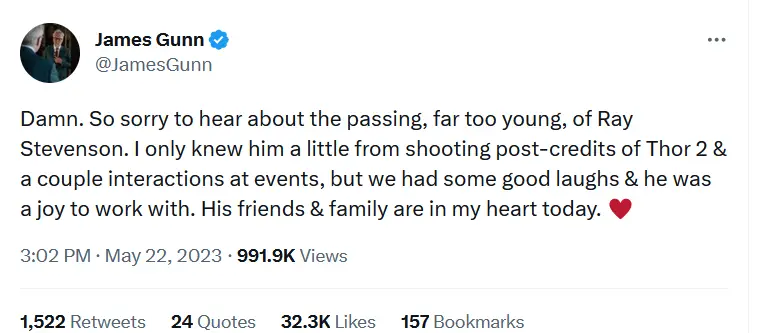 The official RRR account added the following: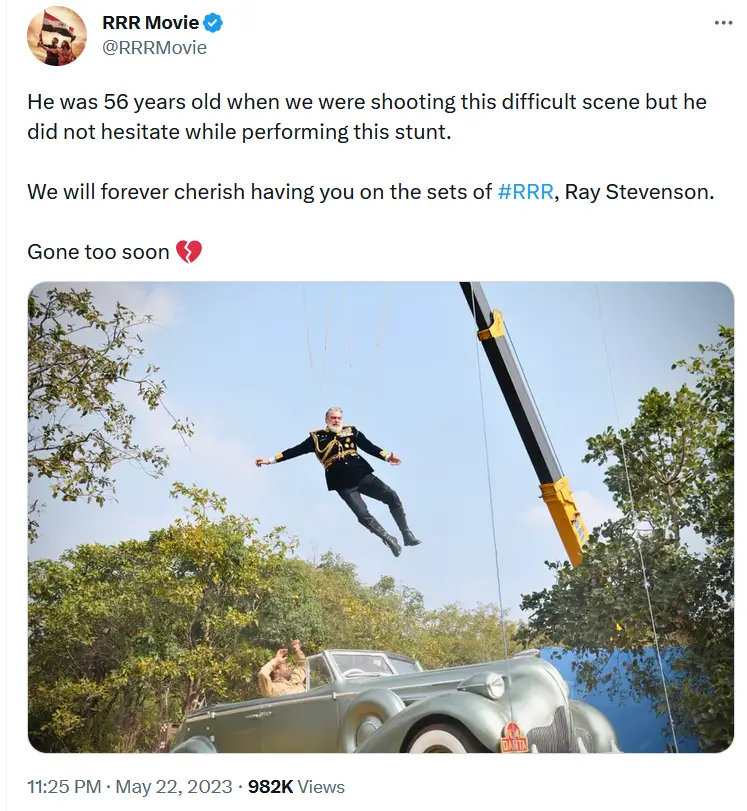 And Purefoy summarized the brilliance of his former partner: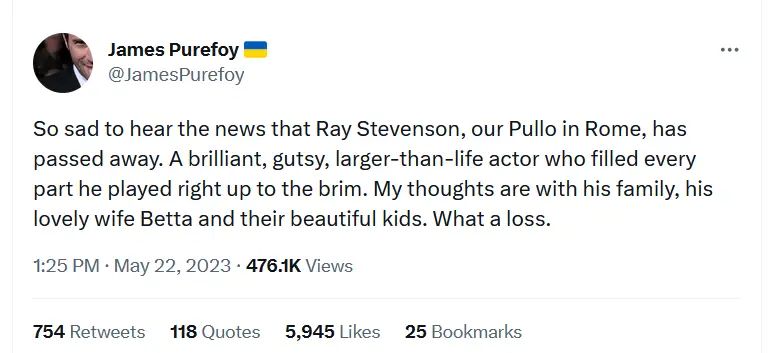 Marvel fans have rewatched the Thor franchise to celebrate the late actor. If you haven't already done so, I'd also recommend Rome.
That series features the Ray Stevenson I'll always remember.
Two More Marvel Titles Take a Break
We've officially the part of the Writers Guild of America (WGA) strike wherein studios begin to freak out.
A bunch of producers just realized that they hold time-dated tax credits that could disappear. And most studio bosses badly miscalculated current productions.
As previously discussed, WGA strike force teams have gleefully harassed various television and film productions.
The projects that didn't close due to the strike are discovering that out-of-work writers like nothing better than disrupting filming. It's a (hilarious) problem.
Marvel previously lost a full week of Daredevil: Born Again filming. Now, a television series and a film have given up the ghost for the time being.
Wonder Man won't try to film until either the strike ends or the situation calms down a bit.
That's less problematic to Marvel than the other delay, though. Thunderbolts should have started filming in Atlanta in mid-June.
That's not gonna happen because producers fear repeated, costly interruptions from bored WGA writers on strike.
At this moment, the belief is that Thunderbolts, Wonder Man, and Blade won't advance until the strike ends.
We have less clarity on Daredevil: Born Again, which faces a firmer deadline.
Disney+ has built much of its 2024 schedule around the release of this project.
The way the situation is trending, it'll probably need a break as well, though.
Marvel Miscellany
I mentioned a few weeks ago that Victoria Alonso had worked out a deal with Disney.
The former Marvel executive suffered a surprising termination after a strange feud at the Academy Awards and the box office disappointment of Ant-Man and the Wasp: Quantumania.
Disney technically terminated her for cause, but the powerful executive quickly lawyered up, as she should have.
Recent reports have suggested that Disney's attempt at least partially failed.
The company listed her as terminated for cause to avoid paying the rest of her contractually owed salary.
Apparently, after cooler heads prevailed, negotiations ensued, with Alonso netting a multi-million dollar settlement on the way out the door.
In more positive Marvel film news, some lucky critics have watched Spider-Man: Across the Spider-Verse.
Folks, we may have an all-timer here, as early buzz is glowing!
One person called it the best movie of the year thus far, while another proclaimed it the best Spider-Man film ever.
I'm dubious on the latter, and I'll again remind you that studios often pick and choose critics for such screenings.
They want the ones who will play ball and post kind words in exchange for getting to walk through the velvet rope gate.
But these are reviews aren't like what we saw with, say, Dr. Strange in the Multiverse of Madness. They're not positive inasmuch as euphoric.
Speaking of the Sony side of Marvel, the writer strike also shut down development on the upcoming Amazon series, Silk and Spider-Man: Noir.
On the Disney side, Captain America: New World Order is still trying to film, and Deadpool 3 could start any day now. Stay tuned!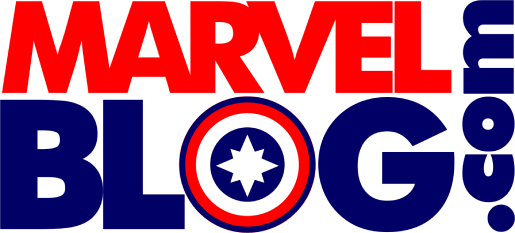 Thanks for visiting MarvelBlog.com! Want to go to Disney? For a FREE quote on your next Disney vacation, please fill out the form below, and one of the agents from MickeyTravels, a Diamond-Level Authorized Disney Vacation Planner, will be in touch soon!
Featured image: Marvel