Heroes & Wizards: Harry Potter in the Marvel Universe
I don't know about you, but I love a heartwarming hero, some supernatural powers, flying, and mystical creatures. Whether that flying is because a genius made a super suit, or because Ron finally learned to say Wingardium Leviosa right… I'm not picky when it comes to a crossover of Harry Potter in the Marvel Universe!
A Power-Combo-Phenomenon
Harry Potter & the Scorer's Stone was first published in 1997. Many millennials who grew up with the series are now in their late 20's and 30's. As the fan base gets older, we're seeing more allusions to the Wizarding World in books, movies, shows, and comics.
Blame it on fans of the of best-selling books, cinematic franchises, and theme parks settling into their careers. Or maybe it's just because older fans of the Wizarding World like the authors/artists of New Excalibur #3 really know their audience!
Fans of both the Marvel and Harry Potter Universes love a good crossover and the latest edition of New Excalibur features a cameo that will bring smiles to Marvel and Potter fans alike.
Juggernaut, in street clothes, races through London after evil versions of the Original X-Men squad. He unexpectedly comes upon 3 very familiar looking teens. There's no doubt that these teens are meant to be the golden trio themselves: Harry, Ron, and Hermione.
Is that Diagon Alley's Secrete Entrance?
Not only that, but it looks like Cain Marko may be running past the secret entrance to Diagon Alley. The jagged pattern of the "doorway" that the trio steps out of is eerily similar to the one we see in the first of eight movies in the Harry Potter Cinematic Universe.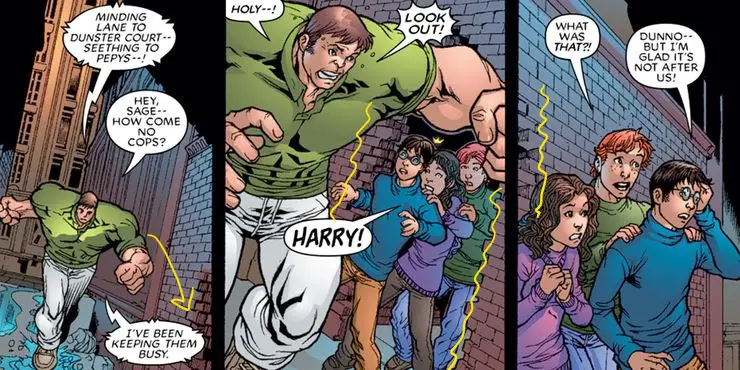 Could it be that Harry, Ron, and Hermione were heading from Diagon Alley back into the Muggle world as Juggernaut sped by to stop the villainous versions of the X-Men? Maybe they popped in for new quills, to window shop at Quality Quidditch Supplies, or a Butter Beer from The Leaky Cauldron.
Does the Wizarding World of Harry Potter exist in the Marvel Universe? Thankfully, speculation is half the fun of a crossover!
Let's start planning your 2020 or 2021 Disney vacation! 
Fill out the form below or send an email to Tori@MickeyTravels.com for a FREE, no-obligation quote to book your Disney vacation. 
As an agent with MickeyTravels (a Platinum Earmarked Agency), I will be on hand to help you with everything from finding your perfect package to reserving dinner plans. I also offer free rate monitoring to ensure you are receiving the best deals available from Disney. 
I work with all Disney Destinations and destinations outside of Disney. Best of all, my services are absolutely FREE. 
Get in touch via email at Tori@MickeyTravels.com or calling 336.345.9889. Also, make sure to follow along with my Facebook page for all things Disney and giveaways!