Disney+ Nick Fury Series Rumored to Start Production in 2021
Samuel L. Jackson will return as Nick Fury to the Marvel Cinematic Universe in 2021. Avengers, let us assemble. Let Nick Fury loose on this world. Paging Captain Marvel. Paging Captain Marvel.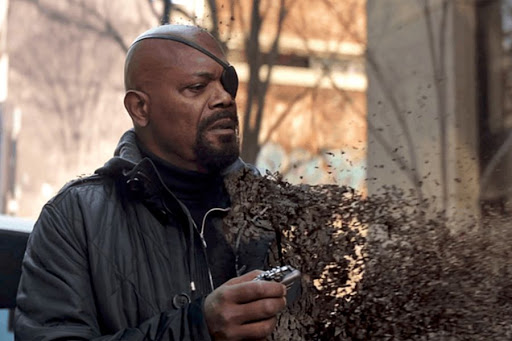 Marvel Studios is keeping the exact plot details under wraps. As it stands now, the former Director of S.H.I.E.L.D. is a rogue agent who is acting alone. However, fans speculate that in the series we will see Nick Fury join our other favorite Agents of S.H.I.E.L.D. in space as a member of S.W.O.R.D.
Charles Murphy of Murphy's Multiverse was the first to report the upcoming Nick Fury show's production notes at Marvel. According to Murphy's sources, the studio is producing the series with the next batch of small-screen projects.
It seems now that Marvel has She-Hulk and Moon Knight heading toward production, the studio is starting to focus on its next round of Disney+ series.
Director Fury, the council has made a decision. MORE FURY.
Jackson will have a starring role in the upcoming Disney+ series, regardless of whether Nick Fury is S.H.I.E.L.D., S.W.O.R.D., or some other shadowy organization. And Jackson is probably excited about this news (pandemic pending) since he famously sat down with Marvel Studios President Kevin Feige to discuss the disappearance of his character from the MCU.
Thank you, Samual L. Jackson, for that meeting, as several great projects came out of it:
Sam was very funny in this roundtable we did talking about how he'd disappeared for a while. He shows up in Avengers: Age of Ultron, and then he's not in Captain America: Civil War and hadn't been in a number of the movies for a while. I remember meeting with him two years ago and saying, 'I know it's been a while, Sam. Here is our plan. 2019 is going to be the year of Fury.' And we walked him through young, two-eyed Fury in Captain Marvel, the one poignant shot of him in Endgame and seeing him in [Spider-Man]. And it's fun now to see the year of Fury complete.
But, with the announcement of the Nick Fury series in September 2020, it seems that the year of Fury was just the beginning.
Nick Fury Series on Disney+
Kyle Bradstreet (Mr. Robot) is currently writing the Nick Fury series, and Murphy speculates that we might get more information about the series in the upcoming weeks:
I've heard that the studio has begun work on 2-3 other projects with Ironheart being mentioned by multiple sources. While we don't have a lot of data points, it looks like the studio is pairing up projects when possible, so we could expect to hear about the partner series to Nick Fury before too long as the studio will want those up and running for production in mid-2021.
This news is exciting on so many levels. Ironheart is one of my favorite characters introduced in Marvel Comics, and it would be great to see her on-screen. True Believers, what series would you like to see developed at Marvel Studios?