Dead President: Marvel's Historical Inaugurations
Hail to the chiefs, the quick and the dead president(s)… or are they dead?
Fictional characters have campaigned for political office (and president) as long as we've had politics, and in America, they often do quite well at the ballot box. In 1989, the year that Mickey Mouse celebrated his 50th birthday, the Mouse also ran – and defeated his fellow cartoon opponents – for the Mayor of Buffalo, New York. Okay, so maybe Mickey Mouse only won the rat-race with seven votes, but he still defeated Richard Nixon.
The bizarre history also highlights how connected reality and fiction are, and how close we are with our fictional heroes. And rightfully so, in my opinion. In 2014, the British Psychological Society published a study (one of many) showing the importance of parasocial relationships in human development – and how fictional characters can actually make us better people.
So let's explore some of those times fictional characters made us better people (in my humble opinion) and showed us what being an American is all about. Since yesterday also marked the 2021 Inauguration Day in America, this article will dive into the complicated history of comics and presidential inaugurations – buckle up, it's meta, fourth-wall breaking stuff that includes real-world nods to presidents, historical commentary, zombies, and Wade Wilson's smack down of a cadre of dead U.S. presidents.
The Amazing Spider-Man: Election Day
The Amazing Spider-Man: Election Day trade paperback collects Amazing Spider-Man #584-588 – written by Marc Guggenheim (Wolverine) and illustrated John Romita Jr. (World War Hulk) – plus short-stories from Amazing Spider-Man: Extra! #1-3, the online comic, "Gettysburg Distress," and the sensational team-up of former President Barack Obama and Peter Parker from Amazing Spider-Man #583.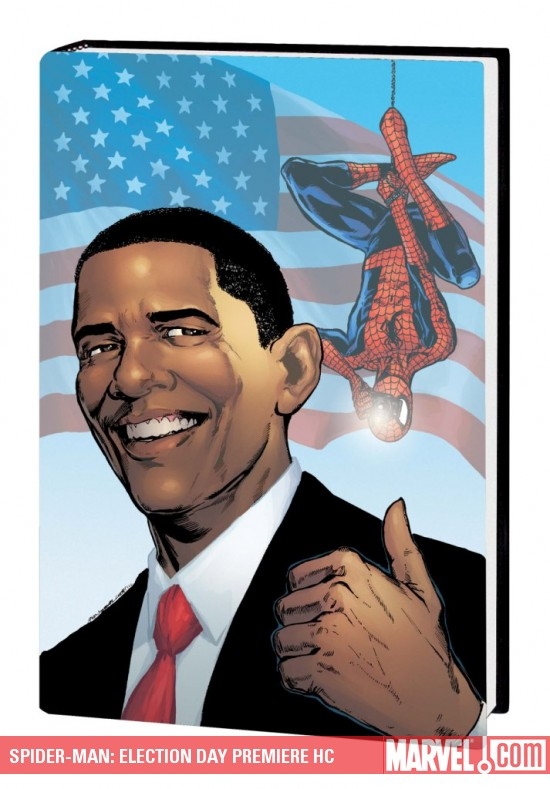 President's Day Celebration Special
The Marvel Digital Special Edition President's Day Celebration Special includes two short comics, Spidey Meets the President and Gettysburg Distress. And after reading these two stories, one thing is for sure, the future president's going to need Spider-Man!
In Spidey Meets the President written by Zeb Wells (Robot Chicken) and illustrated by Todd Nauck (Friendly Neighborhood Spider-Man), the wondrous web-slinger makes a crucial decision to swing-in and save the "Prez-Elect" Obama from himself (?!) on Inauguration Day in 2009.
Spider-Man is specifically suited for the task of helping the future president and his secret service detail. As most web-heads know, our favorite wall-crawler has a bit of experience with imposters – be they clones, robots, or Tobey Maguire Tom Holland – which he uses to parlay into a position as the Secretary of Shuttin' You (Haters) Up.
Gettysburg Distress by Matt Fraction (writer), Andy MacDonald (artist), Nick Filardi (color artist), and Lincoln Log builder extraordinaire Chris Eliopoulos (letterer) was released as a tribute to the bicentennial of President Lincoln's birth.
In the comic, Spider-Man and Captain America must fight Professor Abraham Von Lincolnstein and his fearsome financial emancipators – who sound nothing like the real people. The two heroes team-up to stop the merry band of thieves from defacing "dozens of federal reserve notes," which is illegal under 18 U.S.C. 333. And as they battle, Captain America recalls the time when the cosmic cube sent him back to witness Abraham Lincoln's "Gettysburg Address!"
Deadpool: Dead Presidents
IN WADE WE TRUST!
In Deadpool: Dead Presidents written by Gerry Duggan (Doctor Strange: The Last Days of Magic) and Brian Posehn (The Big Bang Theory), illustrated by Tony Moore (Ghost Rider) and Val Staples, and lettered by Virtual Calligraphy's Joe Sabino and Clayton Cowles, a cadre of 31 dead U.S. presidents rise from their graves to terrorize living Americans, spanning from George Washington to Ronald Regan.
In the Dead Presidents run, although America's past leaders are brought back from the grave to "fix this country," they have other ideas in mind now that their eternal rest has been vetoed – destroying it.
Earth's Mightiest Heroes, however, are quaking in their boots over the idea that their pristine public image might be ruined, especially after DE-CAPitain America stars in the Truman Show. To avoid more bad headlines, they decide not to give the country a second viewing of its heroes taking on corrupted versions of dead American "patriots," and they enlist someone with an already sullied reputation and indiscriminate killing skills, Wade Wilson (A.K.A. Deadpool).
Good thing too, the first dead president that Deadpool must fight wheelie hates him – FDR. However, as a sometimes-wheelchair user myself, the Avengers didn't need to worry about ruining their good guy image: it was just nice to finally see someone fight a wheelchair user like he was just any other person, and it's good news that Wade brings his A-game, because FDR is a baddie.
Howard the Duck
Get down, America! Remember when Howard the Duck ran for president? The would-be feathered commander in chief mounted a campaign in the 1976 election! According to an ad that ran in several issues of HTD, you could get an official Howard the Duck campaign button for a dollar (plus twenty-five cents shipping and handling). WAUGH to the Chief!
As the story goes, Howard the Duck even received thousands of write-in votes after his presidential bid was reported on in the letter column for 1976's Howard the Duck #4, in which Steve Gerber (Howard's creator) revealed that the Duck would be running for President of the U.S. in 1976. Sadly though, according to Comic Book Resource, Howard did not officially register his presidential bid, and as such, no votes for him were ever officially reported.
However, people often write-in "Donald Duck" for protest votes – and Judge Harrison L. Winter of the 4th Circuit has even deemed that "under appropriate circumstances" a write-in vote for Donald Duck is a constitutionally protected exercise of a citizen's right to vote. So it's very possible that people did the same with Howard in 1976, but said votes were not registered.
Captain America and the Falcon: Secret Empire
Captain America and the Falcon: Secret Empire is written by Steve Englehart and Mike Friedrich, with Sal Buscema (penciler), Vincent Colletta (inker), Frank McLaughlin (inker), Petra Goldberg (colorist), Michelle Brand (colorist), George Roussos (colorist), Charlotte Jeter (letterer), and Art Simek (letterer).
The original Secret Empire story line was released back when comics weren't political – or at least, it was released during a time that people like to pretend wasn't overtly political (such a time never existed) – and it deals directly with the fallout from Richard Nixon and Watergate.
When Secret Empire came out, it was unthinkable that a U.S. president could commit such a crime. (For those who don't know, then-President Nixon told his people, including his lawyer, to break into the Watergate Hotel and steal stuff from the Democratic Headquarters, and they got caught.)
There are great interviews discussing the importance of this comic better than this reporter could ever hope to, so here is what the people in the Marvel Bullpen have to say about the Secret Empire story line.
Englehart told Newsarama about the impetus behind the story line:
Today, things are very different, but in those days it just fascinated the country. There were statesman on both sides of the aisle who were more concerned with the republic than any political party, so there was a bipartisan inquiry into what Nixon had done. And it was conducted by people who knew what they were talking about, who were doing a good job, and it was being broadcast on all three or four channels. So every day, when the hearings were on, people would sit down and watch the Watergate hearings on whichever channel.

It was like a political thriller in real life, this sort of daily unfolding of the inner workings of this conspiracy. I saw Nixon give a speech on TV and I thought to myself, "This guy knows he's guilty, and he knows they're gonna get him." He was saying the opposite, but somehow that came through to me.

So Watergate just engulfed everything, and I'm writing Captain America, which is supposed to take place in the same America – everyone lives in the "real" New York City. I thought there was no way Captain America could just keep fighting the Yellow Claw with that going on. And some of it was just hubris and luck – they could have convicted Nixon the next day and I would have been writing a story about something that was already over with. But it looked like it was going on for a while, so I capitalized on that.
Clearly, Englehart was forced to asked himself a question a lot of us have been asking lately, "Who IS Captain America?" And the answer is that Captain America believes in American values over political office.
In the story, Cap defeats the evil Committee to Regain America's Principles and unmasks its leader, who turns out is the president. In an interview with The Washington Post, Marvel Comics Editor Tom Brevoort says, "the metaphor [to Watergate] is strong and direct." However, unlike the real-life events that resulted in Nixon resigning, the leader in the comic kills himself rather than be arrested for the Watergate-style scandal he cooked up.
Vote Loki
Vote Loki is by Christopher Hastings, Langdon Foss, Paul McCaffrey, Chris Chuckry, Rachelle Rosenberg, and Travis Lanham. Launched just ahead of the 2016 U.S. presidential election, we have already talked about this run several times on MarvelBlog because it is one of my favorites – and it looks like the Disney+ Loki series will be taking cues from the plot of the mini-series.
In Vote Loki, comic book readers saw Asgard's most morally ambiguous Royal Family member taking to the campaign trail in a story that provided contemporaneous satire for the 2016 United States Presidential election.
Captain America: Civil War
Captain America: Civil War changed the landscape of both the Marvel Cinematic Universe movies and Earth-616. In the comic story by Mark Millar (writer), Steve Mcniven (penciler), Dexter Vines (inker), Morry Hollowell (colorist), and Chris Eliopoulos (letterer), the event kicks off with the New Warriors accidentally killing over 600 people on live television (for their reality show). And then, things basically proceed in-step with the Civil War movie, with Tony Stark being blamed for the culture of superheroes by one of the parent's of the children killed in the accident.
In response to the growing public demand for greater accountability from superheroes and after several violent attacks on the super community, President George W. Bush meets with Stark, Reed Richards, and Hank Pym to develop the Superhero Registration Act. However, the group expresses concern that some heroes, like Captain America, won't like the idea of being forced to register as federal employees or face warrants for their arrest.
Civil War is the story of two opposite views of how America should be run – and what constitutes goodness and justice. When each side thinks they know what is best for out country and for our world, when does the battle stop?
More Marvel Presidents – Further Reading
Is that not enough history for you?! It's not enough for this comics history buff! So here is some great reading from around the internet on all things presidential at Marvel Comics.
1. Comic Book Resource: 15 Times A U.S. President Showed Up in Marvel Comics

2. Marvel: 5 of Marvel's Most (Thankfully) Unsuccessful Presidential Candidates
What's your favorite story featuring a president in Marvel comics? Hydra Cap totally counts. We just didn't have the space to talk about ANOTHER Secret Empire story line in this article. Let us know in the comments section below!
Thanks for visiting MarvelBlog.com! Want to go to Disney? For a FREE quote on your next Disney vacation, please fill out the form below and one of the agents from MickeyTravels, a Platinum level Authorized Disney Vacation Planner, will be in touch soon!