Eternals Promo Art Leaked!
A recent leak of Eternals promotional art offers a glimpse of the entire super hero team in their colorful costumes!
Promo Art Reveals Costumes
As Marvel fans are well aware, Eternals was originally supposed to make its theatrical debut last November. Fans have been waiting with bated breath for any news of the new super hero team, slotted to be a part of the much anticipated Phase 4 of Marvel Cinematic Universe (MCU).
The new art features the entire Eternals team suited up in their costumes. The image is from a t-shirt label and, although the shots are not "live action," they do represent what we will see on the big screen this Fall.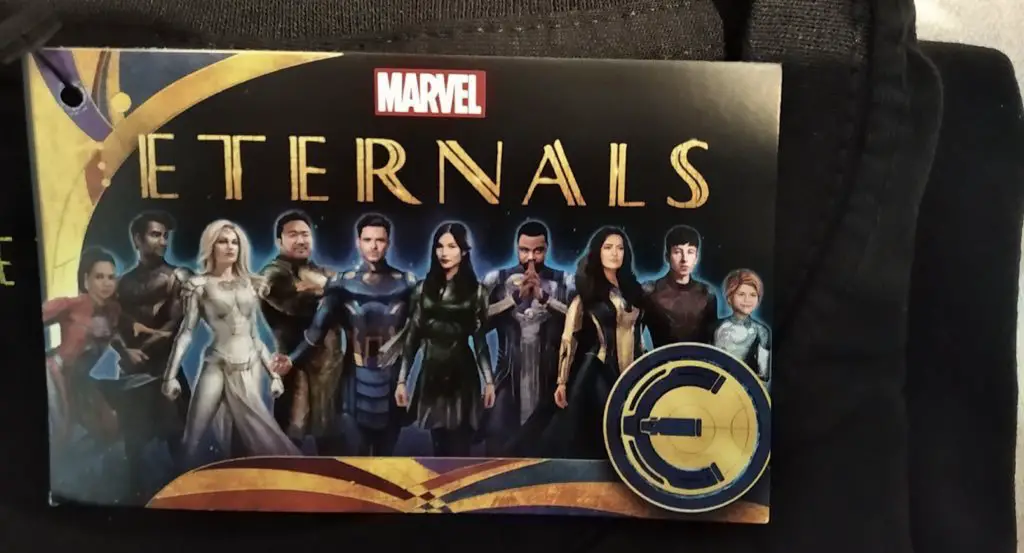 Almost the entire cast is included in the new image. The line up begins (from left to right) with Makkari (Lauren Ridloff), followed by Kingo (Kumail Nanjiani), Thena (Angelina Jolie), Gilgamesh (Don Lee), Ikaris (Richard Madden), Sersi (Gemma Chan), Phastos (Brian Tyree Henry), Ajak (Salma Hayek), Druig (Barry Keoghan), and finishing off with Sprite (Lia McHugh).
Dane Whitman (played by Kit Harington) is not present in the photo. With the super hero "alter ego" Black Knight, Whitman actually is not an Eternal, so its not a total shock that he should be missing from this promotional image.
What We Know About the Plot
Now that we've seen an image of the cast in their super hero suits, what about the story?
We know that Eternals is meant to occur after the events of Avengers: Endgame. The story will include the Celestials – who created the Eternals as an offshoot of humanity, intended to protect Earth. The Deviants will also be a major part of the plot. They are another evolutionary offshoot, intended to rid the Earth of humanity.
Chloé Zhao, most recently know for her critically-acclaimed film Nomadland, is directing Eternals. Based on several recent interviews, she has had a great experience working Marvel Studios which has been very accommodating of her vision.
Eternals will make its debut in theaters on November 5, 2021.
Would you like help planning your next Disney vacation? With reduced crowds, now is the time to visit! As an Authorized Disney Vacation Planner, my goal is to help you plan the Magic your way. I create customized itineraries, monitor for discounts for your vacation, and much more… all for FREE! Please feel free to reach out at (646) 645-6175, bedwards@mickeytravels.com or join me on Facebook!