MarvelBlog News for April 12, 2021
The worst day of the year on the internet, April 1st, came and went. Along the way, many people got suckered by Marvel April fooling.
However, I can assure you that everything we'll talk about this week in MarvelBlog News is 100 percent real!
Welcome to Loki Week!
Okay, if you want to be technical, Loki Week shouldn't happen until June 11th. That's when the show debuts on Disney+.
However, Disney treated fans to the most informative trailer for the show thus far. Here, take a look!
Obviously, we have plenty to unpack, but let's focus on the most crucial part. That video is white-hot! I mean liquid-metal hot!
If you weren't already counting down the minutes until the show debuts, you should be now!
Disney had previously indicated that the story of Loki involves a time-heist mystery that may or may not have been triggered by his stealing the Tesseract.
Loki's totally innocent, I'm sure!
While the trailer focuses on the vital dynamic between Owen Wilson's character and Loki, it does include clips of Time Variance Authority (TVA) workers.
We learned this week that Gugu Mbatha-Raw is playing the fabulously named character, Ravonna Lexus Renslayer.
Comic book fans just got a little tingle, as Ravonna's history intertwines with that of Kang the Conqueror, who reeeeeeeeally wants to marry her.
We know that Kang will appear as the villain in Ant-Man and the Wasp: Quantumania. Still, a cameo in Loki seems plausible now.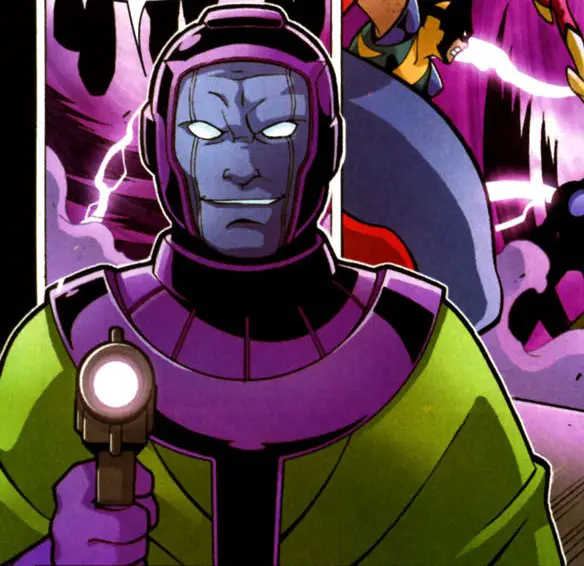 The other recently revealed character is Hunter B-15, whom Wunmi Mosaku will portray.
That's not someone from the comics, which means Marvel maintains some secrecy here.
Marvel also finally confirmed that Wilson is playing Mobius M. Mobius, which was long suspected.
He's a bureaucrat with a massive forehead who generally shows up whenever the Fantastic Four comic needs some conflict.
Note that none of these three characters ostensibly has superpowers. Loki should have the advantage over any of them.
PS: A freeze-frame shows a Skrull working at the TVA! Stay tuned…
Black Widow News
Have you already watched the new Black Widow trailer? If so, you are not alone. As a reminder, I'm talking about this new ad:
Presumably, this latest clip is the final trailer for the July release. Given all the release date changes, I cannot say that for sure, though.
What I do know is that interest in Black Widow remains incredibly high.
The trailer recorded more than 70 million views during its first 24 hours, suggesting that people are more than ready for its upcoming release.
In fact, interest has grown, perhaps due to the WandaVision phenomenon. As you know, that Disney+ series has had a halo effect on the MCU.
To wit, the second Black Widow trailer managed an impressive 57 million views during its first 24 hours. So, the third one beats it by 13 million!
Thanks to WandaVision, interest in the MCU is higher than at any point since the release of Avengers: Endgame.
Of course, that's fitting since Black Widow's technically the first Disney MCU movie released since Endgame.
Along the way, we learned a bit more about the project, part of which thrills me as a James Bond fan.
Olga Kurylenko will appear in Black Widow! Somehow, Marvel had kept her role a secret for all this time.
The actress portrayed Camille Montes in Quantum of Solace, where she was the female lead and love interest.
Since then, she's perhaps best known for her work on the Starz series, Magic City. But she also co-starred in Tom Cruise's action flick, Oblivion.
As a native Ukrainian, Kurylenko's presence in Black Widow makes perfect sense, even in what's reportedly a smaller role.
The former supermodel has earned high marks for her acting. So, this may be more than a one-off appearance in the MCU.
The Black Panther Rumor
Okay, let me stress that this section is pure rumor-mongering rather than anything remotely possessing confirmation.
MarvelBlog has previously reported some stories that proved correct, but they were based on research and tips.
This situation is different. A popular underground website posted a rumor in early February that caught my eye.
However, given the site's reputation, I didn't pay it much attention until recently.
Don't get me wrong. As far as internet gossip goes, the site features remarkably accurate updates, at least as far as anybody can tell.
Much of the speculation references Hollywood insider hardball and gossip about celebrities acting trashy.
Well, the site did something different and posted a Blind Item about a Bridgerton actor being the frontrunner to play a Marvel superhero.
Then, the reveal suggested that the character in question was Kasper Cole, the White Tiger.
That information gave me pause, as Cole took up a different mantle in the comics. For a while, he took on the title of…Black Panther.
I have your attention now, don't I?
Please don't confuse the White Tiger with the Smiling Tiger that The Falcon and the Winter Soldier recently referenced.
They're different characters, at least in the comics. Who can say for sure in the constantly evolving MCU?
Anyway, the sexy part of the rumor had Bridgerton losing a lead character to this role. And the actor playing that character is… Rege-Jean Page.
Hey, did you happen to read that Rege-Jean Page isn't returning for season two of Bridgerton? And did you know he turned down a lot of money?
Bridgerton season two will start filming late in the spring and last several months. Black Panther 2 begins principal photography in early July.
I'm not saying. I'm just saying…
Marvel Miscellany
Let's end the update with some Marvel miscellany, starting with another Black Panther tidbit.
Ryan Coogler, the director of the first movie, recently performed an interview.
Naturally, the subject of the awkwardness of his next project came up.
When asked about Black Panther 2, Coogler stated, "I know Chad wouldn't have wanted us to stop."
On a different note, I mentioned WandaVision's enthusiasm. I've got data to back that up.
For the week ending March 7th, the show garnered 924 million (!) minutes of watching, according to Nielsen.
That total reflects that WandaVision was the fourth most-watched program overall for the fact and the second most popular original series.
The shocker here is that Disney+ doesn't have anywhere near the total subscriber numbers of Netflix. Yet, only two of their programs beat the MCU.
Ginny and Georgia and Criminal Minds re-runs were the two if you're wondering. Also, Coming 2 America on Amazon Prime received the most views.
WandaVision's ratings started strong, flatlined for two weeks, and then steadily rose, nearly tripling the audience over time!
Speaking of which, Parrot Analytics suggests that The Falcon and the Winter Soldier is currently the most popular TV show in the world.
Thus far, the MCU's Disney+ performances are just as good as their theatrical releases!
Finally, I'll leave you with this:
Thanks for visiting MarvelBlog.com! Want to go to Disney? For a FREE quote on your next Disney vacation, please fill out the form below and one of the agents from our sponsor MickeyTravels, a Platinum level Authorized Disney Vacation Planner, will be in touch soon!