Let's Talk about WandaVision Episode 1-9
In a matter of minutes, Wanda Maximoff crushed her husband's forehead, watched time move backward, saw a villain kill him, and she turned to dust.
In a matter of days, Wanda Maximoff returned to life, defeated Thanos in solo combat, and learned that the government was experimenting on her husband's corpse.
Then, she went mad and joined a sitcom. Suffice to say that the woman's been through a lot.
Now, we're finally ready to see how everything ends. Let's talk about WandaVision episode 1-9, The Series Finale.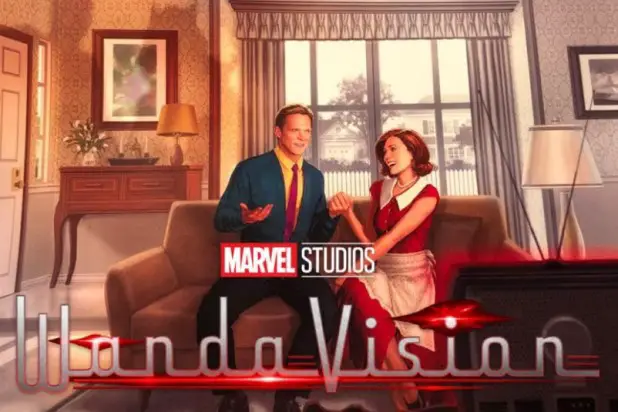 As always, there will be massive spoilers. PLEASE don't read this until you've watched the episode…and if you haven't watched it yet, what are you waiting for???
The Final Girl
I've confidently stated throughout the series that we're watching a horror story, not a sitcom. And what's the classic horror movie trope?

Yes, I'm referencing the final girl, the one who survives after everyone else dies.
In a way, WandaVision followed that mantra by gradually taking Wanda's loved ones off the board, leaving her alone with her thoughts…and her magic.
How did we reach that point? Well, we started with a witch threatening to choke the life out of some kids. Yes, we pick up right where we left off.
Agatha, the Nosy Neighbor, has turned into more of a would-be future serial killer podcast subject.
Last week, we gazed in horror as Agatha sucked the life force out of her witch coven, including her mother.
Now, her hands blacken as she tries to do the same to Wanda. Alas, Agatha's not an Avenger. She's a witch, and what happens to them?
In a lovely callback to The Wizard of Oz AND Captain America: Civil War, Wanda throws a car at her back, leaving only Agatha's boots under the house.
Hey Agatha, if it makes you feel any better, Wanda took out Tony Stark the same way, and that dude has an I.Q. of like a billion.
Before Wanda can celebrate her wizard duel victory, White Vision shows up, and he's lost that loving feeling.
Before this Vision can crush her skull – seriously – Westview Vision intercedes, and he's ready to forgive and forget his recent marital squabble.
The fightin' Visions fly around town, proving the Futurama maxim that perfectly symmetrical violence never solved anything.
Other Westview Residents
Monica Rambeau wakes up in a stranger's bedroom, but there's nothing sexy about it. She's stuck with a guy named Bohner.
We thought he might be alternative universe Pietro, the man who exploded the multiverse open. Instead, it's just a weird Growing Pains reference.
Also, Bohner reveals that he's Ralph, meaning that unlike Vera on Cheers or Maris on Frasier, he appears on camera! That'll blow up some sitcom stereotypes.
Ralph somehow possesses the ability to knock Monica across the room with a flick of his fingers. So, there's plenty of internet debate about his powers.
For now, all we know (or think we know) is that he's not Pietro. Personally, I'm amused by a secondary joke here.
The MCU version of Pietro, Aaron Taylor-Johnson, is married to Fifty Shades of Grey director Sam Taylor-Johnson, who is 24 years his senior.
I suspect the 13-year age gap between Fietro/Bohner actor Evan Johnson and Kathryn Hahn is winking at this.
So, it's a multi-layered joke. This is Boner from Growing Pains:
https://youtu.be/bg7X5plllnw?t=41
Outside Westview, Acting Director Hayward has decided that committing crimes is totally fine when the ends justify the means.
Meanwhile, Jimmy Woo has completed his face turn from the comedic antagonist in the Ant-Man franchise. He's now siccing everybody at Quantico on Hayward.
Yes, the Acting Director is heading for a fall now that he's chosen the dark side.
Back in Westview
The "no strings on me" theme from Avengers: Age of Ultron returns when Agatha breaks the spell on several townsfolk.
Dottie's release allows her to beg Wanda for a better role for her daughter. Apparently, the younger Dottie has remained trapped in her room during these events.
As for Bohner, Agatha uses a necklace to control him. Once Monica deduces this and shatters it, the man pleads for his life. It's grim in Westview, y'all.
In fact, one of the lingering criticisms of Age of Ultron was that Tony Stark built a being so powerful that it came within minutes of ending humanity.
Later, Stark argued that the Sokovia Accords were a necessary evil to keep powered beings in check, an act of ultimate hypocrisy.
WandaVision plays within those margins a bit, as it shows that thousands of Westview residents have suffered mightily during the sitcom.
One informs her, "When you let us sleep, we have your nightmares." Another asks that her husband be warned against returning home to Westview.
Wanda has deluded herself into believing she's protecting these people. In reality, she's caused them mental trauma that could last a lifetime.
All the offbeat characters that we suspected may be Mephisto or Nightmare prove to be innocent locals trapped by an unintended malevolent spell.
Sharon Davis, the boss' wife in the first episode, the one with dinner, begs Wanda to let them die!
The Actions of Avengers
At this point, Agatha harangues Wanda over her decidedly unheroic behavior.
For whatever reason, this dig pushes the Avenger into action. She breaks the spell.
The S.W.O.R.D. folks roll out, deeming this perfect timing to take Wanda out once and for all.
Westview Vision feels differently. The shattering of the spell causes him to come apart at the seams again, which isn't great since he's trying to stop White Vision.
Also, Wanda's kids, little Billy and Tommy, have shown up to help their mom. Then, they start to disintegrate, too.
The now and future Avengers are falling apart…literally.
Then, Wanda resets a bit to keep them alive. At this point, it's Team WandaVision vs. S.W.O.R.D.
In a humorous and also badass action, Vision awkwardly apologizes for not preparing the kids for battle.
Like a boss, Wanda states, "But you were BORN for it!" Eat your heart out, Knute Rockne!
Agatha tries to kill some soldiers, but then Wanda saves them. "Boys, handle the military. Mommy will be right back."
Tommy utilizes his superspeed to take all the weapons from the S.W.O.R.D. guys and steals a hat and sunglasses, too.
At this moment, Monica arrives to watch in horror as Hayward tries to shoot the children in cold blood. She stops at least four bullets in her body with her abilities.
One bullet escapes, which allows Billy to pull a Neo and stop it in mid-air. Whoa.
In full-on villain mode, Hayward decides to run them down with his car.
Alas, a honking clown horn is the last thing he sees before an ice cream truck smashes into his side, knocking him out. Doctor Darcy for the win!
MAGIC FIGHT!
In the comics, Agatha tutors Wanda to control her powers. During the series, the Salem Witch has taken a vastly different approach.
Agatha comes across as a power-hungry, selfish…witch. So, Wanda takes her back to Salem at the spot where Agatha stole her sisters' power.
Oddly, the undead witches chant for Wanda instead. They feel the power of the Scarlet Witch, the one who apparently gets a full chapter in the Darkhold.
Right as Agatha tells Wanda that she can't win due to a lack of knowledge, the Scarlet Witch manifests her magic crown.
At this point, Agatha switches tactics and offers a deal to make Westview and WandaVision a reality forever.
Offer rejected.
Wanda takes to the scarlet skies and starts hurling hexes at Agatha. It's a good ol' fashioned magic fight, the kind we haven't seen since Harry vs. Voldemort.
In a matter of moments, an entire comic arc ties together. You see, Agatha has taught Wanda something. The Scarlet Witch can cast holding runes.
Agatha has asked for Wanda's power in exchange for the WandaVision trade.
Then, after Agatha believes she's just vampired her most strength yet, she says:
"About our deal, once cast, a spell can never be changed. This world you made will always be broken."
So, it was a fake offer, but that's okay! Wanda rejected it anyway. She has captured Agatha in runes and drains all her power.
At this point, Wanda transitions into the Scarlet Witch, complete with a new outfit. (Don't worry, cosplayers are already on it!)
Hi, I built this in 3 days right after seeing the final episode of WandaVision, and I am so proud of it ✨#WandaVision pic.twitter.com/cqBOD3gE41

— Mads (@Mads_five) March 8, 2021
Wanda imprisons Agatha as Agnes, the Nosy Neighbor, in Westview.
The two women bicker over whether Wanda will need Agatha again, but the Scarlet Witch drily notes that she knows where to find the Nosy Neighbor.
Vision Quests
The Visions fight in a library, and it's clear that the Westview one cannot hold up for long. So, he uses logic and reason instead.
He indicates that he's a Conditional Vision. White Vision requires elaboration, which leads to a protected debate about the Ship of Theseus.
I don't think you want to get into identity-based metaphysics right now. Suffice to say that White Vision accepts Westview Vision's memories.
WandaVision has set the table for the return of a fully formed Vision at some point down the line.
For now, he flies out of Westview and is never seen again in the episode.
Westview Vision hasn't completed his journey yet, though. He must assist his wife and family.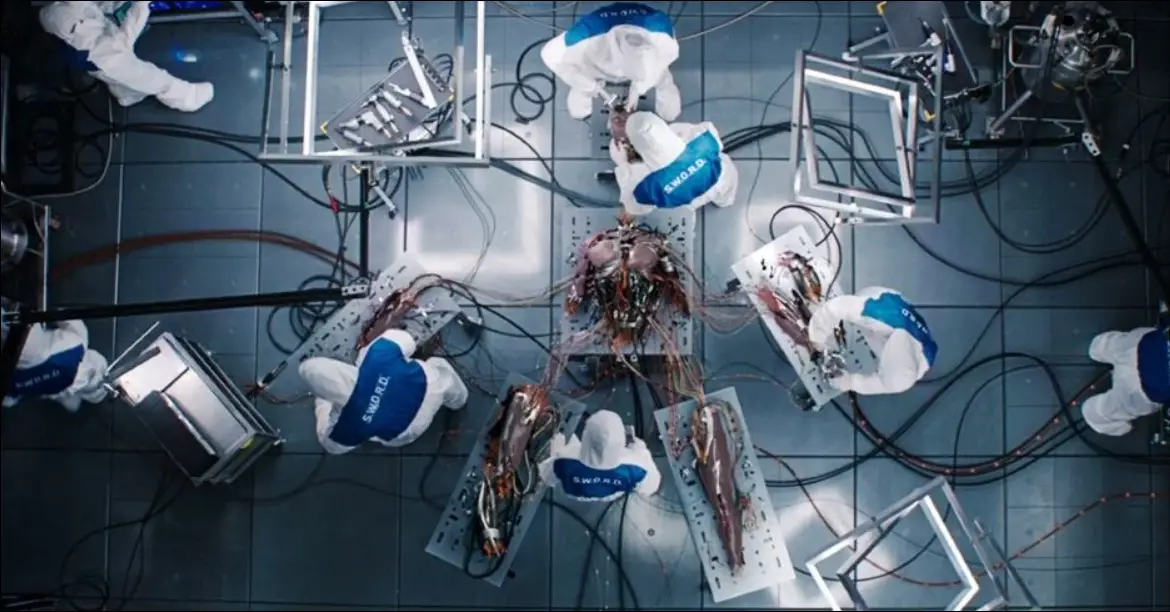 Vision joins the twins and Monica as they watch the heavenly witch fight from the ground floor of Westview.
Afterward, he states, "I know you'll set everything right, just not for us."
The Final Girl motif plays out painfully from here, as Wanda watches her husband and children vanish.
First, she thanks the twins for choosing her to be their mom, which has caused plenty of exciting internet speculation.
Then, Wanda and Vision hold each other for the last time in their magical sitcom house. She finally explains one lingering mystery.
"You, Vision, are the piece of the Mind Stone that lives in me. You are a body of wires and blood and bone that I created. You are my sadness and my hope. But mostly, you're my love."
Then, Westview Vision leaves Wanda just as the real Vision had done. Once again, she's alone.
The following morning, Wanda puts on her hoodie and uncomfortably walks across town to leave Westview.
The people she has hurt demonstrate understandable rage, fear, and frustration.
Then, Wanda Maximoff exits Westview.
The Post-Credits Scenes
WandaVision ends with two post-credits scenes, and I mention this because a shocking number of people didn't realize that.
If you missed them, go back and watch now! When you're ready, keep reading.
The first credits scene shows Monica Rambeau talking to a presumed federal authority. The woman asks to speak with her privately in a movie theater.
At this point, the façade drops as a Skrull, possibly the one Monica played with as a child, indicates that "he'd like to meet with you."
The Skrull then points to the sky, indicating that Monica's about to go off-world…and maybe not for the first time.
This scene comes with plenty of intrigue. The "he" seems likely to be Nick Fury, but the MCU rarely does the obvious thing.
So, it could be a Skrull like Talos from Captain Marvel or, well, anybody really.
All we know for sure is that this scene sets up Captain Marvel 2 and possibly Secret Wars as well.
After the credits end, we cut to a small cabin beside some majestic mountains. There, Wanda prepares some tea while she admires the scenery.
But that's just Wanda. We also see the Scarlet Witch pulling off one of Dr. Strange's tricks. She meticulously researches her new acquisition, the Darkhold.
Wanda employs astral projection to do two things at once. And Agatha previously stated that she's stronger than the Sorcerer Supreme.
Wanda hears the voices of the twins as they plead for their mother's help.
You know she's gonna try to help them…but are they real?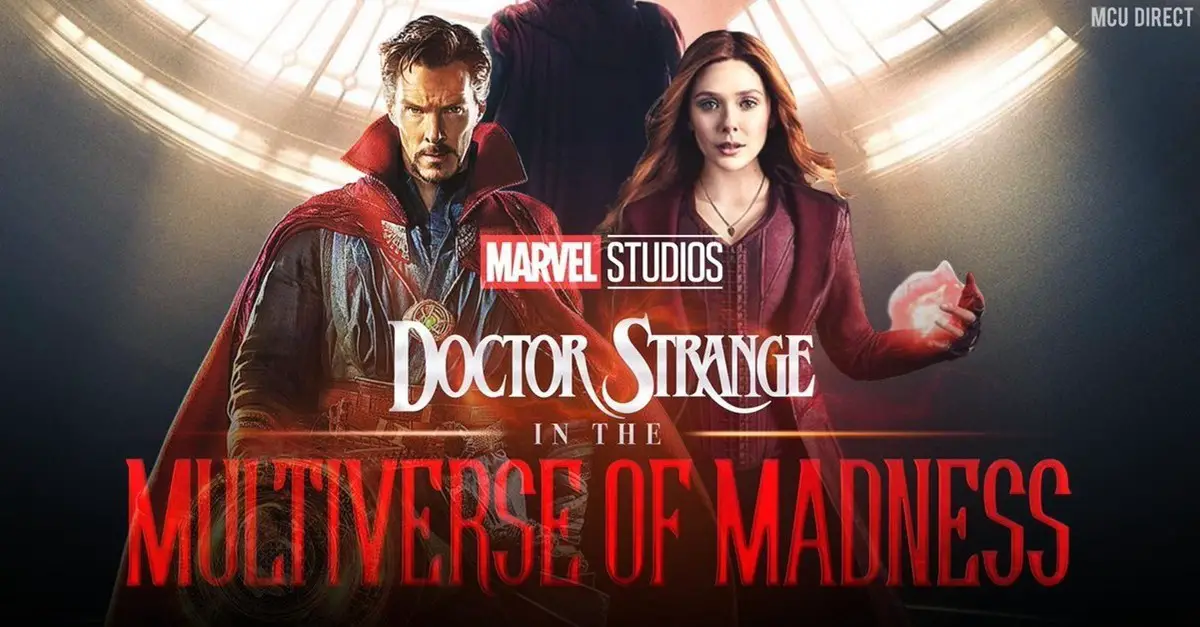 This scene undeniably sets up Dr. Strange in the Multiverse of Madness, especially in the final moments.
The debate lies in whether Wanda's already mad. Or is she better now?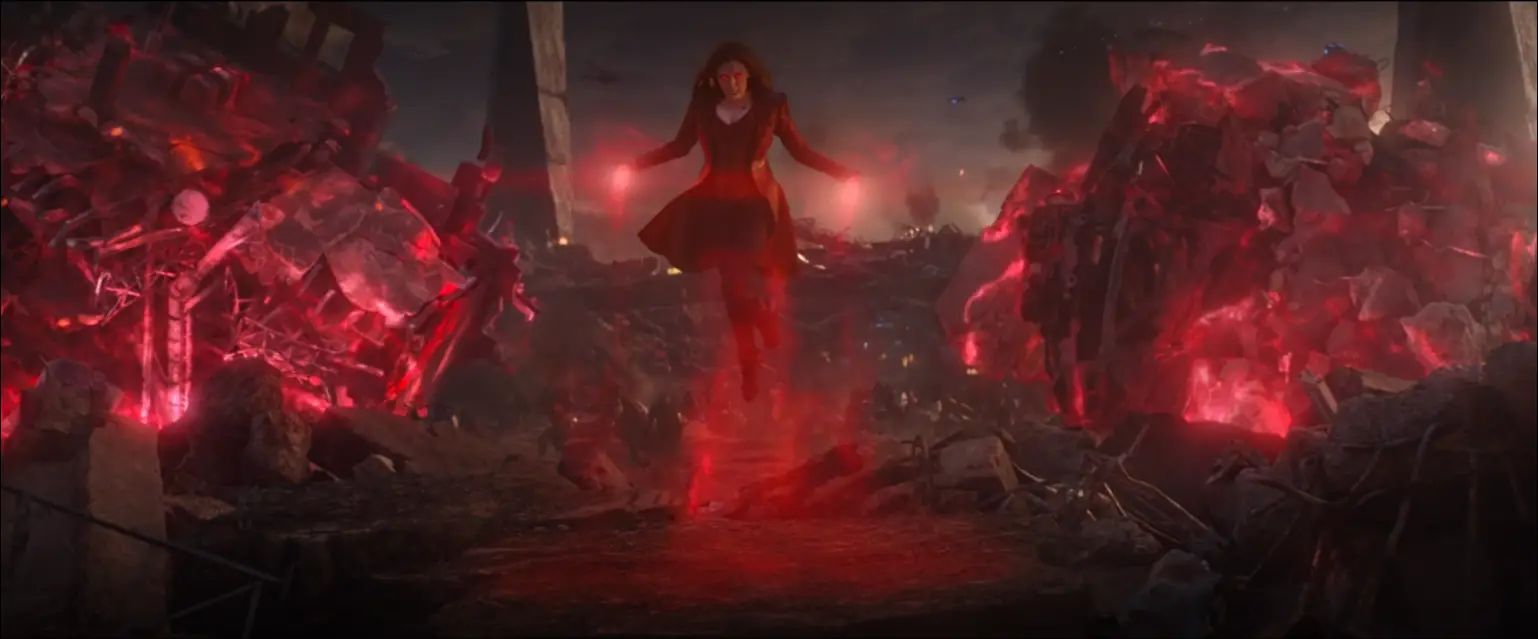 Either way, a woman who previously bested Thanos is even stronger after WandaVision.
Feature Image Rights: Marvel
Thanks for visiting MarvelBlog.com! Want to go to Disney? For a FREE quote on your next Disney vacation, please fill out the form below and one of the agents from our sponsor MickeyTravels, a Platinum level Authorized Disney Vacation Planner, will be in touch soon!