Let's Talk about Loki Episode 1-2
Did you watch the Loki pilot last week? What am I saying? Of course, you did!
So, you were probably like me. You deconstructed the thought process of Mobius M. Mobius.
This detective for the Time Variance Authority (TVA) thought it was a terrific idea to hire the GOD OF MISCHIEF for a case.
Oh, yes, the case revolves around a search for the GOD OF MISCHIEF, at least a different variant of Loki.
As such, this idea is very much a fox-in-the-henhouse strategy. It's like hiring the Cookie Monster to figure out why supplies are low at Oreo HQ.
Well, here we are, two episodes into the investigation. Did Mobius' extremely reckless unconventional hiring strategy pay dividends?
Let's talk about Loki, episode 1-2, the one entitled The Variant. But which Variant does the title reference?
"The Variant We're Hunting…Is You"
The first episode functioned as a reminder of who Loki was, as well as an introduction to the TVA and the Sacred Timeline.
This time, we get to the hunt. Marvel has described Loki as a time travel mystery. In every great mystery, one puzzle gets solved, only to reveal another.
That's what we watch here, as Mobius and Loki work together to discover the identity of…Loki.
Yes, they know it's some iteration of the God of Mischief, but they're unclear about which one. Several potential Variants look like Tom Hiddleston in various outfits.
So, we can guess pretty early on that this Loki will look different. It's just a question of how much. My vote is for Hulkbuster Armor Loki.
Anyway, the episode starts cleverly. We can travel through all space and time, and the music teases that point. We're going back to the Middle Ages!
No, wait! We're visiting a 1985 Renaissance Fair in Wisconsin instead. Still, that's a form of time travel. So, buy Microsoft stock while you can!
This episode introduces us to Hunter C-20, who is searching for the Variant. Alas, she's about to have a bad day. This Loki bewitches her.
The spell possesses a Judas effect, as the Hunter turns on her loyal charges. Finally, she kills her teammates at Loki's behest. And we'll see her again.
The fascinating reveal isn't the brain-washed betrayal, though. Instead, it's that the Variant takes Hunter C-20 to…where Treacherous Loki is living.
What Happens When a Nexus Event Branches Past Red Light?
Loki spends his time less productively. He's getting up to speed on how the TVA works. Miss Minutes is training him on why Nexus Events are bad.
Loki responds by slapping his AI, which I suspect many of us wish we could do when Siri seems a bit too useless.
Hunter B-15, the one who REALLY hates Loki, is leading a team to investigate a potential clue.
Mobius had thought he was in charge, but this sequence shows that he's not in power on missions. The woman that Loki recently time-tormented is the boss.
Loki just can't catch a break…which we should all remember is what we want because he's a VILLAIN. He's just not the worst villain in this story.
For his part, Mobius knows the deal. He's already deduced Loki's plan, which is to gain control of the TVA, a place more potent than a fully stocked Infinity Gauntlet.
So, the two investigators share a mutual interest in working together. Loki acts shocked that Mobius has figured out his plot, though.
Once on the grounds of the previous murder/hostage situation, the show deftly incorporates a deadline.
Good mysteries put a clock on the proceedings to ramp up the urgency. This one is "three until red line," whatever that means. It sounds bad, though.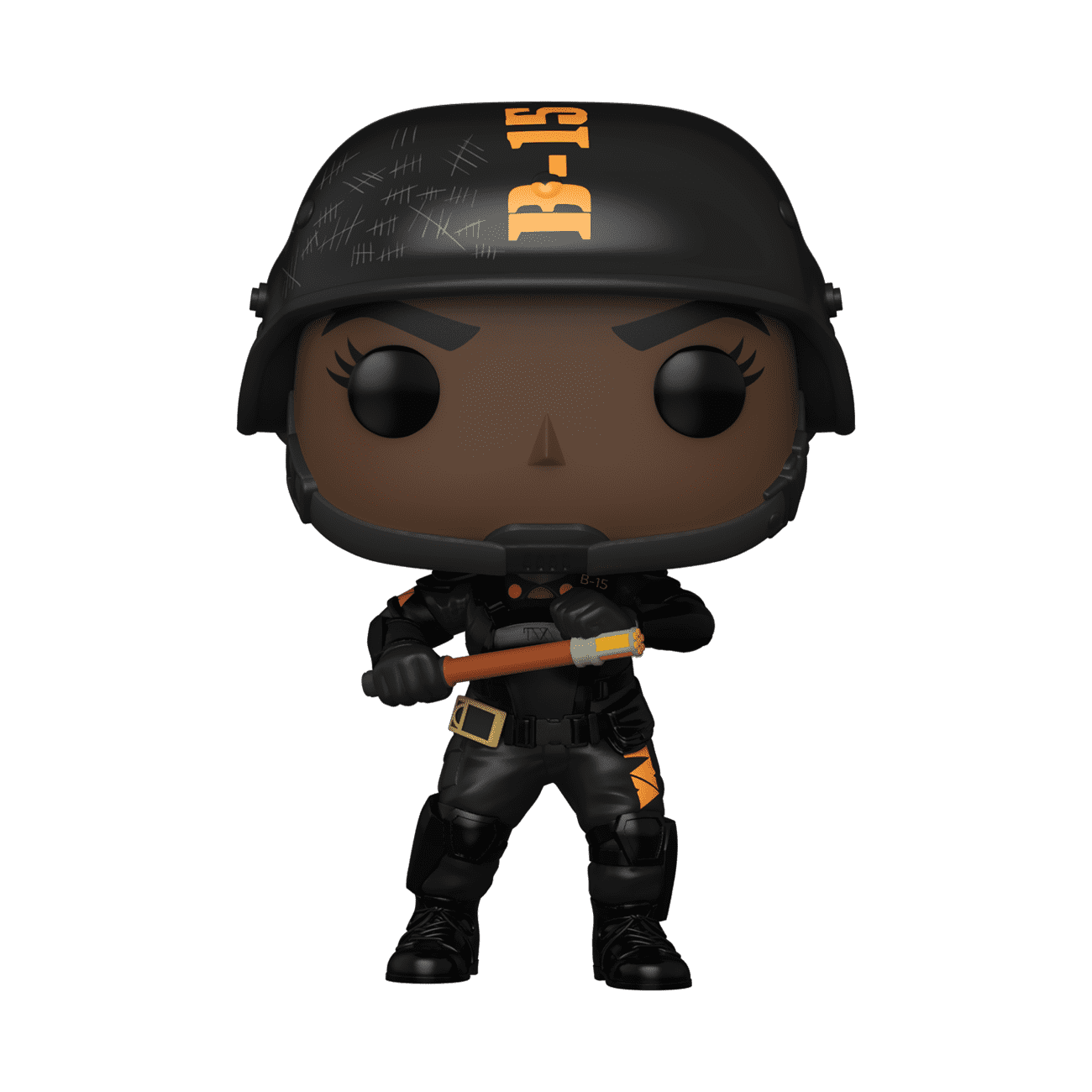 To his credit, Loki anticipates that Hunter B-15 is walking into a trap. The Variant has set up another Hunter strike force.
Importantly, Loki tries to negotiate with Mobius about his current status, but the TVA agent is apparently good at poker. He makes the correct read. Loki is bluffing.
"Luckily, He Believes in Himself Enough for the Both of Us"
After some awkward banter, Loki recognizes that he has overplayed his hand. He needs to make a breakthrough else his TVA status will get revoked.
To the mischief-maker's credit, he does deduce something nobody else would. He recognizes that the Variant is hiding in apocalypses.
After a strained salad metaphor, Loki somewhat makes his point that instances like Ragnarok present perfect opportunities for the Variant.
The timeline's branch ends with each apocalypse. So, the Variant can do whatever they desire without the TVA taking any notice.
The buddy cops prove the thesis after a visit to Pompeii. Then, Loki correctly guesses that an Alabama category 8 hurricane is where the Variant has holed up.
The episode had been strong up until the Alabama sequence, but it levels up once Loki arrives at this apocalypse.
Hunter B-15 and Mobius join him, along with another team of trained TVA soldiers. Unfortunately, the mission goes wrong from the start.
The Variant utilizes that hypnotic ability to infect Hunter B-15 and others. Throughout the process, it speaks through the host, talking to Loki.
Notably, Loki says, "It's nice to meet you." The easy joke there would have been, "It's nice to meet me." That doesn't happen because it's untrue.
Both versions of Loki recognize they're different. The Variant knows more about their counterpart, though.
The claustrophobic showdown occurs in a giant corporate box store, with the Variant watching the proceedings from several security monitors.
"Please. If Anyone's Anyone, You're Me."
No matter the Loki, ego is always an issue. The two insecure deities attempt to establish dominance, each one needing to be the superior Loki.
Hey, I get it! There's some version of me out there who bought thousands of crypto at 14 cents each! That guy's a jerk.
However, Loki isn't telling a story about vanity here…well, not ONLY that. It's only mining the depths of the Marvel comics for their finest ideas.
Among them is the fact that Loki is genderfluid. A female version of Loki proved quite popular during the 21st century. And that comes into play here.
The big reveal of the Variant is that it's Lady Loki, not to be confused with the Lady Thor from the comics, who is Jane Foster.
This Loki is just like Tom Hiddleston's version, a God(dess) of Mischief and adopted child of Odin.
The difference is that this one appears more competent. At a minimum, she's more dangerous. Her plans become apparent when the hostage speaks.
Hunter C-20 starts by speaking gibberish. Eventually, she reveals that she has given away the location of the TVA. It seems like something that would happen a lot.
Moments later, we watch as the TVA goes to code 000. She has bombed the Sacred Timeline. Moments later, she ports out of Future Hurricane, Alabama.
These moves have the unintended (?) consequence of framing Loki. After evaluating his options, Loki follows the Variant through a time portal.
This sets up the classic protagonist/antagonist exchange of points of view in episode three, and I am here for it.
This episode really delivered on the suspense and hints at brilliant episodes forthcoming. It's an A+ all around. I liked it MUCH better than the pilot.
Feature Image Rights: Zazzle.com
Thanks for visiting MarvelBlog.com! Want to go to Disney? For a FREE quote on your next Disney vacation, please fill out the form below and one of the agents from MickeyTravels, a Platinum level Authorized Disney Vacation Planner, will be in touch soon!