Did 'Hawkeye' Tease the Return of One of Marvels Most Dangerous Criminals?
With the fantastic third installment of Marvel's newest series, Hawkeye, the groundwork is continually being laid for the final resolution; despite this, it seems, however, that the series may have also teased the return of one of Marvel's most dangerous criminals…
Well…less criminal, more Kingpin.
Episode 3 of Hawkeye finally gave fans their first look at one of the MCU's most enigmatic character appearances: the origin story of Echo.
The character, although clearly still in the infancy of her own development, is menacing and physically imposing, making a dangerous adversary for the series leads Clint Barton and Kate Bishop.
Echo uses her deafness to her advantage, and it's an undeniable strength. Additionally, her prosthetic leg is used to her advantage several times during Hawkeye's third episode.
What has always been interesting about the character of Echo is her comic book origin, with her being the adoptive daughter of Wilson Fisk (better known to most as Kingpin).
Although that may not be the way that Disney+ Hawkeye takes the story, the potential for the connection of the two characters still remains.
During a flashback of Echo's Marvel Studios origin, there was the moment where a man, who was unidentifiable and hulking, placed his hand tenderly on the cheek of a young Echo. This gesture that elicited a huge smile on the face of the young girl.
The hands, the figure, the assumed connection to the Tracksuit Mafia and undercover crime, and the sleek black suit all lead back to one assumption: Hawkeye may have just given us our first look at Wilson Fisk in the MCU.
If Hawkeye teases the return of one of Marvel's most dangerous criminals in the form of Fisk, the question then becomes, is this the Kingpin that we know?
Technically, Wilson Fisk has already premiered in the MCU, having a vital role in the fantastic Marvel series Daredevil.
The character was brilliantly brought to life by the menacing Vincent D'Onofrio, with his performance being some of the best acting work in the Marvel universe.
It could be D'Onofrio's hand in that scene – equipped with a laugh that sounded very much like the actor – or it could be a different actor taking on the character in this new series.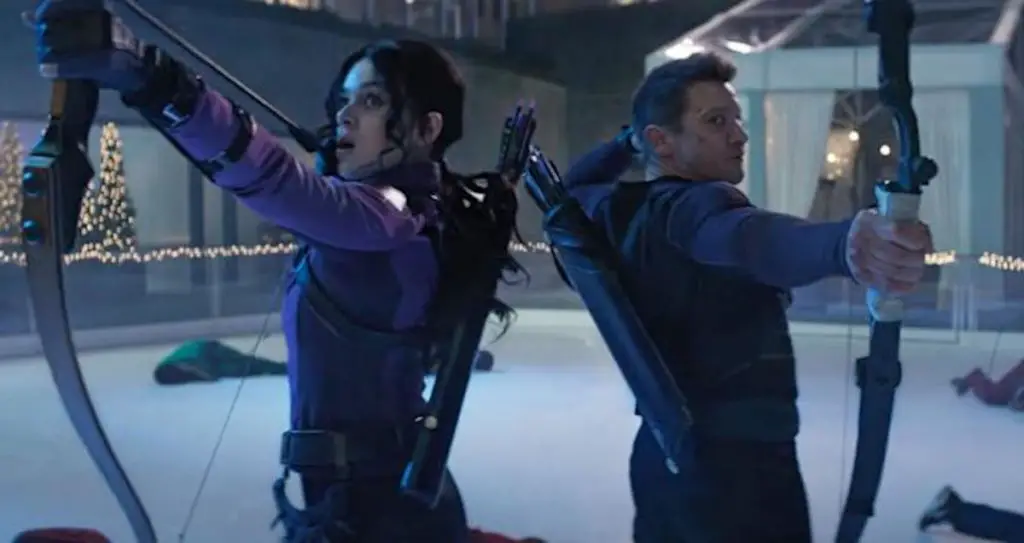 That is if the hand belongs to the Fisk's Kingpin at all.
Either way, we know that we will be tuning in every week, as Hawkeye is must-watch TV, and could be the launching pad for a plethora of Marvel mainstays.
Feature Image Source: Marvel/ Netflix
Thanks for visiting MarvelBlog.com! Want to go to Disney? For a FREE quote on your next Disney vacation, please fill out the form below and one of the agents from MickeyTravels, a Platinum level Authorized Disney Vacation Planner, will be in touch soon!