Here's What's Coming to the MCU in 2022…We Think
Disney+ subscriptions have increased by roughly 45 million people over the past year.
While not all of that credit should go to the addition of MCU television series on Disney+ in 2021, I'm going to say that it does.
We didn't get any new episodes of The Mandalorian in 2021, and most of the biggest movie debuts cost $29.99 extra as Premier Access titles.
So, many of the people who bought and kept Disney+ did so because they liked WandaVision. Then, they kept watching through Hawkeye.
Folks, the MCU matters so much that it impacts Disney's bottom line. And I know that you're excited about what's in store next here.
Here's my best current guess at the MCU release schedule in 2022.
Doctor Strange in the Multiverse of Madness – May 6th
Critics have suggested that Disney has oversaturated the MCU in 2021. Their argument centers on the fact that we've had five shows and three movies this year.
Actually, it's four movies if we count Spider-Man: No Way Home as an MCU title, which we probably should.
That's 36 television episodes plus nearly 10 hours of movies. And I'm excluding Venom: Let There Be Carnage out of stubbornness more than anything.
Folks, that's a LOT of comic book stories in one calendar year. Not coincidentally, Disney has decided to give everyone a cooling-off period.
Presuming that the current schedule holds, we won't get another MCU title until the first week of May.
That title, Doctor Strange in the Multiverse of Madness, works as a direct sequel to Spider-Man: No Way Home, which set up this story.
However, this film will also connect some dots from WandaVision and possibly Loki…and maybe even What If…?!
Obviously, this title's essential to the rest of Phase Four of the MCU.
Ms. Marvel – Summer
I'm actually a bit worried about Ms. Marvel now. I saw some set photos that gave me a great deal of confidence.
Then, Disney quite randomly announced that the show wouldn't debut until next summer.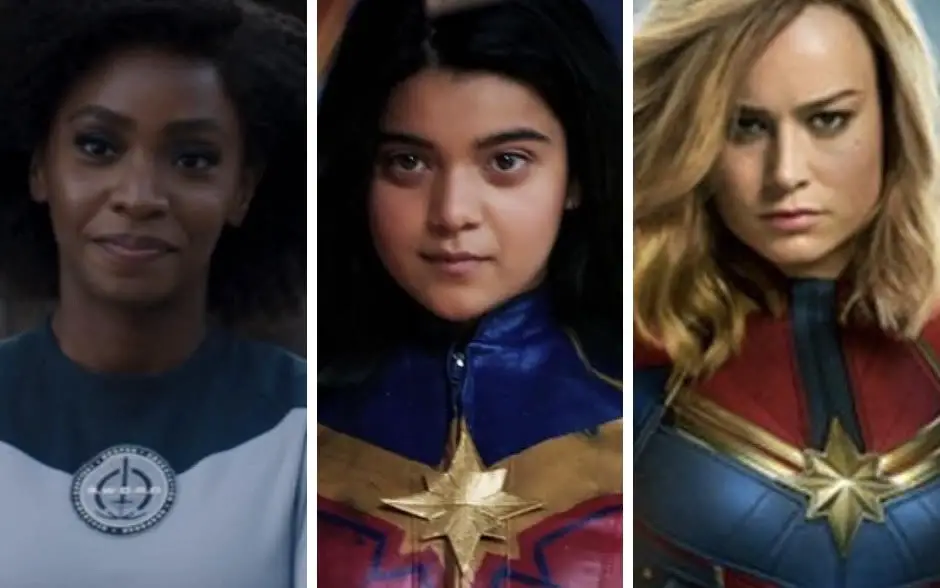 As a reminder, Ms. Marvel was supposed to debut in the fourth quarter of 2021. So are these reshoots or special effects issues? Or is something else afoot?
I could only speculate, but I'm an old-school film analyst. Sudden, unexplained delays make me nervous.
Still, this story should indoctrinate a new generation of fans into the majesty of the MCU.
Kalama Khan is a terrific character who I believe will have a solid MCU presence for the next 15 years.
Moon Knight — Summer
Disney just confirmed the (general) release date for Ms. Marvel. However, all its other 2022 Disney+ series are up for debate.
For example, Echo is currently filming and could conceivably sneak its way onto the 2022 calendar.
I haven't listed the title here due to the industry-wide special effects crisis. However, that project may not need many effects.
Conversely, I'm making an educated guess about Moon Knight, whose filming started in April of 2021.
This project likely requires significant special effects for Egyptian and possibly even outer space elements.
Even so, it should be ready after nearly a year after its production wrap at the end of September.
So, I'm slotting this story into the late summer, probably as the series that follows Ms. Marvel.
In Moon Knight, we'll watch Marvel's answer to Batman chase down ancient mysteries in between bouts of insanity.
Ethan Hawke, who portrays the villain, has modeled the character after David Koresh. That alone should make for fascinating viewing.
Thor: Love & Thunder – July 8th
Jane Foster sorta vanished from the MCU once Natalie Portman watched Thor: The Dark World and came to the same conclusion as the rest of us.
Then, in an unexpected turn of events, she reappeared in Avengers: Endgame, at least in picture form.
This moment hinted that Portman and Disney were talking about more Jane Foster.
Sure enough, in Thor: Love & Thunder, Portman's character will become Lady Thor, the Goddess of Thunder.
Where does that leave Thor, the current God of Thunder? That remains to be seen.
All we know is that he's currently cruising around the universe with the Guardians of the Galaxy. So, we'll start from there.
Thor: Ragnarok was phenomenal, and Taika Waititi is back to helm this project. So, there's plenty of reason to get excited about this one.
She-Hulk – Summer
What the MCU has really needed is…a legal office comedy?
Yes, we're gonna have The Office, Boston Legal, and Ally McBeal entertainment in the MCU.
I have no idea how well this will work, as it sounds hugely divisive on paper. The cast is ridiculous, though.
Orphan Black's Tatiana Maslany anchors a group including Tim Roth, Mark Ruffalo, Renee Elise Goldsberry, and Jameela Jamil.
Yes, that sounds like the indie film cast of your dreams, but it's a Marvel title instead.
What If…? Season 2 – Fall
Disney has given no indication whatsoever about a release date for this.
However, I think it's safe to fill in the blanks a bit. We know that at least one story was close enough to ready that its characters appear in the season finale.
Yes, the ones you didn't know weren't random. They're from an episode that hasn't aired yet because Marvel pushed it to season two.
As such, I have to believe that season two could start quickly if Disney needed to fill in a gap. I expect that they'll wait until a year after season one, though.
That was August 11th in 2021, which would indicate an August/September timeframe here.
Secret Invasion — Fall
Again, this one's a guess. I have reason to believe it's accurate, though.
This project started filming in September, four months after Moon Knight. So, it seems fair to slot it in the next calendar season.
Also, another factor comes into play here. Secret Invasion will likely either tie up a couple of mysteries from Spider-Man: Far from Home or add to them.
Part of the mystery involves the Skrulls, who will almost definitely factor into The Marvels, which releases in early 2023.
As such, this massive Secret Invasion series should wrap up in 2022. The Marvels opens on February 17th, 2023.
Of course, I'm also allowing for the possibility that the reverse is true. The Marvels might need to come out before Secret Invasion.
So, the two are attached at the hip. I'm just unsure of the order.
Black Panther: Wakanda Forever – November 11th
Theoretically, the Black Panther sequel will debut before 2022 ends.
I say theoretically because the film's star is currently recovering from a serious on-set injury, the kind that usually gets the lawyers involved.
Whispers from the set suggest that Letitia Wright and Disney aren't on the friendliest terms. However, in vetting this story, I cannot find anyone who believes that.
Instead, the conventional wisdom is that nobody understood how serious Wright's injuries were at first. Otherwise, she's apparently not been a problem.
Who's telling the truth, and who's lying? Nobody knows. Also, nobody will care as long as Wakanda Forever provides a fitting tribute to Chadwick Boseman.
The Guardians of the Galaxy Holiday Special
Director James Gunn is reportedly filming this single episode simultaneously with Guardians of the Galaxy Vol. 3.
As such, the crew might be working on it as you read this. It's a fluffy little premise about how interplanetary felons and superheroes would spend the holidays.
You can safely expect plenty of weirdness since James Gunn is involved. And it should be a LOT of fun.
Thanks for visiting MarvelBlog.com! Want to go to Disney? For a FREE quote on your next Disney vacation, please fill out the form below and one of the agents from MickeyTravels, a Platinum level Authorized Disney Vacation Planner, will be in touch soon!