Let's Talk about Moon Knight Episode 1-3
We have a new driver behind the wheel on Moon Knight this week. Well-intended beta male Steven Grant has given way to ruthless mercenary Marc Spector.
What will change now that the darker character is in control as Khonshu's avatar? The answer is a surprising amount…and with plenty of twists. Let's talk about Moon Knight episode 1-3, the one where the girl seems to favor the nerd.
What a Nice Felon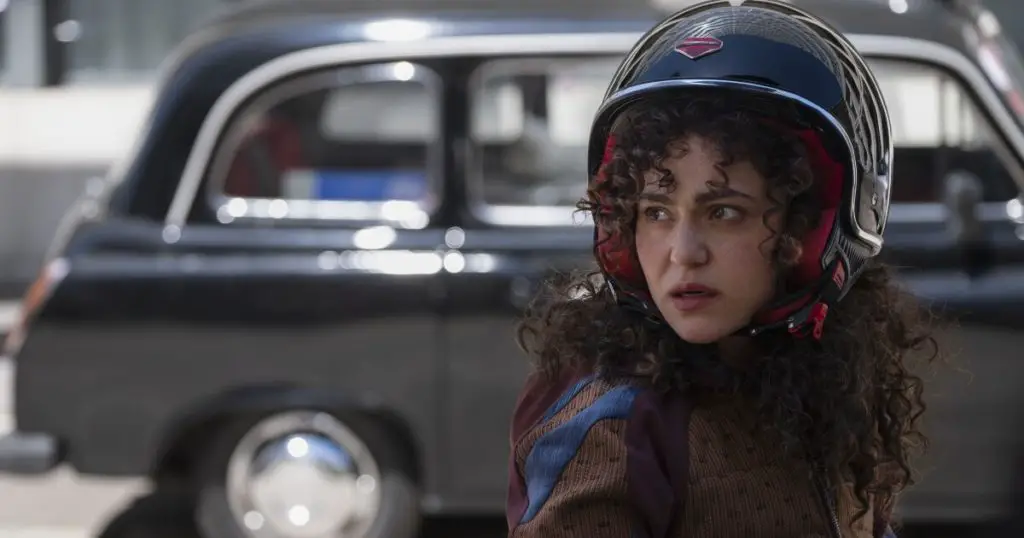 As the episode starts, Marc Spector's wife, Layla, gets her moment in the sun. We cut to a scene of her preparing a series of fake passports and other illicit travel goodies for her impending trip to Egypt.
The Forger, a friend of Layla's father, assists her each step of the way, all the while pressing the younger woman for information about her situation. Layla obviously feels like a daughter to this woman, and the Forger reciprocates. And the elder fears that Layla's making a mistake by going.
This sequence is kinetic and feels like an updated take on something from Ocean's 11 (or Ocean's 8). Layla poses for her passport, expresses her frustrations regarding her relationship, and eats a piece of candy her mentor offers.
Overall, Layla comes across as a gifted and compassionate woman with a bit of arrested development, which fits since she forcibly reminds me of Maeby Fünke. On the other side of the planet, Arthur Harrow has unleashed the scarab's power and believes he has found Ammit's tomb.
Before the cult can savor the moment, one of its members informs Harrow that Marc Spector has arrived. We immediately cut to a rooftop chase sequence wherein the mercenary arrives too late to interrogate someone.
Three criminals have just gutted the poor bloke, leaving Spector with no choice but to beat them into submission. His goal is to extract information about Harrow and Ammit's tomb from them. However, his heart isn't in it because one of the felons is young.
Also, the killers are fortunate enough to use shiny blades instead of guns. Spector notices Steven's reflection in the blade and goes blank.
Yes, those blackouts cut both ways.
The Search and the Meeting
A brilliant and innovative chase plays out due to Steven's arrival. He had prevented Spector from killing anyone, allowing them to escape. Once Marc regains control, he notices the same men and hunts them down again. Steven begs him to stop, which he does.
Immediately afterward, one of the murderers slugs him unconscious. Now, Spector is the one who awakens to a dead body. Meanwhile, the kid survives. Then, Khonshu demands that his avatar hold the kid off a cliff to force him to talk. Spector resists at first.
Eventually, the teen hangs over the edge…and chooses to cut the cord, plummeting to his own death. You can't say these Ammit fanatics aren't dedicated. At this point, Khonshu shows off an impressive but logical ability. He can force an eclipse since he's the Moon God.
The other deities take notice of this and hold a meeting. Theoretically, Khonshu wants Harrow to answer for his crime of exhuming Ammit's tomb. Notably, the court battle here plays out differently. It becomes a bit of a referendum on Spector's sanity.
Khonshu's avatar has one friend, the avatar of his former lover, Hathor. I'm assuming this based on the context of the conversation. They were "old friends," and Khonshu "enjoyed Hathor's melodies." I'm mentally adding "in bed" to that. Your mileage may vary.
Anyway, several snooty avatars appear, and they look like your usual European patricians. So, we're obviously supposed to hate them. Sure enough, they go hard on Spector's multiple personalities while brushing off Harrow's ACTUAL GRAVE ROBBING.
Apparently, the court justice system isn't any better for the gods than it is for mortals.
Blood Feud
Something I always admire in storytelling is when the hero and the villain meet in a neutral setting. By taking this approach, they can argue their ideas and debate one another's righteousness without fighting.
Heat did this masterfully, while you'll also find this story structure in virtually every James Bond film. Here, it plays out like an Emmy Award highlight reel for Ethan Hawke. He's phenomenal in twisting the proverbial knife against Spector while feigning innocence to the crime.
Somehow, 100 cultists searching for a tomb in the desert isn't enough evidence for Egyptian gods to suspect grave robbing. Spector leaves disappointed, having failed to win the easiest court case since O.J. Simpson.
So, he goes to plan B, which is apparently asking a street vendor and juice enthusiast about the location of Senfu's sarcophagus. We've taken a turn for the Indiana Jones, primarily in terms of ridiculousness. Next up, Spector will escape a nuclear blast by hiding in a fridge.
Anyway, the missus shows up at this point…and steals his juice, by the way. She offers to help, even as she acknowledges that many people in Egypt want her dead. The duo takes a romantic nighttime boat ride to meet a rich guy in possession of some mystical nonsense that will help them find Ammit.
However, the undertone of their romantic talk about their marriage is more along the lines of We Are Never Ever Getting Back Together. At this point, a fancy man on horseback jousts with others who are apparently the best in the world at jousting.
That skill hasn't been helpful since the days of the Atari 2600.
An Uncomfortable Scene
Gaspard Ulliel, the actor in this scene, died in real life earlier in 2022. That makes the whole sequence uncomfortable to watch. Anton will obviously die here. The only question is whether Marc Spector or Arthur Harrow kills him.
A hidden inscription on a mummy hints at Ammit's location. However, Spector obviously cannot decipher it, while Steven refuses to help at first. Eventually, the two reach an accord, only for Anton's bodyguard to take offense, followed by Harrow's poorly timed arrival.
Harrow shows off his god-like powers to Anton, who falls somewhere between impressed, scared, and hypnotized. Khonshu freaks out and demands that his avatar do, well, anything. Then, after the mummy explodes – no, really – Spector's Moon Knight appears.
A bunch of thugs absorbs a beating. However, the head security dude also attacks Layla, and Steven resists the violence. So, Spector cannot dominate as usual and somehow winds up with 12 jousting lances piercing his body.
Also, Steven's Moon Knight shows up for some comic relief. But, unfortunately, this episode vacillates wildly between overly ambitious and patently absurd. I'm not even complaining. It's just a lot. In fact, Layla breaks apart a necklace, presumably given to her by Marc, and impales a dude.
Soon afterward, Spector's Moon Knight kills everyone, including Anton, who takes a Batarang to the back.
A Marvelous Night for a Moondance
As Layla complains about their relationship, Spector is still dealing with the ramifications of 73 lances to his flesh. Even Willie Scott would find it ridiculous, and she's the worst part of Indiana Jones and the Temple of Doom.
Eventually, the couple pulls over and tries to decipher their clues. At this point, the story takes a turn for the Beauty and the Geek. Layla prefers the nerd and wants Spector to give up the body. But, obviously, he's reluctant since he doubts Steven will let him out again, at least willingly.
Still, Spector concedes, going against the advice of Khonshu. Moments later, Steven has deduced that they're in possession of a kind of desert sextant. However, the stars don't align, as it's from the time when the mummy died. So, it's centuries, if not millennia old, making it outdated.
At this point, an impressed Khonshu helps. He performs another remarkable trick, turning back the clock until the stars match the constellation from the mummy's corpse.
Alas, Khonshu does so at a high price. The other gods punish him for interfering with the affairs of humanity after they expressly warned him against doing so.
Steven's Moon Knight deduces the location of Ammit's tomb. However, the other Egyptian deities lock up Khonshu's spirit in a figurine. For the time being, there is no Moon Knight. You cannot have an avatar when you don't have a god.
Meanwhile, Harrow smirks at his good fortune and eventually makes his way to Khonshu's prison. There, he gloats that his victory will come thanks to Khonshu's mistreatment. We're heading to something massive next week, but it comes at the expense of an episode that left logic in the Egyptian dust.
This episode gets an A- for being fun, but it's nonsensical, too.
Feature Image Source: Marvel Studios
Thanks for visiting MarvelBlog.com! Want to go to Disney? For a FREE quote on your next Disney vacation, please fill out the form below and one of the agents from MickeyTravels, a Platinum level Authorized Disney Vacation Planner, will be in touch soon!