MarvelBlog News for April 16th, 2023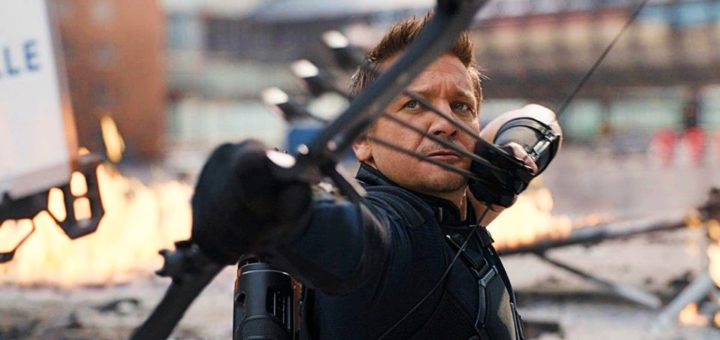 This past week, Jeremy Renner inspired fans everywhere, Blade added a Goth, and we finally met The Marvels.
This was a happy week for MarvelBlog News.
Renner 1, Snowplow 0
We have more significant Marvel stories to cover, but let's start with the most inspirational one.
Jeremy Renner spent the past 10 days proving to the world that he's not gonna allow a pesky seven-ton snow plow to beat him.
Renner started a small promotional tour to reassure fans that Hawkeye has stood toe-to-toe with aliens during The Battle of New York.
If he can sit through an entire sitting of Rogers: The Musical, he's plenty tough enough to allow a snowplow to run over him.
Seriously, Renner invited Diane Sawyer into his home to hold an interview.
In real-time, cameras captured the award-winning journalist's shock as she recognized just how well Renner is doing.
The interview took place several weeks ago, which means Renner has recovered even more.
Still, during this fateful discussion, Renner was playing house music and entertaining guests while his physical therapist took him through several exercises.
When Renner spoke to Sawyer, he did acknowledge residual pain and struggled at times.
Overall, the actor appeared stunningly healthy, given the fact that he suffered more than 30 bone breaks at once.
Sawyer spoke to the neighboring couple who aided in Renner's rescue.
Notably, this conversation proved his first opportunity to thank them personally.
Renner has recovered in his California home under the close watch of his family, who is obviously close-knit.
His poor nephew, who was there during the traumatic event, is still obviously shaken up about it.
Meanwhile, for his part, Renner appears embarrassed and seems to feel a bit guilty over the stress he caused his family.
Later, Renner appeared on Jimmy Kimmel Live and promoted his new Disney+ series, Rennervations.
The actor later walked the red carpet for the series premiere.
You love Renner even more now, don't you?
Meet The Marvels
That squeal of delight you heard the other day was me watching The Marvels.
After what has felt like an eternity, Disney finally unveiled the first Flerken-riffic trailer. Folks, there are like 30 of those critters. We're all going to die.
In tandem with the trailer, Marvel finally released details on the film's villain played by Zawe Ashton.
As suspected (and previously mentioned here), Ashton portrays Dar-Benn, a semi-established character from the comics.
In Marvel lore, Dar-Benn started as a disaffected male warrior in the Kree army. However, the character revolted and overthrew the Kree empire.
The leader they killed was named – I kid you not – Clumsy Foulup. Marvel comics were rarely subtle.
Anyway, Dar-Benn and others ruled over the Kree for a time after successfully framing Skrulls for Foulup's murder.
Again, this isn't a joke. A robotic Silver Surfer (!) performed the killing and made the Skrulls look guilty.
Later, Dar-Benn died and became part of the Supreme Intelligence, which was Annette Bening's character in Captain Marvel.
Obviously, The Marvels will only take the broadest strokes from Dar-Benn's comic book history.
However, attentive viewers noticed that Dar-Benn is wearing the matching bangle that Kamala Khan discovered in Ms. Marvel.
This trailer sets the table nicely for tons of action and a substantial amount of comedy.
The bangles cause random teleports of the wearer, which leads to Khan meeting Nick Fury for the first time in the most ridiculous way.
This looks like Good Marvel, which is what we need in the wake of Ant-Man and the Wasp: Quantumania, which the overwhelming majority of people will acknowledge was Bad Marvel.
Also, Silver Surfer could be coming sooner than we expected…
Blade Goes Goth
For the first time in far too long, we finally have movement on Blade.
The film, which should have come out in a matter of months, suffered an extensive delay.
At the time, Marvel nuked the original plan from orbit. It was the poker equivalent of asking for four new cards in Five Card Draw.
Everyone knew that Mahershala Ali exemplified dream casting as Blade. Everything else about the project qualified as a disaster.
Now, Marvel has taken the time to revamp the project. Reportedly, Kit Harington's role as The Black Knight has been dialed way down.
In fact, before everything is said and done, the Eternals actor might not even appear.
Who will co-star in the project? The answer is, fittingly enough, Mia Goth.
The vividly named actress has already watched art imitate life with her performances in Suspiria, X, and Pearl. She's got spooky down cold.
Now, Goth will portray an as-yet-unnamed character in Blade. However, Marvel also tweeted this a few hours after Goth's announcement:
Mother. Lover. Vampire killer. Get to know Safron Caulder, Blade's longtime love and Brielle's mother. https://t.co/UyfvsdHZD8

— Marvel Entertainment (@Marvel) April 12, 2023
That…doesn't strike me as coincidental. In all likelihood, Goth plays Safron Caulder, a character who has gained newfound recognition in 2023 comics.
Caulder is raising a vampire slayer daughter, Brielle. And you can guess who Brielle's daddy is.
If you've watched Mia Goth in a movie, she doesn't scream "great mother" inasmuch as "we should call Child Services on her."
We're talking about a terrific actress who should play perfectly off Ali as Blade.
For the first time in ages, I'm genuinely excited about Blade! Marvel may have saved what was previously a doomed project.
Marvel Miscellany
James Gunn has started making the rounds for his final Marvel project, Guardians of the Galaxy Vol. 3.
The new head of DC Studios has a complicated history with Marvel. For a time, Disney banished him after a series of unfortunate tweets.
Gunn had posted the shock-value comments long before he worked with Marvel, but that didn't matter.
Disney had recently fired comedian Roseanne Barr for something similar. It couldn't act like it was showing political favoritism.
After Disney banished Gunn, he worked for DC on the failed film, The Suicide Squad.
Then, Disney's Alan Horn recognized that the punishment didn't fit the crime. Disney brought back Gunn for the third Guardians film.
However, Gunn made enough friends at DC that he recently took charge of the entire film studio. It's a weird, historically unprecedented series of events.
Still, for a brief time, Gunn found himself jobless and unwanted. He didn't know how to process his firing from Disney.
Who helped the director through his struggles? Gunn recently revealed that Zoe Saldana and her husband came over to cook his dinner the following night.
Also, Pom Klementieff and Karen Gillan "came over just to hang out, to be my friend."
When you watch the new Marvel movie and notice the friendship between the characters, you should appreciate that it's real.
These friends genuinely care about one another and stood by Gunn during a dark time.
Finally, we've got some Deadpool 3 casting news. Monica Baccarin and Stefan Kapicic will appear in the Marvel film.
That's intriguing in that both acted in Deadpool as Vanessa and Colossus. Their roles weren't a part of the MCU, though.
Instead, the two of them came from Fox's Marvel stories. So, their transition into the MCU is a pleasant surprise.
Thanks for visiting MarvelBlog.com! Want to go to Disney? For a FREE quote on your next Disney vacation, please fill out the form below, and one of the agents from MickeyTravels, a Diamond-Level Authorized Disney Vacation Planner, will be in touch soon!
Featured image: Marvel