Popcorn Merch For Thor: Love and Thunder Showcases Dual Thors
The next highly anticipated thunder-crackling installment in the saga of Thor is heading to theatres in a short 4 months! While much of the behind-the-scenes has been hush-hush, a new leaked image of theatre merch has been making the rounds across the internet.
Popcorn containers showcasing art with both Chris Hemsworth's Thor and Natalie Portman's Thor wielding Mjolnir and Stormbreaker illustrate both Thor's in action!
Que lindezas!!! E saíram imagens de baldes de pipoca com artes do filme Thor love and thunder. pic.twitter.com/hgKLXp36zj

— Chris Hemsworth Brasil (@ChrisHBrasil) April 5, 2022
A Tale of Two Thors!
Since it was revealed that Natalie Portman would not only be reprising her role as Jane Foster but also debuting as Jane Foster Thor, fans have been clamoring to see Jane Foster wielding the mighty Mjolnir and it seems fans will get exactly what they are asking for in Love and Thunder.
The popcorn merchandise revealed above shows both Thor's wielding their respective hammers, with additional hammer art adorning the sides. Mjolnir looks to be pieced together held only by the electric energy flowing underneath, with both Thor's looking ready to obliterate anything in their action-packed poses.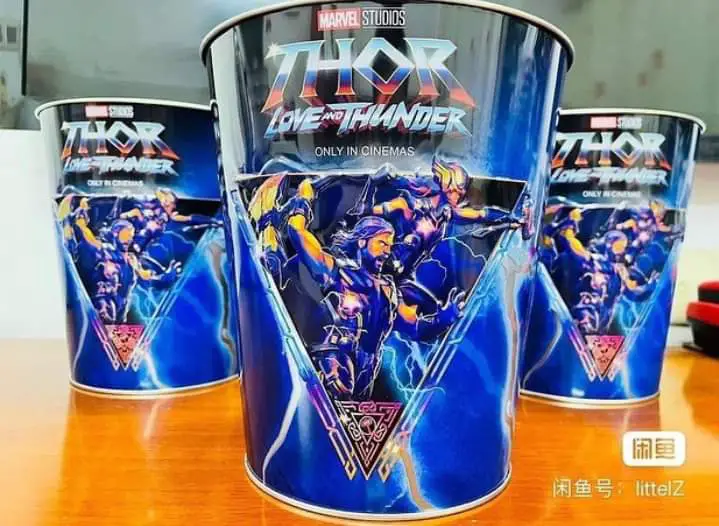 Jane Foster as Thor
Jane Foster originally debuted as Thor in Thor volume 4 (October 2014). During Thor's battle against Gorr the god butcher, also revealed to be in Thor 4, Jane Foster was given a grim diagnosis of breast cancer. After Thor lost his hammer Mjolnir fighting an evil version of Nick Fury during the Original Sin storyline, the hammer would reach out to Jane Foster.
Seeking out Heimdall, Jane Foster would answer Mjolnir's telepathic call and grip it on the moon, becoming worthy and gaining the powers of Thor. Foster was adept at utilizing the hammer after watching Thor use it for years, mimicking his abilities.
How the MCU will tackle Jane's transition and journey into Thor is unknown, but viewing multiple pieces of leaked promotional art and merchandise has revealed that she will indeed wield Mjolnir and fight alongside Thor.
There appear to be many moving pieces in Love and Thunder, with the guardians potentially making an appearance, and Christian Bale starring opposite as Gorr the god butcher. The magnificence of watching both Jane Foster and Thor fight alongside one another against Bale's Gorr sounds like an electrifying good time!
Thor: Love and Thunder is planned to release in theatres on July 8th! Getting a quick sneak of these theatre merchandise popcorn containers gives us a glimpse of elements that will be in the film.
I hope to snag one of these awesome popcorn containers myself!
Thanks for visiting MarvelBlog.com! Want to go to Disney? For a FREE quote on your next Disney vacation, please fill out the form below, and one of the agents from MickeyTravels, a Platinum level Authorized Disney Vacation Planner, will be in touch soon!