First Look at Jane Foster's The Mighty Thor in 'Thor: Love and Thunder' Revealed!!
One of the most anticipated films of Marvel 2022 film slate has slowly shown fans just what to expect, as we may finally have seen one of the most anticipated debuts of the year, as the first look at Jane Foster's The Mighty Thor in Thor: Love and Thunder has finally arrived!
One of the most beloved MCU characters, and the fourth film in the characters saga, there is no shortage of excitement to see the dynastic duo of Chirs Hemsworth and Taika Waititi to return for Thor: Love and Thunder.
A film announced way back in 2019, many fans were already ecstatic considering the incredible Thor: Ragnarok; what only added to that palpable excitement was the announcement that Natalie Portman would be returning to embrace her role as The Mighty Thor.
We may finally have our best look yet at the character, as a first look at Jane Foster's The Mighty Thor in Thor: Love and Thunder is revealed!
🚨 *POSSÍVEIS* novas artes promocionais de #ThorLoveAndThunder destacam o novo uniforme do Thor e o visual da Poderosa Thor (Jane Foster) ⚡ pic.twitter.com/4cJSjm8v08

— Marvel News (@BRMarvelNews) January 3, 2022
She looks fantastic! with Asgardian armor that appears pulled straight out of the comics, her silver and red look works perfectly to both honor her as her very own character, while still giving the design elements that make her feel like an Asgardian in her own right.
The first look at Jane Foster's mighty Thor also comes with a better look at Thor himself; appearing to wear a very blue suit of armor that returns the character to a similar look he had in the original Thor films.
This reveal comes just days after fans got their first look at Valkyrie's new Thor: Love and Thunder suit; with all three debuts verifying the validity of the poster that was revealed a few months ago, despite Taika Waititi's comedic rebuttal.
With the shattered Mjolnir, and the return of the iconic Stormbreaker, there should be no shortage of action in this fourth installment of Thors MCU saga; and we cannot wait to see just what Hemsworth and Waititi will create.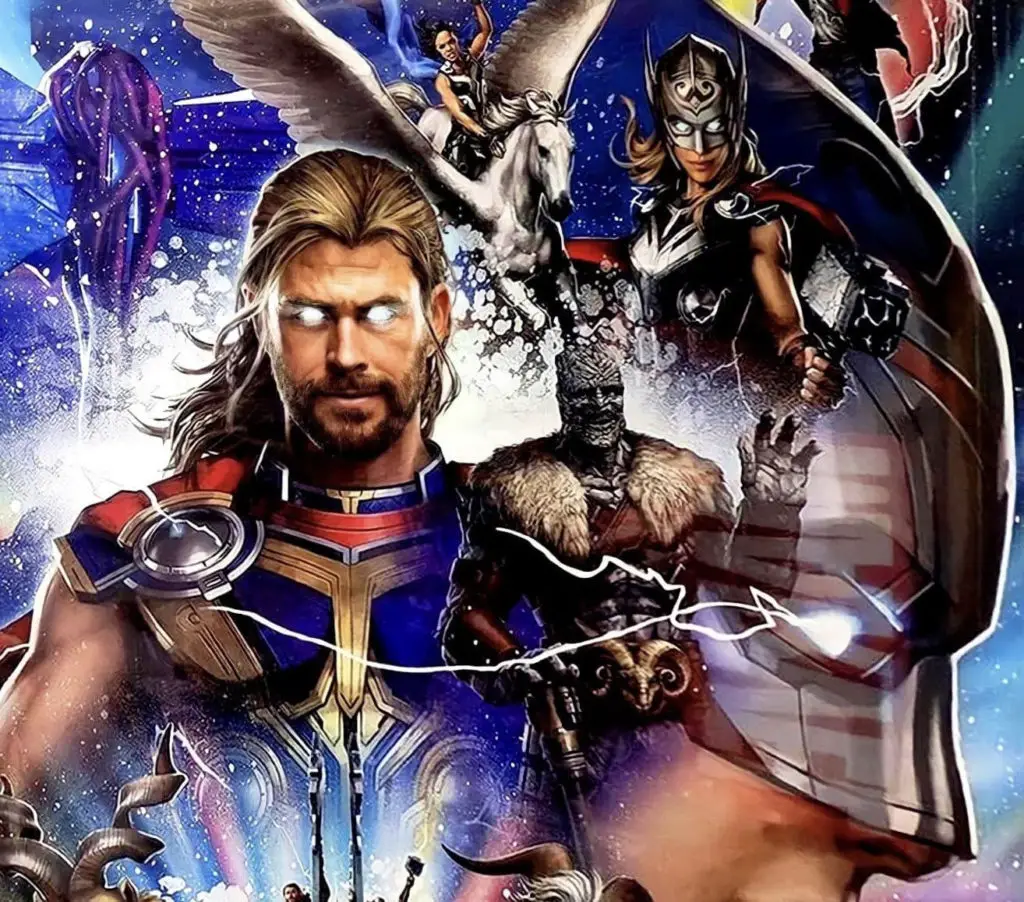 Feature Image Source: Marvel
Thanks for visiting MarvelBlog.com! Want to go to Disney? For a FREE quote on your next Disney vacation, please fill out the form below and one of the agents from MickeyTravels, a Platinum level Authorized Disney Vacation Planner, will be in touch soon!