Danai Gurira as Okoye is back in Disney+ Show
As the MCU continues to grow via Disney+, we've just learned that Danai Gurira is back as Okoye and she'll reprise her role in an unnamed Disney+ show.
The shows we never dreamed would be so good….
Disney+ has made the expansion of the Marvel Cinematic Universe (or should we start calling it the multiverse?!!?) explode over the last year and a half since it's debut in November 2019. We're getting deeper dives into the many characters throughout the stories we've grown to love since Iron Man graced the big screen in 2008.
Fans and critics alike are loving the enrichment lesser characters are bringing to light. Wanda and Vision were by no means main characters within the MCU theatrical movies, but within their own spinoff series, they stole our hearts! Falcon and the Winter Soldier were great supporting characters to Cap's story, but on their own, grew to love them even more.
Ten more new shows are set to air on Disney+ over the next 2 years. One of those will be an untitled Wakanda series, directed by Ryan Coogler. We'll get to venture back into the country of Wakanda, and learn more about some of our favorite characters.
With this show confirmed, plus the much anticipated Black Panther: Wakanda Forever film, we're happy to report that Okoye is back for more.
Danai Guria is back
And she's reprising her role not just for Black Panther: Wakanda Forever, but multiple MCU projects (eeekkk!!!). The Hollywood Reporter originally reported this based off her lawyer Jamie Mandelbaum stating that she worked on solidifying the contracts for Guria.
We're not to surprised to see this bad ass lady back in action… her fellow Dora Milaje warrior Ayo appeared in The Falcon and the Winter Soldier, so we had a feeling we'd be seeing more of them in Phase 4.
Okoye In Phase 4
We've already seen Okoye in three MCU films: Black Panther, Avenger's Infinity War, and Avenger's Endgame. It's only fitting that she continues to lead the elite warriors of the Dora Milaje in Phase 4.
It's not super clear what series Gurira is signed up for… even though Ryan Coogler is developing the Wakada series, Okoye isn't specifically mentioned as part of that cast (yet). That could mean she's slated for another series, maybe even another Wakanda show. We think that's totally plausible since Black Panther is the highest grossing non-avengers movie in the collection of MCU films.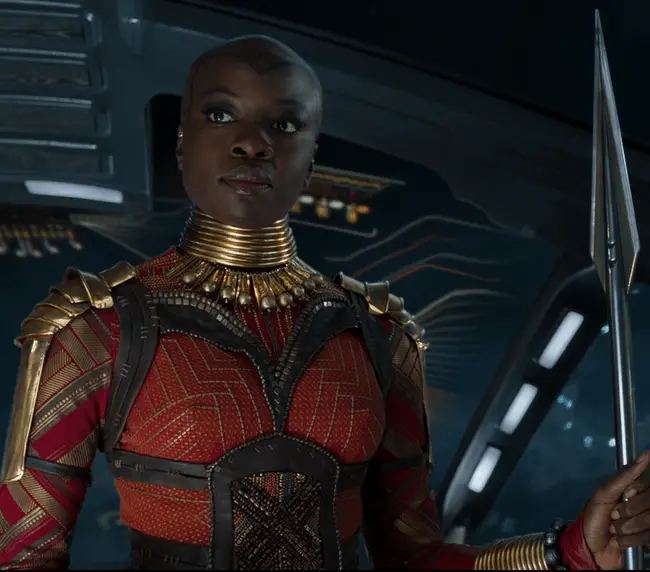 What we can be sure of: Danai Gurira as Okoye will be back, she will be a bad ass warrior, and she'll likely help us all mourn the death of King T'Challa/Chadwick Bosemen.
When will that Disney+ series be? Not sure yet. But we can look forward to Black Panther: Wakanda Forever in theaters July 8, 2022.
Let's start planning your next Disney vacation! Bookings are now open through June 20th, 2022!
As a Platinum Disney Vacation Planner, my goal is to help you plan the Magic your way. I create customized itineraries, monitor for discounts for your vacation, you don't pay a dime extra for using my services! 
Feel free to reach out at 336.345.9889 or tori@mickeytravels.com or join me on Facebook!