MarvelBlog Retro Review: Guardians of the Galaxy Vol. 2
Last time, I stated the decidedly minority opinion that Guardians of the Galaxy isn't a good movie. At best, it's a bad movie that people love.
Now, I'll throw you another change-up by stating my love for its sequel.
Yes, I'm one of the people who deem Guardians of the Galaxy Vol. 2 superior to its predecessor. So here's my review of the better film.
Mr. Blue Sky
The first film was obsessed with showing the comedic nature of the various members of the Guardians of the Galaxy.
Now that we know, the sequel starts with a magical bit of storytelling, mise en scene at its finest.
You may recall that Groot sadly died at the end of the original. Now, we meet the internet sensation that is Baby Groot for more than a 10-second cameo.
What is tantamount to a spectacular music video plays for several minutes as Baby Groot experiences a major battle.
The character's youthful exuberance counterbalances perfectly against the David vs. Goliath fight unfolding around him.
This scene would make my top three of best introductions in the MCU thus far. It's riveting to watch and fittingly central to a theme park attraction.
Yes, Guardians of the Galaxy – Mission: BREAKOUT! at Disney California Adventure debuted at nearly the same time as the movie to emphasize their mutual connection.
You know a movie has shiny elements when it connects so gracefully with a theme park attraction.
The Mr. Blue Sky sequence mesmerizes, but it also tells a solid short-form story about who each of the characters is.
I believe that the prison break scene is slightly better because it functions as a demonstration of what the various characters can do.
Still, the opening scene serves as an immediate reminder of how unique these characters are. Plus, it introduces a different, much more kawaii version of Groot.
Let's Talk Character Development
Despite all its trappings, the first movie is a glorified 1980s film. In fact, I could make an argument that it's very Top Gun, only set in outer space.
So, the first story works as an outline. With Vol. 2, director James Gunn colors in the features, allowing several of the Guardians to shine.
For Drax the Destroyer, we watch him face new demons while quipping relentlessly throughout the film.
Gunn didn't have the handle on this character yet last time. Now, he's fully formed and a lot of fun. Wrestler turned (terrific) actor Dave Bautista hits the gas pedal here.
Quill learns about his father after a wildly unlikely series of events strands his ship on an alien planet.
Yes, that planet is his father. Quill's gonna need a lot of therapy after this.
In MCU terms, the presence of Ego represents a seismic shift in the balance, as he's the first Celestial. It's a concept that will come up more after Eternals.
However, in this story, Disney fave Kurt Russell plays Ego as a lonely soul desperate and thrilled to reunite with his son.
The ironic Star-Lord name proves to be based in fact as Quill is, in fact, cosmic royalty. In truth, he's a demi-god, which makes his buffoonish behavior all the funnier.
Quill's search for belonging takes a fascinating twist when he finds a place almost literally made for him…that he rejects.
The Back-Up Band Gets a Solo
Still, the real character growth involves tertiary and non-existent characters from the original.
We're not looking at the Groot we knew from the first film, a confident scavenger who was the scariest guy in the scariest intergalactic prison.
No, this is a new and fuzzy Groot who lacks many world skills. Gunn maximizes this storytelling opportunity during another "prison break" scene.
This time, the Ravagers get a backstory and some significance. Yondu, who was a one-dimensional character last time, shows who he is.
To his crew, that's someone too loyal to Peter Quill. His latest actions upset some angry crew members. They revolt.
After the mutiny, Rocket and Yondu ask Groot to retrieve an item. It…goes poorly.
Gunn plays this sequence for maximum comedic effect, and it's brilliant. Nothing in the predecessor could rival this or a discussion of a crew member's name.
Simply stated, Vol. 2 features more confident direction and scriptwriting.
We know this because a new character, Mantis, mines the depths of the Guardians' mental states. As an empath, she reveals how people feel, even Drax.
This unlikely coupling feels more earned than Gamora and Quill had in Vol. 1.
Yondu's arc matters the most, though. He ascends from being a mercenary with a whistling dart.
Now, he's a leader in crisis who picks a side, and it's not the one anybody would expect.
In addition, when the time comes for a noble sacrifice, this "villain" demonstrates heroism, thereby establishing something essential to the plot.
Even though aliens abducted Peter Quill as a child, he's had a father all along. Others have recognized this fact, and it's caused jealousy.
For Quill and Yondu, accepting this demonstrates personal growth, though.
They're All about Family
The Guardians later play an enormous role in Avengers: Infinity War and Avengers: Endgame.
Chronologically, those films occur later in the MCU than the Guardians titles, which happen consecutively.
I suspect that the Russo brothers highlighted them for reasons beyond their ties to Thanos. By this point, people cared about the relationships between the Guardians.
The third act of this film signifies when that connection exists. Nebula, the tortured sister, finally makes her peace with Gamora, Thanos' favorite.
You can check my work on this by watching Thanos' dream sequence after he gains the Infinity Stones.
He dreams only of his little girl, Gamora. As a reminder, that dude has several children. It's not a great demonstration of parenting.
Guardians of the Galaxy starts with Gamora betraying Thanos. Then, in Vol. 2, Nebula shares that same epiphany that Quill and Yondu had. She finally understands her sister.
Contrast these dramatic, Shakespearean elements to literally anything from the first film.
There's even that burial scene that feels very Spock in Star Trek II: The Wrath of Khan.
Try to name something from the first film as emotionally mature and impactful as "You will always be sister."
Even "I'm Mary Poppins, y'all!" plays better than anything in the predecessor.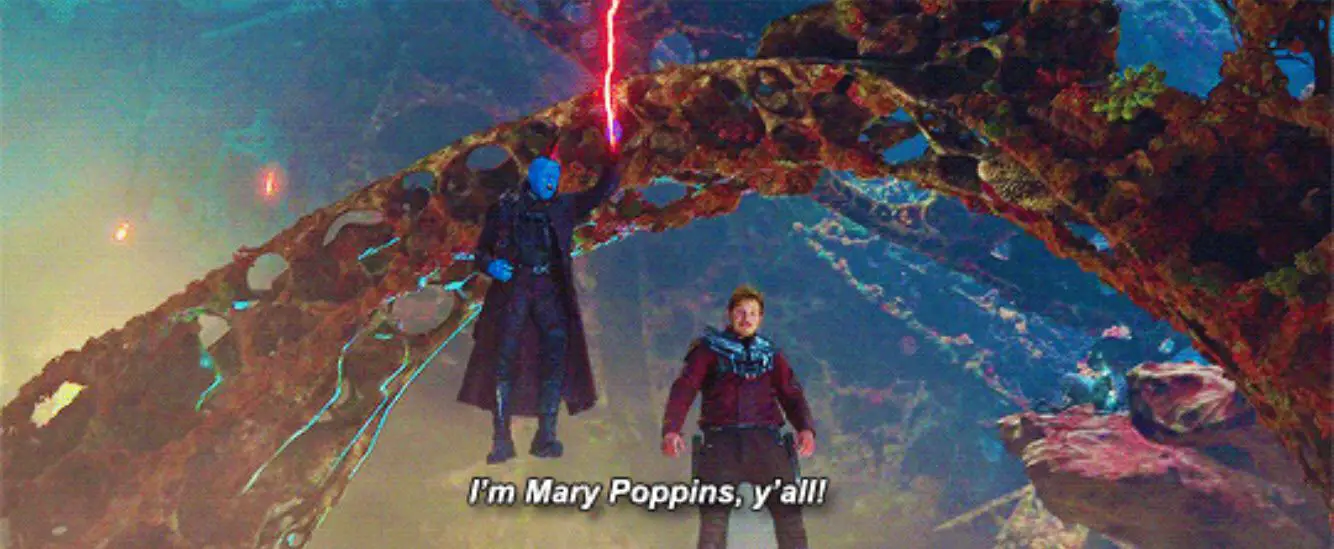 I also admire this film because it sets the table for the sequels in ways the MCU hasn't explored yet.
Kraglin becomes a captain, and three different factions of the Ravagers ascend. Plus, we have the Sovereign to fear at a later date.
I suspect it's maddening to James Gunn that he improved so much as a storyteller in this sequel, yet people prefer the original.
This is an A movie that deserves a better reputation.
Thanks for visiting MarvelBlog.com! Want to go to Disney? For a FREE quote on your next Disney vacation, please fill out the form below and one of the agents from MickeyTravels, a Platinum level Authorized Disney Vacation Planner, will be in touch soon!