Let's Talk About the FALCON & WINTER SOLDIER Spoiler!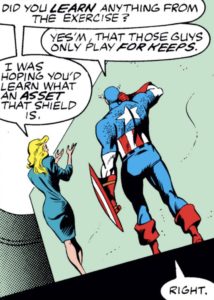 After nine episodes of WandaVision, we're sure you know the drill, but here at Marvel Blog, we're committed to avoiding spoilers! So if you haven't had a chance to watch the first episode of The Falcon and the Winter Solider, which was released for streaming today, Friday, March 19th, 2021, and you'd like to avoid spoilers, then Walker away from this page now.
If you've already had a chance to see the episode, it's possible you may have some questions about some of what transpired. Never fear, Marvelous True Believers! We're here to help!
Where Is the Shield?
Over the course of the episode, we get to find out what transpired in the months that followed THE SCENE in the final moments of Avengers: Endgame (2019) in which Steve Rogers (Chris Evans) gave the iconic Captain America shield to Sam Wilson (Anthony Mackie).
In episode 1 of The Falcon and the Winter Solider, we learn that shortly after Steve gives the shield to Sam, Sam surrenders the shield, donating it to the Smithsonian Air and Space Museum (which we already know has a nice Captain America exhibit thanks to 2014's Captain America: The Winter Soldier).
At the conclusion of episode 1, a new character is wielding the titular shield and has been given the title of Captain America. But who exactly is this enigmatic figure?
Who Is John Walker?
The answer is John Walker (Wyatt Russell)! In the Marvel Comics universe, Walker has been variously known as Super-Patriot, Captain America, and U.S. Agent.
John Walker's first appearance was as Super-Patriot in Captain America #323 (1986) by Mark Gruenwald, Paul Neary, John Beatty, Diana Albers, and Ken Feduniewicz.
In that issue, Super-Patriot takes part in a staged performance – aided by some "Buckies" – in order to demonstrate that Captain America is an outdated symbol who must be replaced! Does this sound familiar to some of the ideas in that first episode of The Falcon and the Winter Solider to you, too? Because here at Marvel Blog, we certainly see some similarities!
However, Walker's argument eventually got to Rogers, who ends up surrendering his costume and shield when ordered to report to the Commission on Superhuman Activities. In Captain America #333 (1987) by Gruenwald, Tom Morgan, Dave Hunt, Ken Lopez, Bill Oakley, and Feduniewicz, a Presidentially-appointed commission must determine who will be the next Captain America. Check out the cover for something that will be especially exciting for MCU fans – a Stan Lee cameo!
The commission considers several candidates – including Sam Wilson himself! However, they conclude that the country is not ready for a Black Captain America.
Soon the commission names Walker to be the new Captain America – which seems to align with the final shot of episode one of The Falcon and the Winter Soldier, doesn't it?
And in Captain America #350 (1989) by Gruenwald, Kieron Dwyer, Al Milgrom, Jack Morelli, and Greg Wright, Walker surrenders the uniform and shield after Rogers returns, and after the two men come to blows.
It seems that Walker was manipulated into thinking Rogers was a villain… but the two Caps soon discover that the man Walker believes to be Rogers is actually the (supposedly dead) Red Skull in disguise!
By the end of this issue, Walker has surrendered the shield and the uniform back to Rogers.
When Walker returns in Captain America #354 (1989) by Gruenwald, Dwyer, Milgrom, Morelli, and Bob Sharen, one of the members of the Presidentially-appointed Commission – General Hayworth – reveals the replacement for Captain America: John Walker in his new persona, U.S. Agent!
Who Should Be Captain America?
Is Walker really a suitable candidate for Captain America? After reading the issues above on Marvel Unlimited, we think you might not be so sure! Let us know who you think should be wielding the shield in the comment section!
Thanks for visiting MarvelBlog.com! Want to go to Disney? For a FREE quote on your next Disney vacation, please fill out the form below and one of the agents from our sponsor MickeyTravels, a Platinum level Authorized Disney Vacation Planner, will be in touch soon!